DLLC hosts its 1st Annual International Speaker Series with Gabriela Alemán
Tuesday, Sept. 25, 2018
7:30 p.m.
Belk Library and Information Commons, Room 114
This event is free and all are welcome to attend.
The Department of Languages, Literatures and Cultures will launch its new International Speaker Series with an inaugural public lecture by Ecuadorian author Gabriela Alemán. One of the most prominent Latin American writers of her generation, Alemán will make a stop at Appalachian State University to share with "POSO WELLS," her first novel to appear in English. Part journalism, detective story, sci-fi and social commentary, this audacious novel is a true mash-up of genres that defies the limits of fiction. The New Yorker magazine described the book as— "a condemnation not only of the corrupt businessmen and the criminal gangs [...] but also of the violence against women that plagues Latin America's real slums." With her dry-wit and original style, Alemán has created an extraordinary story with unforgettable characters.
Gabriela Alemán, based in Quito, Ecuador, has played professional basketball in Switzerland and Paraguay and has worked as a waitress, administrator, translator, radio script writer and film studies professor. She received a Ph.D at Tulane University and holds a Master's degree in Latin American Literature from Universidad Andina Simón Bolívar. She has taught at both Tulane University and the Universidad San Francisco de Quito. She is the winner of several literary prizes for her critical essays on literature and film, as well as for her short stories and novels.
The English version of "Poso Wells" was translated from Spanish by Dick Cluster, a writer and translator living in Oakland, C.A. He is also the editor and translator of the recently released "Kill the Ámpaya!: Best Latin American Baseball Fiction," and co-author with Rafael Hernández of "History of Havana." His many published translations include fiction and poetry from the Caribbean, Chile, Mexico, Colombia and Spain.
Organized by the Department of Languages, Literatures and Cultures, Alemán's visit to Appalachian is co-sponsored by Appalachian's Office of International Education and Development and the Departments of English, History and Cultural, Gender and Global Studies.
For more information about the speaker and the DLLC International Speaker Series, visit: dllc.appstate.edu/events.
###
About the Department of Languages, Literatures and Cultures
The Department of Languages, Literatures and Cultures offers courses that enhance students' understanding of other cultures and languages as well as their own, making them prepared for lifelong learning in a multicultural world. Learn more at https://dllc.appstate.edu.
About the Office of International Education and Development
The OIED is responsible for spearheading the internationalization efforts at Appalachian. The internationalization mission of Appalachian is to develop awareness, knowledge, appreciation and respect of cultural differences in both domestic and international contexts in its students, faculty, staff and the surrounding communities. The university is also dedicated to creating a campus environment that builds the theoretical and practical skills needed to interact effectively in a global society. Learn more at https://international.appstate.edu.
About the Department of English
The Department of English at Appalachian State University is committed to outstanding work in the classroom, the support and mentorship of students, and a dynamic engagement with culture, history, language, theory and literature. The department offers master's degrees in English and rhetoric and composition, as well as undergraduate degrees in literary studies, film studies, creative writing, professional writing and English education. Learn more at https://english.appstate.edu.
About the Department of History
The Department of History offers a broad curriculum in local, national, regional and world history at both the undergraduate and graduate levels, which encourages history majors to develop a comprehensive approach to human problems. The study of history is an essential part of a liberal arts education and offers valuable preparation for many careers, such as law, journalism, public history, public service and business, as well as in teaching and the advanced discipline of history. Learn more at https://history.appstate.edu.
About the Department of Cultural, Gender and Global Studies
The Department of Cultural, Gender and Global Studies offers degrees in global studies, interdisciplinary studies, and gender, women's and sexuality studies. The department is also home to Watauga Residential College, an interdisciplinary, alternative general education program. The department promotes creative and imaginative engagement in cross-disciplinary investigation of complex systems and problems. Learn more at https://cgg.appstate.edu.
Sept. 5, 2018
Andrew Scott
BOONE, N.C.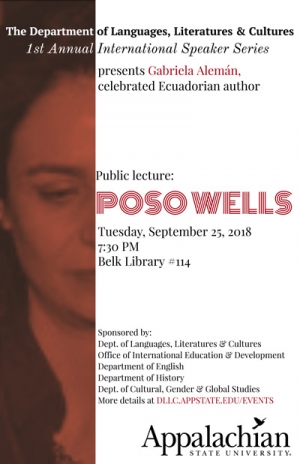 Tags: