For the past two years, the College of Arts and Sciences has been partnering with the Reich College of Education at Appalachian State University to support a graduate certificate in middle and secondary teaching. This certificate is a 19 or 24 credit hour alternative teacher licensure program and leads to recommendation for an N.C. initial teaching license.
"Appalachian State's reputation for quality educator preparation is evident within the courses that enable teacher candidates to learn about pedagogy, best practices, student characteristics and needs, diversity and lesson and assessment design processes" said Dr. Holly Thornton, Graduate Certificate in Middle and Secondary Teaching Program Director. "The coursework is collaborative and actively engaging. This program will get students ready to be an effective teacher."
The secondary teaching graduate certificate path includes: mathematics, biology, chemistry, physics and earth sciences. Participants of this program expand upon their knowledge in a related undergraduate/content major while integrating teaching theory, practice and preparation for today's culturally diverse and technologically advanced classrooms. In this way, students take a multitude of classes in both the College of Arts and Sciences and in the Reich College of Education.
In this program you can expect to learn:
Best practices in teaching
How to connect and work with students
The "why" behind what teachers do
Lesson and assessment design
Technology and content understanding
Curriculum comprehension
"The graduate certificate in middle and secondary teaching provides a streamlined pathway for individuals who possess a bachelor's degree in a mathematics or science discipline to obtain an initial N.C. teaching license in secondary mathematics or secondary science (Biology, Chemistry, Physics, Earth Science)," said Tracie Salinas, Director of Secondary Teacher Education & Engagement, College of Arts and Sciences. Students who do not possess a B.S. in mathematics or the sciences may also enroll, but must also complete additional content coursework. Further, students pursuing a Master's degree can layer on this graduate certificate to simultaneously earn an initial teaching credential.
The program has three cognates, all of which are considered high-need areas for teachers in North Carolina:
Middle grades education (6-9th grade) offered online includes language arts, science, math and social studies
Career and technical education (6th-12th grade) offered online includes technology, marketing, business, finance, trade and industry, family and consumer sciences and CTE health sciences
Secondary math and science (9th-12th grade) offered on campus
To learn more about this program contact the program director Dr. Holly Thornton at torntonhj@appstate.edu or visit: https://mstgradcert.appstate.edu/.
###
About the College of Arts and Sciences
The College of Arts and Sciences is home to 16 academic departments, two stand-alone academic programs, two centers and one residential college. These units span the humanities and the social, mathematical and natural sciences. The College of Arts and Sciences aims to develop a distinctive identity built upon our university's strengths, traditions and unique location. Our values lie not only in service to the university and local community, but through inspiring, training, educating and sustaining the development of our students as global citizens. There are approximately 5,850 student majors in the college. As the college is also largely responsible for implementing Appalachian's general education curriculum, it is heavily involved in the education of all students at the university, including those pursuing majors in other colleges. Learn more at https://cas.appstate.edu.
About the Reich College of Education
Appalachian offers one of the largest undergraduate teacher preparation programs in North Carolina, graduating about 500 teachers a year. The Reich College of Education enrolls approximately 2,400 students in its bachelor's, master's, education specialist and doctoral degree programs. With so many teacher education graduates working in the state, there is at least one RCOE graduate teaching in every county in North Carolina. Learn more at https://rcoe.appstate.edu.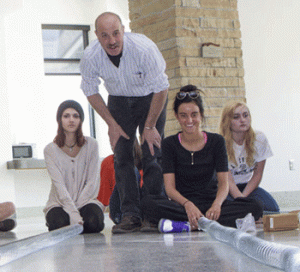 Tags: