Kimberly M. Shepherd, Chief Executive Officer, SkyLine Membership Corporation/SkyBest Communications, Inc.
Friday, Nov. 30, 2018
3 - 4 p.m.
Walker Hall, Room 103A
This talk is free and open to the public.
Mrs. Shepherd is the C.E.O. of SkyLine Membership Corporation in West Jefferson, N.C. She has worked for the cooperative for the past 20 years and assumed her current role in July 2018. Prior to being named C.E.O., Mrs. Shepherd served as Chief Management Officer from 2016 - 2018 overseeing all operations of the company. Mrs. Shepherd has also provided leadership in the areas of customer service operations through her responsibilities as Executive Director of Customer Operations from 2011 – 2016 and Customer Service and Sales Manager from 2002 – 2011.
Mrs. Shepherd holds a Bachelor of Science Degree in Mathematics and Secondary Education from Appalachian State University and a Master of Business Administration from Gardner-Webb University. She serves on various industry board including Carolina West Wireless, Telecom Insurance Group, Access/On Multimedia, Inc., Carolina/Virginias Telephone Membership Association, North Carolina Telephone Cooperative Coalition, Tennessee Telecommunications Association and South Carolina Telecommunications and Broadband Association.
Kim and her husband, Derek, reside in Warrensville, N.C. and they have two children. They are members of Pleasant View Baptist Church in Lansing, N.C.
Sponsored by the Department of Mathematical Sciences. Please contact Quinn Morris morrisqa@appstate.edu or Travis Weiland weilandtj@appstate.edu or visit our department colloquium website https://mathsci.appstate.edu/activities-outreach/department-colloquia to view more information and see other upcoming events.
###

About the Department of Mathematical Sciences
The Department of Mathematical Sciences offers undergraduate degrees in actuarial science and mathematics, with concentrations in business, computation, life sciences, physical sciences, secondary teaching and statistics, plus a general, self-designed concentration. The department also offers the Master of Arts in mathematics, with concentrations in college teaching and secondary teaching. Learn more at https://mathsci.appstate.edu.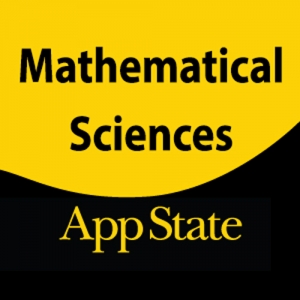 Tags: