BOONE, N.C. — Appalachian State University's Cratis D. Williams School of Graduate Studies held the 12th annual 3 Minute Thesis (3MT) competition on Friday, November 3, 2023. For the competition, graduate students explain their research or scholarly/creative projects in jargon-free language to a general "lay" audience in three minutes with the help of only one static slide. This year, 14 students representing the Beaver College of Health Sciences, College of Arts and Sciences, College of Fine and Applied Arts, and Walker College of Business participated.
The 2023 3MT participants were:
Agupopo received first place, Rose received second place, and Cybulski received the People's Choice Award, voted by the event's attendees. All winners received cash awards to support travel and research. The first-place winner, Agupopo, will represent Appalachian State at the regional competition held at the annual Conference of Southern Graduate Schools in Greenville, South Carolina in March 2024.
---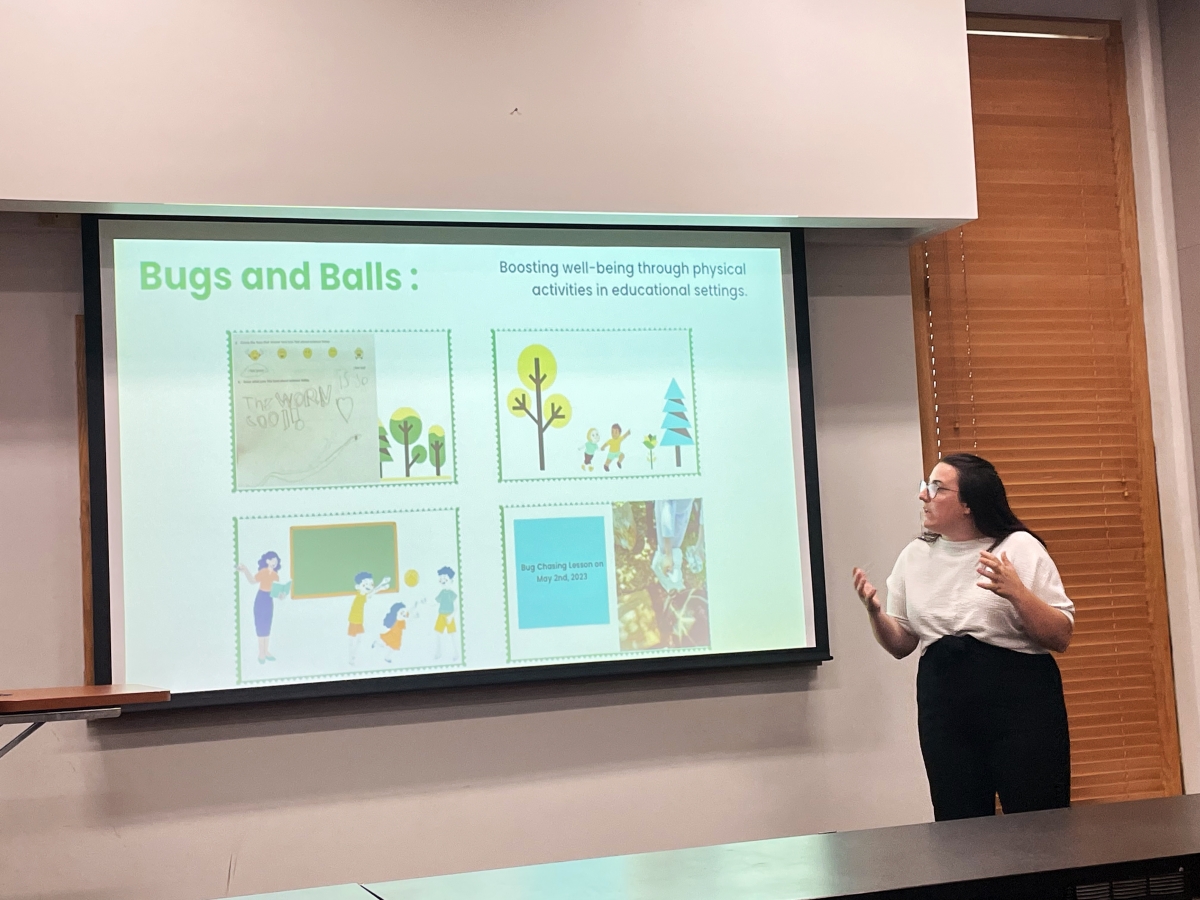 Stella Cybulski '17, graduate student in the public administration program, received the 3MT People's Choice Award for her presentation, titled "Bugs and Balls: Boosting Wellbeing through Physical Activities in Educational Settings." Cybulski is advised by Dr. Brooke Towner, assistant professor in the Department of Recreation Management and Physical Education. Photo by Melissa Auten.
---
The judges of this year's competition were:
Dr. Harvey Durham, Provost and Executive Vice Chancellor Emeritus and Professor Emeritus of Mathematics at Appalachian State University

Dr. Mike McKenzie '99, Vice Provost for Program Development and Strategic Initatives at Appalachian State University

Jeannine Underdown Collins '79 '81, Chair of the Appalachian State University Foundation
The 3MT competition was started at the University of Queensland in Australia in 2008 and has since been adopted at universities worldwide. To learn more about this competition, visit graduate.appstate.edu/enrolled-students/3-minute-thesis-competition.
###
About Graduate Education at Appalachian
Appalachian State University's Williams School of Graduate Studies helps individuals reach the next level in their career advancement and preparedness. The school offers 80 graduate degree and certificate programs in a range of disciplines, including doctoral programs in education (Ed.D.) and psychology (Psy.D.). Classes are offered at the main campus in Boone as well as online and face-to-face at locations around northwestern North Carolina. The graduate school enrolls more than 2,000 students. Learn more at https://graduate.appstate.edu.
By Lauren Andersen
November 15, 2023
BOONE, N.C.