BOONE, N.C. — Appalachian State University's Cratis D. Williams School of Graduate Studies held the eleventh annual "3 Minute Thesis (3MT)" competition on Friday, October 28, 2022. For the competition, graduate students explain their research or scholarly/creative projects in jargon-free language to a general "lay" audience in three minutes with the help of only one static slide. Of the 21 participants in this year's 3MT competition, 17 were in CAS. Additionally, CAS students earned the top three awards.
---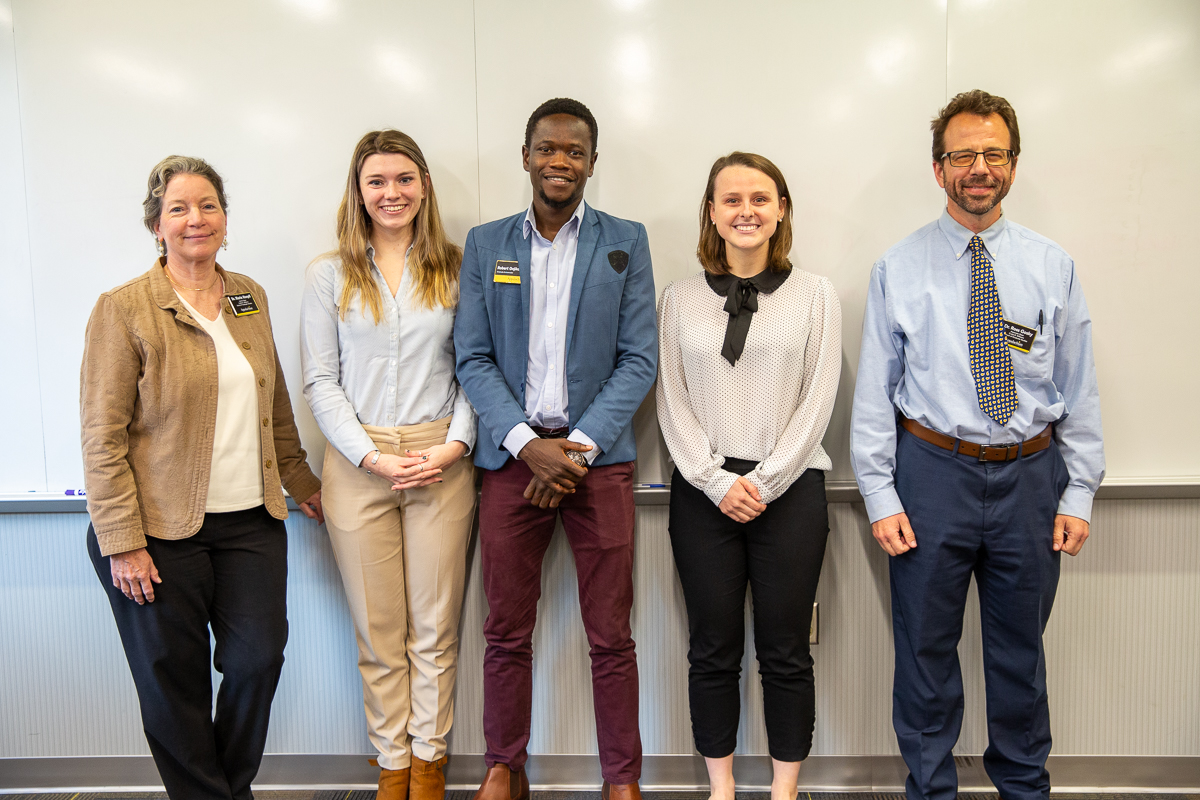 Interim Dean of Graduate Studies Dr. Marie Hoepfl and Interim Associate Dean of Graduate Studies Dr. Ross Gosky with award recipients Skyler Prowten (People's Choice), Robert Onjiko (2nd), and Kelly Davis (1st).
---
The 2022 3MT finalists were:
Kelly Davis received first place, Robert Onjiko received second place, and Skyler Prowten received the People's Choice Award, voted by the event's attendees. All winners received cash awards to support travel and research. The first-place winner, Kelly Davis, will represent Appalachian State at the regional competition held at the annual Conference of Southern Graduate Schools in Tampa, Florida in March 2023.
The 2022 3MT judges were:
Dr. Megen Culpepper, associate professor in the Department of Chemistry and Fermentation Sciences.

June Hege, recipient of the 2022 Appalachian State Outstanding Service Award.

Dr. Gregg Marland, research professor in the Department of Geological and Environmental Sciences and the Research Institute for Environment, Energy, and Economics.

Carolyn Schmalenberger, board member of the Appalachian State University Foundation.

David Sprague, chief operating officer of ECRS.

Dr. Ok-Youn Yu, interim department chair of the Department of Sustainable Technology and the Built Environment.
The 3MT competition was started at the University of Queensland in Australia in 2008 and has since been adopted at universities worldwide. To learn more about this competition, visit graduate.appstate.edu/enrolled-students/3-minute-thesis-competition.
###
About Graduate Education at Appalachian
Appalachian State University's Williams School of Graduate Studies helps individuals reach the next level in their career advancement and preparedness. The school offers 80 graduate degree and certificate programs in a range of disciplines, including doctoral programs in education (Ed.D.) and psychology (Psy.D.). Classes are offered at the main campus in Boone as well as online and face-to-face at locations around northwestern North Carolina. The graduate school enrolls more than 2,000 students. Learn more at https://graduate.appstate.edu.
By Lauren Andersen
October 31, 2022
BOONE, N.C.