The CAS Corps are chosen to serve as representatives to all constituents of the College of Arts and Sciences and to create, promote and execute opportunities for academic and professional growth. These students represent a variety of departments from across the College of Arts and Sciences and will represent the College at events through interaction among current students, future students, parents, donors and alumni.
Each month we will be introducing one of our ten students representing the college in the 2021-22 academic year through a question and answer format. This month, meet Tanner and learn about his experiences. For more about the CAS Corps, visit: cas.appstate.edu/students/cas-corps.
---
CAS Corps Feature: Tanner McMinn
Senior
Majoring in Chemistry
From Stanley, N.C.
Sports or hobbies?
Playing blues/jazz music, shopping, listening to music, exercising and laboratory work.
Location(s)/lab(s) you conducted research.
Garwood Hall Organic Chemistry Lab 439.
Location(s) you hope to go for an internship, study abroad or research experience.
The United Kingdom, hopefully.
Research or coursework you have been most passionate about?
Organic chemistry. The ability to change nature at the molecular level is fascinating and fun. Organic chemistry applies to everyone's daily lives, from medicines and foods to plastics and fuels.
What was the biggest challenge for you as a college student during the pandemic?
Becoming accustomed to the area as a transfer student. It was tough to meet new people with primarily online classes. I am looking forward to the coming semesters of in-person instruction as it is hopefully safe to congregate together to learn.
What has given you peace, relaxation or been your outlet over the summer?
I am enjoying the beautiful Boone weather and working in a research lab on campus. I have also grown particularly interested in jazz music and jazz history over the past few months.
What has been the book, podcast and/or tv show you found rewarding or enjoyed over the summer?
I mainly read textbooks for classes and other scientific literature. I have not been indulging in any other literature over the past few months, but I have enjoyed various current comedian's podcasts as I am a huge fan of comedy and stand up comedians.
What are you most excited about this coming semester?
In-person instruction and meeting new people.
What is one goal you have set for yourself this coming year?
To learn more about hobbies and topics that do not already interest me and to become more acquainted with my professors.
What is one of your favorite memories at Appalachian thus far?
Exploring the area and soaking in the beauty of the mountains.
What do you like about Boone and the surrounding community?
The weather is perfect in the spring and fall time. There is low humidity compared to where I am originally from, which is outstanding. The Boone area is not desolate and not overcrowded, ideal for me; it's a "happy medium."
What do you feel has been valuable in your education at Appalachian versus another institution?
The ability to communicate with most of the instructors in the chemistry department. I cannot speak for other departments, but the chemistry department has been great in communication and instruction.
Tell us about one faculty member that has made an impact on your life and how.
Dr. Weber has been an exceptional instructor and research advisor. He was originally my organic chemistry instructor and allowed me into his research lab where I learned additional lab techniques, scientific writing and started on working on my own project.
What do you hope to do after graduation?
Attend graduate school in the field of organic chemistry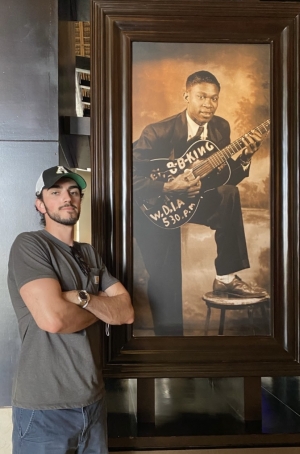 Tags: