The College of Arts and Sciences (CAS) Corps are chosen to serve as representatives to all constituents of CAS and to create, promote and execute opportunities for academic and professional growth. These students represent a variety of departments from across CAS and will represent the College at events through interaction among current students, future students, parents, donors and alumni.
Throughout the year, we will be introducing new students representing the College in the 2023-24 academic year through a question and answer format. For more about the CAS Corps, visit: cas.appstate.edu/students/cas-corps.
---
Samantha Massey
Year: Senior
Major: Sociology (Social Inequalities)
Hometown: Blowing Rock, N.C.
Which clubs or organizations are you a member of?
Alpha Kappa Delta
Tau Sigma
The Women's Center
What scholarship(s) have you received from Appalachian or while studying at Appalachian?
Albert and Maxine Hughes Scholarship in Sociology
What research or coursework have you been most passionate about?
"Research pertaining to stigma, sexual violence, revictimization, bodily autonomy, labor rights, and social movements."
Which location(s) do you hope to visit for an internship, a study abroad trip, a research experience, or just for fun?
"Italy is my favorite place I've visited. I would like to go back and hope to one day teach or attend some classes there."
Where is your favorite place on campus and why?
"I love Chapell Wilson Hall. I enjoy the age of the building and ponder the many stories that are locked into its halls, offices, and classrooms. I find the building comforting and familiar, especially after a long break. It makes me feel good to belong there."
What is one of your favorite memories at Appalachian thus far?
"I enjoyed our departmental potluck and barbecue celebration for senior awards and scholarship recipients within the Department of Sociology. I was able to bring my guitar and played a few songs for my friends and professors."
What do you like about Boone and the surrounding community?
"I love Appalachian culture, so the surrounding communities are incredibly important to me. I love the slow pace, the random and continual kindness, and the small town home 'feel' Watauga County offers."
What are your hobbies?
"I enjoy traveling, photography, playing multiple instruments, writing, gardening, and roller derby."
What is your favorite book, podcast, artist, and/or television show?
"I really enjoy Ansel Adams' early photography. I don't enjoy watching TV or listening to podcasts. I enjoy reading nonfiction books because I love to learn."
Tell us about one faculty or staff member that has made an impact on your life and how.
"Dr. Ellen Lamont in the Department of Sociology has made a lasting impact on my life. She has helped guide me as a writer and offers feedback that I have been unable to obtain elsewhere. She is critical and supportive, always providing the truth. I appreciate her efforts to support me as a student, and I feel I am a better writer and researcher because of my experiences as her research assistant and student."
What do you feel has been valuable in your education at Appalachian versus another institution?
"I have enjoyed the increased level of prestige and course difficulty at Appalachian State versus the community colleges I have attended previously. I've been able to build valuable relationships with professors, as this was just not the case elsewhere."
What do you hope to do after graduation?
"This fall, I am applying to sociology and American studies Ph.D. programs. I plan to apply to around 10 schools and hope to get into an R1 school. I want to continue my research and I would like to come back to Appalachian State, once I obtain my degree, to teach."
###
About the Department of Sociology
The Department of Sociology offers a Bachelor of Arts and seven Bachelor of Science concentrations (applied research methods; criminology; families and intimate relationships; health and aging; power and social change; social inequalities; and individually designed, which requires departmental approval). The department also offers minors in sociology and health and aging, plus two online graduate certificates: aging, health and society, and sociology. Learn more at https://soc.appstate.edu.
Compiled by Lauren Andersen
November 3, 2023
BOONE, N.C.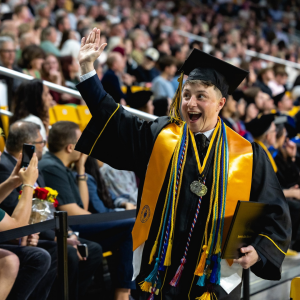 Tags: