The CAS Corps are chosen to serve as representatives to all constituents of the College of Arts and Sciences and to create, promote and execute opportunities for academic and professional growth. These students represent a variety of departments from across the College of Arts and Sciences and will represent the College at events through interaction among current students, future students, parents, donors and alumni.
Each month we feature one of our students representing the college in the academic year through a question and answer format. This month, meet Savannah and learn about her research experiences. For more about the CAS Corps, visit: cas.appstate.edu/students/cas-corps.
Savannah Devine
Senior
Geology-quantitative geoscience major, mathematics minor
From Columbus, N.C.
Honors College
Anticipated grad year: 2021
What clubs or organizations are you a member of?
Watauga Residential College, Honors College
Sports or hobbies?
Drawing and playing the flute.
Scholarship(s) you have received from Appalachian or while studying at Appalachian?
Academic excellence scholarship
Location(s)/lab(s) you conducted research.
In Rankin Science on campus.
Location(s) you hope to go for an internship, study abroad or research experience.
I'd like to study in/ attend the Iceland trip through the geology department one year
What are you most excited about this coming semester?
Getting more involved in the geology department!
What do you like most about Boone and the surrounding community?
It's large enough to offer opportunities, but small enough to not be overwhelming.
What do you feel has been valuable in your education at Appalachian versus another institution?
A smaller class setting has allowed me to learn material more in-depth than I may have been able to at other schools.
Tell us about one faculty member that has made an impact on your life and how.
I haven't been at App State for very long as of right now, but the classes I've taken with Dr. Scott Marshall have positively impacted me both in helping me focus in on what I want to do with my life, as well as helping me gain skills needed for future work with him in the geology department.
Tell us about one other connection you have made while at Appalachian - a friendship, mentor, colleague, a new found hobby or interest.
The community I've found in Watauga Residential College has shaped my time at college thus far; I can be a quiet person, and it's definitely opened me up to new friendships as well as new ideas both in and out of the classroom.
What is your understanding of "sustainability" after being at Appalachian?
It's better for a large group of people to try and be imperfect in being sustainable, than one person doing so perfectly.
What is your understanding of a "liberal arts" education and do you believe Appalachian has provided that?
A specific field or idea can only be truly understood in the context of many larger ideas.
What is your favorite space or place on campus?
Crossroads Coffee!
I find inspiration from … Creating art and music.
I recharge by . . . Drinking coffee and hanging out in the Student Union.
My favorite superhero is . . . Spiderman
My favorite place to eat in Boone is . . . Macado's
My favorite ice cream is . . . Chocalate
My spirit animal would be . . . A cat
My dream job would be . . . being a geologist (and I'm on my way there!)


I'm excited for the next year, and I hope everyone else is, too!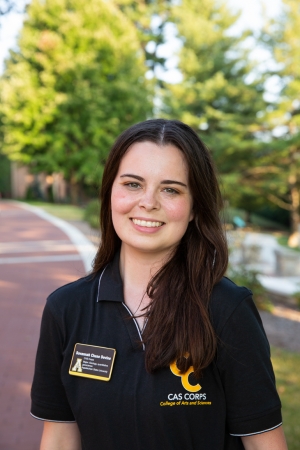 Tags: