The CAS Corps are chosen to serve as representatives to all constituents of the College of Arts and Sciences and to create, promote and execute opportunities for academic and professional growth. These students represent a variety of departments from across the College of Arts and Sciences and will represent the College at events through interaction among current students, future students, parents, donors and alumni.
Each month we feature one of our students representing the college in the academic year through a question and answer format. This month, meet Savannah and learn about her research experiences. For more about the CAS Corps, visit: cas.appstate.edu/students/cas-corps.
Thanh Schado
Hometown: Durham, N.C.
Anticipated Grad Year: 2021
What clubs or organizations are you a member of?
Student Government Association, North Carolina Association of Residence Halls, Office of Sustainability, UREC Council, National Residence Hall Honorary and University Housing.
Sports or hobbies?
I played lacrosse in high school and I enjoy hiking/spending time outdoors.
Scholarship(s) you have received from Appalachian or while studying at Appalachian?
Club leadership scholarships
Location(s) you completed or will complete an internship.
Office of Sustainability
Location(s) you hope to go for an internship, study abroad or research experience.
I hope to travel to Northern Europe to study urban sustainable development
What are you most excited about this coming semester?
I am excited to meet many more people and work with incoming students as an RA in Frank Hall. I am also looking forward to working with the Student Government Association as the Director of Environmental Sustainability in working to make our campus more sustainable and creating opportunities for students' voices to be heard.
What do you like most about Boone and the surrounding community?
What I love most about Boone is the sense of community and family. Everyone from the university to the community level are always welcoming and kind and it creates a sense of home.
What do you feel has been valuable in your education at Appalachian versus another institution?
As a medium sized school it is a perfect blend of discovering something new everyday while also being able to build amazing relationships with those around you. I feel the smaller classes also has allowed me to thrive and engage with my professor and fellow students which furthers my understanding of not only the class/curriculum but also ideas my community has as well.
Tell us about one faculty member that has made an impact on your life and how.
Jennifer Maxwell is the Sustainability Program Manager at the Office of Sustainability. Not only is she a supportive and dedicated member of the Appalachian Community but she is a selfless and kind-hearted individual that is passionate about sustainability and the community. The past two years I have known Jen she has gone above and beyond the duties of a mentor; she has inspired me to strive to be the best version of myself and has become a mom away from home.
She works daily with the office interns and attends conferences frequently representing out university to the highest degree. When I first arrived at Appalachian I was not as involved with sustainability but held interest in the topic of protecting our environment and living a greener lifestyle. I was an eco-rep for Frank Hall my first year at App and at the time she was the coordinator for the program on top of her position in the office. She opened doors to opportunities and ideas I had never considered before and pushed me to discover not only more about sustainability but myself as well.
As the year progressed and I entered my second year at App State, Jen offered me to work more closely with the Office as an intern and to adopt her role as the eco-rep coordinator. She taught me all the skills and knowledge I needed in order to pass on the passion for sustainability to others. As Jen is an avid conference attendee, she also takes students with her to experience and learn about other universities and their take on sustainability. Through Jen I was able to attend the Collegiate Recycling Conference which encompasses Carolina institutions. My co-intern and I presented on student leadership and sustainability at Appalachian; thanks to Jen's coaching we were able to represent our university and received a plethora of great feedback and other schools hoping to replicate our program.
Currently, I will continue to serve as an intern at the Office of Sustainability going into my third year and I am also the Director of Environmental Sustainability elect for the Student Government Association. Jennifer Maxwell is the reason for where I am today; she serves our community, represents our institution but above all she is an inspiration to all she meets.
Tell us about one other connection you have made while at Appalachian - a friendship, mentor, colleague, a new found hobby or interest.
Appalachian opened me into a new world I never thought I would have interest in, University Housing. I wanted to become involved at Appalachian, but I was unsure of where, how and with who I wanted to become involved with. I heard about Hall Councils my freshmen year and was hooked with the environment and people that came with it. I was not only meeting new people but making a difference by programming in the residence halls and creating an atmosphere of home for other students.
My sophomore year I served as the Programming Coordinator for the Residential Hall Association which meant I was able to bring my programs to the campus wide level. I was also able to connect with faulty in the housing department and learn about the behind the scene processes that comes with operating housing at Appalachian. Through my position I was also able to attend a regional level and state level housing conference. I connected with students from different universities and felt a rush of pride representing my own.
Currently, I serve as the director of NCARH, the state level housing conference, and I am also an RA. I would have never had the opportunity to grow as a leader and person without Appalachian guiding me and supporting me throughout the entirety of my journey thus far.
What is your understanding of "sustainability" after being at Appalachian?
Prior to attending Appalachian I was unaware of what sustainability even was. When applying for housing I had to option to apply to a Residential Learning Community. App offers a variety of RLCs but the one that caught my attention was the Living Green RLC; this was my first chapter stepping into the world of sustainability. I was thrust into a community surrounded about sustainable minded individuals that ultimately led me to run for eco-rep for my residence hall; chapter two of my journey. I was introduced to the Office of Sustainability from this position and was able to build connections with those in the office. I grew over the year and built strong relationships that my mentor offered me a position as an intern for my sophomore year; next chapter.
This past year has been a blend of attending sustainable orientated classes and becoming involved with the campus with its sustainable initiatives; these experiences have taught me the importance and dire need for our community to take action. I have come to realize sustainability does not only encompass our environment but the equality of all people and a support for our economy. Moving into the my current chapter of the 2019-2020 year, I am taking all that I have learned the past two years and apply it to my position as the Director of Environmental Sustainability. Appalachian values sustainability to an extent that has buried itself into my personal beliefs and values as well. App State's drive to be a more sustainable campus influenced me and has helped me grow into the student and leader I am today within sustainability.
What is your understanding of a "liberal arts" education and do you believe Appalachian has provided that?
Liberal arts education encompasses many fields and allows students to delve into varying topics within their education experience. I believe App takes a unique approach to this form of education through general education pathways which has students select a topic but attend classes in varying departments to fully understand their pathway. I find this beneficial because it allows for students to study concepts they would have never encountered within their major. This could even lead to major changes or new found hobbies and interests.
What is your favorite space or place on campus?
I love the union because it is a busting center of students
I find inspiration from … My mentors
I recharge by . . . Eating at all the great food spots in Boone!
My favorite superhero is . . . Dr. Strange
My favorite place to eat in Boone is . . .Cha Da Thai
My favorite ice cream is . . . Strawberry
My spirit animal would be . . . a Tiger
My dream job would be . . . Sustainable Urban Planner
Roll 'Neers!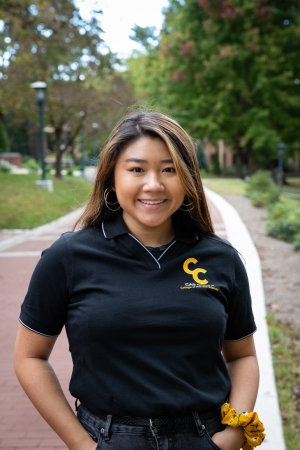 Tags: