The CAS Corps are chosen to serve as representatives to all constituents of the College of Arts and Sciences and to create, promote and execute opportunities for academic and professional growth. These students represent a variety of departments from across the College of Arts and Sciences and will represent the College at events through interaction among current students, future students, parents, donors and alumni.
Each month we will be introducing one of our twelve students representing the college in the 2018-19 academic year through a question and answer format. This month, meet Sophia and learn about her research experiences. For more about the CAS Corps, visit: cas.appstate.edu/students/cas-corps.
Sophia Yang
Majors: Chemistry and Exercise Science
What clubs or organizations are you a member of?
The PEEL and Pre-Dental Honors Society (Delta Delta Sigma).
What sports or hobbies do you participate in?
Running, hiking, weight training, racquetball, rock climbing, yoga and swimming.
What scholarship(s) have you received from Appalachian or while studying at Appalachian?
Dean's scholarship from Beaver's College of Health Sciences
What location(s) have you completed an internship?
Shadowing hours at OP Smiles (Boone).
What location(s) have you completed a study abroad or a study away?
U.S., technically, is where I study abroad.
What location(s)/lab(s) you conduct research?
Dr. Christian's biochemistry lab. Research topic is on adipocyte differentiation (fat cells maturing).
What location(s) do you hope to go for an internship, study abroad or research experience?
I would like to travel to attend conferences for my research.
What research have you been most passionate about?
My current research in biochemistry.
What are you most excited about this semester?
My biology classes, and joining the PEEL.
What is one of your favorite memories at Appalachian thus far?
ASE (alternative service experience) trip to Atlanta, GA over the spring break of my freshman year.
What do you like most about Boone and the surrounding community?
The people and how open-minded everyone is.
What do you feel has been valuable in your education at Appalachian versus another institution?
I learned to have more confidence in my participation and leadership in my classes. The faculty and my peers here at App State are so supportive that I am never afraid to ask questions, answer the professor's questions, etc.
Tell us about a transformational experience you have had at Appalachian.
I switched my major from nursing to chemistry and exercise science. I was not consider pre-dental at all when I first entered college. The professors and advisors here at Appalachian helped me every step in this transition. They were encouraging and supportive - I don't know if I would have made the same decision without them.
Tell us about one faculty member that has made an impact on your life and how.
I can list about 10 here. BJ Yoblinski was my chemistry professor my freshman year. He was the professor for the first class I've ever had in college. He pretended to be very scary (and he does this every year) during that first class and I was very intimidated by him. But he turned out to be the kindest and most caring professor I've never known. I ended up working with him as his LEAD tutor for the entirety of my second year. He was always honest with me and that was what I valued most. I knew that I could always turn to him when I'm facing a difficult decision (life or academic). He invited me to Thanksgiving lunch at his house since I didn't have anyone to spend Thanksgiving with. He also helped me when I switched majors.
Tell us about one other connection you have made while at Appalachian - a friendship, mentor, colleague, a new found hobby or interest.
I was not very active throughout high school. I did not go to the gym regularly and hated running. Now I live a very active lifestyle and it has been life-changing. I think the students here at Appalachian put a heavy emphasis on being active and living a healthy lifestyle that they greatly influenced me.
What is your understanding of "sustainability" after being at Appalachian?
Sustainability, to me, is to be more conscious of many small decision in my life. Will I reuse a plastic fork? Will I purchase individually packaged snacks? Will I throw away a ziplock bag after one use? What do I want on my dinner plate in term of animal products? (I took a class that dealt with the animal-human relationship and learned a lot about the ugly side of animal agriculture.) These small decisions would have a very large impact in our daily lives if everyone in the community becomes more conscious and educated. So I think education is key when it comes to sustainability. I didn't know the many ways I could be sustainable before I came to Appalachian.
What is your understanding of a "liberal arts" education and do you believe Appalachian has provided that?
It is a holistic approach to a standard major-focuses degree. It made me a more well-rounded person and expanded my horizons and interests. Before I took my art class this semester, I never considered myself an artist and would never spend an afternoon on an art project. But my art class gave me the opportunity to explore a side of me that I didn't know existed.
What are you doing after graduation?
I would like to attend dental school.
What is your dream job?
I would like to be a dentist.
What do you think you will miss most when you graduate?
The professors.
Is there anything else you would like to add about yourself?
Deciding to come to Appalachian is among one of the best decisions I've made my entire life.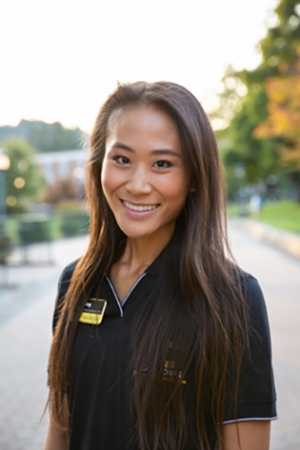 Tags: