The CAS Corps are chosen to serve as representatives to all constituents of the College of Arts and Sciences and to create, promote and execute opportunities for academic and professional growth. These students represent a variety of departments from across the College of Arts and Sciences and will represent the College at events through interaction among current students, future students, parents, donors and alumni.
Each month we will be introducing one of our ten students representing the college in the 2021-22 academic year through a question and answer format. This month, meet Tanner and learn about his experiences. For more about the CAS Corps, visit: cas.appstate.edu/students/cas-corps.
---
CAS Corps Feature: Michaela Moon
Sophomore
Majoring in Physics
From Pfafftown, N.C.
What clubs or organizations are you a member of?
Women's Club Soccer.
Scholarship(s) you have received from Appalachian or while studying at Appalachian?
TheAppalachian Excellence Scholarship.
Location(s) you hope to go for an internship, study abroad or research experience.
I would like to study abroad somewhere in Europe, such as Italy, Scotland or France.
Research or coursework you have been most passionate about?
Some of the course work that I have been the most passionate about has been that relating to the effects of climate change. Global warming, and especially sea level rise, has become really interesting to me, and I continue to do research on my own.
What was the biggest challenge for you as a college student during the pandemic?
The biggest challenge for me as a student during the pandemic was not having access to peers, since all of my classes were online.
What has given you peace, relaxation or been your outlet over the summer?
This summer I have been able to travel and spend time with family and friends that I haven't seen in a while.
What has been the book, podcast and/or tv show you found rewarding or enjoyed over the summer?
The Arctic Fury (novel) by Greer Macallister.
What are you most excited about this coming semester?
I am very excited to be able to delve deeper into content relating to my major. Some of the previous classes I have taken have just been requirements, but this semester I have the opportunity to take a few more physics classes.
What is one goal you have set for yourself this coming year?
One goal for myself this year is having better time management. I want to be able to balance school and work, while still having time to spend with my friends.
What is one of your favorite memories at Appalachian thus far?
One of my favorite memories at Appalachian so far has been having a picnic and hammocking with my friends in Durham park after a long week. It is so nice to be able to spend quality time with friends while enjoying the beautiful campus.
What do you like about Boone and the surrounding community?
I love that everyone is so kind and encouraging. Making the transition to being a college student in the midst of a pandemic made me nervous, but everyone I met was very welcoming. It was very easy to make friends, and I felt more confident in my classes.
What do you feel has been valuable in your education at Appalachian versus another institution?
I enjoy the smaller class sizes at Appalachian. I have always felt more comfortable in a more intimate academic environment, and it allowed me to get to know my professors more. The professors are always willing to help, which helped me to feel valued as a student.
Tell us about one faculty member that has made an impact on your life and how.
One faculty member that has made a big impact on me is Dr. Courtney McGahee. She was my physics instructor for both the fall and spring semester last year. Not only is she just a fantastic professor, making the content easier to learn, but she really cares about her students. She never hesitated to talk with me if I had any questions, and she even reached out to me when I suddenly did worse on an assignment to make sure I had the resources I needed to succeed. It is her understanding and compassion that encouraged me to keep going, even when the year got more difficult.
Tell us about one other connection you have made while at Appalachian - a friendship, mentor, colleague, a new found hobby or interest?
The friends that I made during my second semester at Appalachian are some of the best friends I could ask for. They are always there for me when I need it, and they help me get out of my shell. I love that we can be funny and carefree, but also serious and thoughtful when necessary.
What is your favorite place on campus and why?
My favorite place on campus is definitely Plemmons Student Union. I love studying and drinking coffee in Crossroads, and grabbing a smoothie and playing pool with my friends in the game room.
What is your understanding of "sustainability" after being at Appalachian?
Before attending Appalachian and taking a class focusing on sustainability, I didn't think too much about the meaning of the word. I have always been told to do things to help the environment: turning the water off when brushing my teeth, recycling and bringing reusable bags to stores to cut down on plastic bag use. However, I did not really know the extent to which climate change was affecting our world. Now, I believe sustainability means being intentional about the ways we help our planet. This means not only attempting to reduce our own negative impact on the earth, but teaching and encouraging others to do the same.
What do you hope to do after graduation?
After graduation, I hope to find a good teaching job.
What is your dream job?
A high school physics teacher.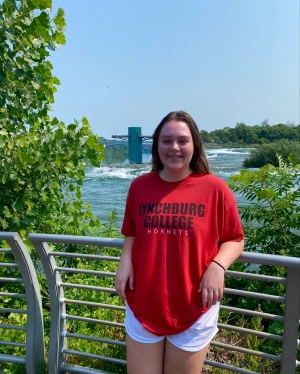 Tags: