The CAS Corps are chosen to serve as representatives to all constituents of the College of Arts and Sciences and to create, promote and execute opportunities for academic and professional growth. These students represent a variety of departments from across the College of Arts and Sciences and will represent the College at events through interaction among current students, future students, parents, donors and alumni.
Each month we will be introducing one of our ten students representing the college in the 2021-22 academic year through a question and answer format. This month, meet Malikia and learn about her experiences. For more about the CAS Corps, visit: cas.appstate.edu/students/cas-corps.
---
CAS Corps Feature: Malikia Cherubala
What clubs or organizations are you a member of?
International Appalachian (INTAPP).
Scholarship(s) you have received from Appalachian or while studying at Appalachian?
The Reiman Planning Scholarship and Mayfield scholarship.
Location(s)/Organization(s) you completed an internship.
I have not yet completed an internship, but am actively looking for one for the summer of 2022. I am interested in urban design and revitalization as it applies to neighborhoods for sustainable community development.
Location(s) you completed a study abroad or study away.
I have not studied abroad but am coming from abroad, from the Democratic Republic of Congo.
Location(s)/lab(s) you conducted research.
I have conducted a research study on the spatial distribution of hospitals across the province of Kinshasa, DRC as it relates to population density.
Location(s) you hope to go for an internship, study abroad or research experience.
Although I do not have an idea of the place, I would like to conduct site research in chaotic areas that are in the process of rebuilding their infrastructure.
Research or coursework you have been most passionate about?
The passion that has guided the way I approach each course and conduct research has to do with the revival of neighborhoods to meet the needs of the people there in terms of infrastructure, essential services and areas of recreation.
What was the biggest challenge for you as a college student during the pandemic?
If I had to name a challenge, it would have to be the overwhelming sense of "self-education". It felt like I was mostly an instructor and hardly the student. That made it difficult to dive into work I was passionate about as I felt too responsible for the courses I was taking.
What has given you peace, relaxation or been your outlet over the summer?
My family and God.
What are you most excited about this coming semester?
Reaping and sowing intentional hard work that will elevate me to where I want to go
What is one goal you have set for yourself this coming year?
To be knowledgeable and aware about what I want and to make it happen.
What is one of your favorite memories at Appalachian thus far?
Outings with the interaction students.
Tell us about one faculty member that has made an impact on your life and how.
Dr. Elizabeth Shay has impacted me in that she sees in me potential and passionately assists me in my academic and professional decisions.
Tell us about one other connection you have made while at Appalachian - a friendship, mentor, colleague, a new found hobby or interest?
I've found a new appreciation for self love and working on myself. That translates to going to the gym more often, drinking water, sitting with my emotions and dealing with them calmly and learning what I truly want out of life.
What is your understanding of "sustainability" after being at Appalachian?
While I still have some time here, I'm learning that sustainability is intentional actions meant to protect the earth while caring for its people
What is your dream job?
Being a Community Reviver for the safety, health and the rejoicing of the people of the Democratic Republic of Congo.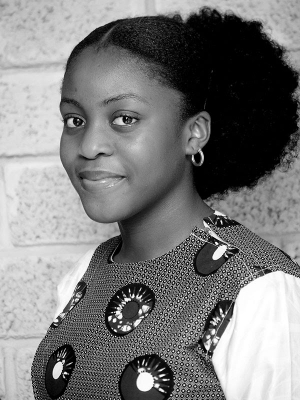 Tags: