The CAS Corps are chosen to serve as representatives to all constituents of the College of Arts and Sciences and to create, promote and execute opportunities for academic and professional growth. These students represent a variety of departments from across the College of Arts and Sciences and will represent the College at events through interaction among current students, future students, parents, donors and alumni.
Each month we will be introducing one of our ten students representing the college in the 2019-20 academic year through a question and answer format. This month, meet Lindsey and learn about his experiences. For more about the CAS Corps, visit: cas.appstate.edu/students/cas-corps.
Lindsey Wise
Senior
Majors: Mathematics and Studio Art
Honors College
What clubs or organizations are you a member of?
The Honors College, The Appalachian and Math Club.
What sports or hobbies do you participate in?
Swimming, weightlifting, doing math and drawing.
What scholarship(s) have you received from Appalachian or while studying at Appalachian?
Chancellor's Scholarship
What location(s) have you completed a study abroad or a study away?
Dublin, Ireland
What location(s)/lab(s) you conduct research?
I completed an independent mathematics research in visual cryptography, and worked with Dr. Eric Marland et. al. on C02 emissions research.
What location(s) do you hope to go for an internship, study abroad or research experience?
Budapest Semesters in Mathematics or University of Reading
What research have you been most passionate about?
Applying visual cryptography schemes to surfaces in three dimensions.
What are you most excited about this semester?
Delving into the major mathematics courses that bridge the gap from rudimentary computations to beautiful and distinctly specialized fields.
What is one of your favorite memories at Appalachian thus far?
Road tripping with Dr. Rick Klima and several classmates from our Cryptology class to Washington, D.C. so we could see the National Cryptologic Museum.
What do you like most about Boone and the surrounding community?
It's beautifully peaceful.
What do you feel has been valuable in your education at Appalachian versus another institution?
Class sizes are remarkably small; all of my professors know me personally. I feel like part of a familial unit.
Tell us about a transformational experience you have had at Appalachian.
My first semester, I fell off of Rough Ridge--about a 40-foot descent. This resulted in a broken pelvis, four broken ribs, a fractured elbow, a punctured lung and a punctured liver. The first responders hoisted me back up the cliff by a rope because they had no other way to get me to safety. I took a helicopter to Charlotte hospital where I stayed for three days. After one day, I could walk with support. They reluctantly released me back to school; I only missed three days of classes. The amazing constant support from my friends allowed me to function normally for the most part. Doors in the residence halls were weighted too heavily for me to open thanks to rib fractures, and I was fairly immobile initially due to the pelvis injury. They helped push my wheelchair to class for around two weeks until I was able to make the trek from Cone Hall to Walker Hall on crutches (no small feat given our campus's terrain). I have a lasting insight to the reality of those permanently wheelchair-bound as well as those that suffer from chronic pain which is often reflected in my artwork. Further, I have the utmost respect for those that spend their lives serving others, as I would not have successfully completed the semester without their efforts.
Tell us about one faculty member that has made an impact on your life and how.
Dr. Rick Klima was my first introduction to the mathematics department. In tenth grade, I traveled up to Boone for an event. At one point, we were divided into our prospective majors. One other student and I ended up in Dr. Klima's office, and he asked what he could say to convince us to come to Appalachian. Suffice to say, he succeeded. I saw him again at scholars day, and then again as he became my honors advisor. Last semester, he taught the junior math honors seminar on cryptology and led a road trip to Washington, D.C.. Currently he is working with me on study abroad opportunities for next semester.
Tell us about one other connection you have made while at Appalachian - a friendship, mentor, colleague, a new found hobby or interest.
I offhandedly became a political cartoonist for the Appalachian after submitting several sketches to the editors; this is a stretch from my traditional realistic art style.
What is your understanding of "sustainability" after being at Appalachian?
In my home county, recycling efforts are few and far between because the cost of recycling is higher than that of simply maintaining landfills. However, Appalachian's emphasis on sustainability efforts has made me conscious of many choices I can make in my day-to-day life to lessen my overall impact on the environment.
What is your understanding of a "liberal arts" education and do you believe Appalachian has provided that?
An education that provides breadth as well as depth, emphasizing the interdisciplinary nature of subjects rather than viewing them in isolation of one another. Yes, Appalachian has certainly provided this.
What are you doing after graduation?
Attend graduate school to pursue a PH.D in Mathematics.
What is your dream job?
Mathematics professor.
What do you think you will miss most when you graduate?
The community.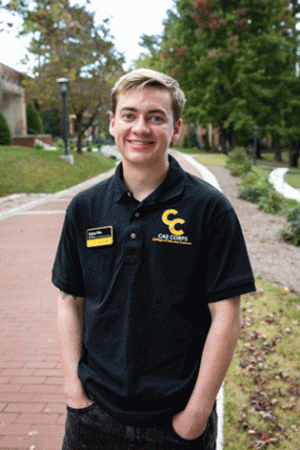 Tags: