The CAS Corps are chosen to serve as representatives to all constituents of the College of Arts and Sciences and to create, promote and execute opportunities for academic and professional growth. These students represent a variety of departments from across the College of Arts and Sciences and will represent the College at events through interaction among current students, future students, parents, donors and alumni.
Each month we will be introducing one of our students representing the college in the 2020-21 academic year through a question and answer format. This month, meet Kira. For more about the CAS Corps, visit: cas.appstate.edu/students/cas-corps.
---
Kira Plummer
Junior
Hometown: Vilas, N.C.
Major: Anthropology, multidisciplinary

What clubs or organizations are you a member of?
CAS Corps, Club Soccer and soon to be on the snowboarding team.

Sports or hobbies?
Snowboarding, art, soccer and reading/writing.

Scholarship(s) you have received from Appalachian or while studying at Appalachian?
Staff Senate Scholarship.

Location(s)/Organization(s) you completed an internship:
Western Youth Network.

Location(s) you hope to go for an internship, study abroad or research experience:
Spain, South and Central America.

Research or course work you have been most passionate about?
Political anthropology regarding environmental issues in indigenous communities in Latin America.
What has been the biggest challenge for you this summer?
Adapting to the new "way of life" surrounding COVID especially in the workforce.

What has given you peace, relaxation or been your outlet over the summer?
Getting outside and exercising.

What has been the book, podcast and/or tv show you found rewarding or enjoyed over the summer?
Midnight Gospel. Although sometimes difficult to watch because it is a weird cartoon, the content and conversations had are valid and tend to be very deep. They make you think.

What are you most excited about this coming semester?
Being involved more on campus to the best of my ability.

What are you most anxious about this coming semester?
How to balance school online, work and living 20 minutes away from town/campus.

What is one of your favorite memories at Appalachian thus far?
Meeting new friends from different places.

What do you like about Boone and the surrounding community?
I really enjoy the community outreach and focus on supporting local businesses. I also love the appreciation for the outdoors here.

What do you feel has been valuable in your education at Appalachian versus another institution?
The rigor each course presents.

Tell us about one faculty member that has made an impact on your life and how.
Dr. Kissel in the Anthropology Department has made my time at Appalachian State University thus far an easier transition. His different views and style of teaching helped class be less stressful and I also find myself retaining more information.

Tell us about one other connection you have made while at Appalachian - a friendship, mentor, colleague, a new found hobby or interest?
Appalachian has helped me really narrow down my interests in the Anthropology Department and find what I'm passionate about.

What is your favorite place on campus and why?
The solarium because it is such a peaceful place to study and eat lunch.

What is your understanding of "sustainability" after being at Appalachian?
I view sustainability as practices that keep the well-being of the earth in mind while continuing to support other humans. It also involves the process of educating others about sustainable practices.

What do you hope to do after graduation?
Be involved with grassroots movements in indigenous Latin American communities involving sustainability and how gender plays a role in that.

What is your dream job?
I'm not sure yet. I would love to be able to combine my art and my passion for anthropology.

Is there anything else you would like to add about yourself?
I love working with kids and being involved in my community. I am a snowboard instructor and have also coached soccer.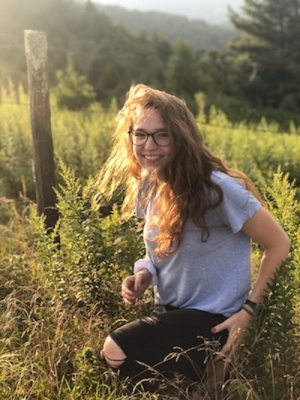 Tags: