The CAS Corps are chosen to serve as representatives to all constituents of the College of Arts and Sciences and to create, promote and execute opportunities for academic and professional growth. These students represent a variety of departments from across the College of Arts and Sciences and will represent the College at events through interaction among current students, future students, parents, donors and alumni.
Each month we will be introducing one of our newest students representing the college this academic year through a question and answer format. For more about the CAS Corps, visit: cas.appstate.edu/students/cas-corps.
---
CAS Corps Feature: Kate Metzger
Junior
Majoring in Mathematics
From Leicester, N.C.
What clubs or organizations are you a member of?
Alpha Delta Pi and Math Club.
Sports or hobbies?
Watching sports and working out.
Location(s) you hope to go for an internship, study abroad or research experience.
I would love to be able to spend some time in Colorado for an internship as well as visit Germany.
Research or coursework you have been most passionate about?
Mid-pandemic I took a class that was all about disease modeling and it was so interesting to be able to see inside all of the statistics and models of COVID-19. We created our own models including new parameters and compartments to see how different things would impact the infection rate and max infection.
What was the biggest challenge for you as a college student during the pandemic?
I found it very challenging to balance my day between taking time for classes and homework. I had to create a routine to keep myself motivated and disciplined to get everything done.
What has given you peace, relaxation or been your outlet over the summer?
I like to workout and take long walks. This helps me relax and take some time to think.
What has been the book, podcast and/or tv show you found rewarding or enjoyed over the summer?
The podcast that has helped me over the summer is called "New Mindset, Who Dis?" It offers thoughts on self improvement, mindfulness and just insight on how to live a happy life.
What are you most excited about this coming semester?
In-person classes! I cannot wait to be able to see my classmates in person this coming semester and be on Appalachian's campus.
What is one goal you have set for yourself this coming year?
I am going to enjoy every second of college while learning everything I can from my professors and peers to maximize my education here at Appalachian.
What is one of your favorite memories at Appalachian thus far?
It is a simple memory, but my favorite memory at Appalachian was sitting on Sanford Mall when the campus was so full of life and everyone was on the grass doing their own thing, studying, playing frisbee and eating lunch. It just reassured me that I had chosen the school for me.
What do you like about Boone and the surrounding community?
Boone's community is so welcoming of Appalachian students. I am from Asheville, so I feel that Boone is just a smaller version of it with the same beautiful mountains.
What do you feel has been valuable in your education at Appalachian versus another institution?
At Appalachian, I think that every student's experience is individualized. The classes are smaller so you are able to create a relationship with your professors and really get the help that you need.
The math department gives us so many opportunities to do well in our classes and really learn the material. There is a math lab where you can receive help on your homework and professors are very flexible with their office hours to make sure you get the help that you need.
Tell us about one faculty member that has made an impact on your life and how.
When I was deciding which college to go to, I reached out to the Department of Mathematical Sciences at Appalachian to see if I could come and get an inside look at a typical day as a math major. Dr. Klima got back to me immediately and set up a time that I could meet with him to come take a look. They were extremely welcoming and answered every question I had, and then some. Now, Dr. Klima is my advisor and continues to help me throughout my college journey, and goes above and beyond for me.
Tell us about one other connection you have made while at Appalachian - a friendship, mentor, colleague, a new found hobby or interest?
Before coming to Appalachian, I went on the roommate page and found a random girl who had some of the same interests as me and messaged her. Once we moved in together, the rest was history. My freshman roommate has remained my best friend. We joined different clubs than each other and are different majors yet we still are able to find time for each other. I am forever grateful to Appalachian for making my life happier with these great friends
What is your favorite place on campus and why?
Easily, Walker Hall. Walker is my home since I am a math major. I spend all of my days and some evenings there because of my classes and math lab. Walker has many places to study and sit in between classes. It also has the kindest people.
What is your understanding of "sustainability" after being at Appalachian?
I feel like I have become more aware of living a sustainable lifestyle. I took a sustainable development course and was able to see that sustainability is more than just taking care of the environment. Sustainability has to do with the economy, society and the environment. It is about living a full life while protecting future generations and their needs.
What do you hope to do after graduation?
I am still figuring out what kind of job I want to do with mathematics and statistics, but I hope that I am able to find an internship before I graduate and let that help me figure out where I want to go in life.
What is your dream job?
My dream job is something that includes mathematics and lets me have a positive impact while challenging me.
Is there anything else you would like to add about yourself?
Appalachian has opened so many doors for me and pushes me to be my best self. I am so grateful for everything Appalachian has taught me and all of the people it has brought into my life. I am looking forward to meeting all of the CAS Corps members and becoming more involved with the community.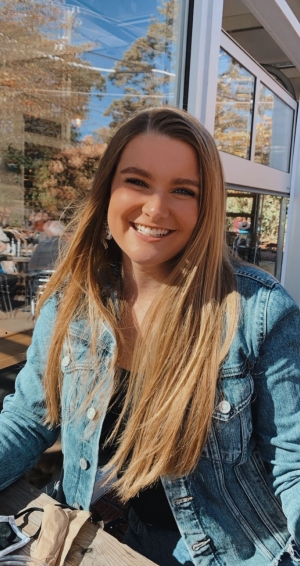 Tags: