The CAS Corps are chosen to serve as representatives to all constituents of the College of Arts and Sciences and to create, promote and execute opportunities for academic and professional growth. These students represent a variety of departments from across the College of Arts and Sciences and will represent the College at events through interaction among current students, future students, parents, donors and alumni.
Each month we will be introducing one of our ten students representing the college in the 2019-20 academic year through a question and answer format. This month, meet Janet and learn about her experiences. For more about the CAS Corps, visit: cas.appstate.edu/students/cas-corps.
Janet Brock
Junior
Computer Science major, English minor
From Asheville, N.C.
What clubs or organizations are you a member of?
Women in Computer Science, ASCII and the Honors College.
Sports or hobbies?
I don't play any sports but I do enjoy singing, dancing and baking.
Scholarship(s) you have received from Appalachian or while studying at Appalachian?
The ECRS Women in Computer Science Scholarship.
Location(s) you completed or will complete an internship.
I have not yet completed an internship but I plan to before I graduate.
Location(s) you completed or will complete a study abroad or study away.
I have not yet studied abroad but I plan to before I graduate.
Location(s)/lab(s) you conducted research.
This semester I will be conducting research in the Geology lab with Dr. Casale.
Location(s) you hope to go for an internship, study abroad or research experience.
I would love to study abroad in Asia, especially South Korea.
What are you most excited about this coming semester?
This semester I'm really excited about getting more involved on campus. In addition to the CAS Corps I'll be in a leadership position in two clubs and I'll be beginning my undergraduate research. I've found that getting more involved on campus has always made me feel more connected and helped me meet new friends. I anticipate that the CAS Corps will provide such opportunities and more. I'm particularly excited to help in-coming students see the potential I have found at Appalachian.
What do you like most about Boone and the surrounding community?
Boone has an amazing atmosphere. Having grown up in Asheville, I've always been in the mountains, but I am still regularly astounded by their beauty. The community in Boone is also so welcoming and friendly, I noticed it on my first tour here. Loving the place you live is so important to me because it can change your whole outlook, which is why I'm so glad Appalachian State is located where it is.
What do you feel has been valuable in your education at Appalachian versus another institution?
I think Appalachian is the perfect mix of big and small. There's enough students that you can always find people interested in the same things as you. There's also an amazing number of diverse clubs to get involved in. However, the university is also small enough that you can get to know your professors and you are very rarely in lecture hall style classes. Appalachian also provides amazing opportunities for undergraduate research, which I will soon be involved in.
Tell us about one faculty member that has made an impact on your life and how.
The professor that has made the most impact on me is Dr. Alice McRae. She was one of the first professors I talked to when I came to school here. She was immediately welcoming and gave me great advice on what classes to take. She also got me interested in an aspect of computer science I had never heard of before, computer theory. I'm so thankful I got to know someone as kind as her, you can really tell she cares for her students above all else.
Tell us about one other connection you have made while at Appalachian - a friendship, mentor, colleague, a new found hobby or interest.
One of the most enriching things I've done at Appalachian is join the Women in Computer Science club; otherwise known as WICS. Before I was very involved in the club I was struggling to make friends and find my place at Appalachian. But through WICS I found a core friend group I could count on. I also became more involved in my major and made connections with faculty and potential employers. Because of this I always recommend people get involved in clubs on campus; they can truly transform your time here for the better.
What is your understanding of "sustainability" after being at Appalachian?
Sustainability has always been really important to me; especially growing up in Asheville I heard about it often. Since coming to Appalachian I've seen more of how sustainability is implemented. I've seen changes at the school, such as how they recently started composting at my dorm. I've also learned that sustainability is everyone's responsibility and that when everyone works together, we can make real, tangible change.
What is your understanding of a "liberal arts" education and do you believe Appalachian has provided that?
My understanding of a liberal arts education is an education that not only broadens your knowledge about one topic, but about everything. It teaches you how to think, as the proverb goes; "Give a man a fish and you feed him for a day. Teach him how to fish and you feed him for life." I believe Appalachian has provided this to me by pushing me to take classes in subjects I otherwise wouldn't have. These classes have taught me not just about the subjects they're on but also taught me how to approach unfamiliar material in an effective way.
What is your favorite space or place on campus?
When I have a lot going on I like to find one of the many secluded benches on campus and lay down and listen to music for a while. It's nice to be outside and enjoying nature. Though I admit this isn't always a very practical thing to do in winter.
I find inspiration from …
Music. Many of my family members are musicians and singers so I've always been interested in music. Singing is my specialty; I find it exhilarating and liberating regardless of my mood. When doing my homework I always try and choose a playlist that has the same vibe as whatever I'm working on.
I recharge by . . .
Listening to music, talking to friends, going on walks and watching YouTube videos. When it's not too icy the campus is always fun to walk around; though it can be fun to slip on the ice sometimes too. As for YouTube, my favorite creator is Jenna Marbles, I've been watching her for years.
My favorite superhero is . . .
Captain Marvel
My favorite place to eat in Boone is . . .
Come Back Shack
My favorite ice cream is . . .
Stracciatella gelato
My spirit animal would be . . .
A chihuahua
My dream job would be . . .
I'm still unsure about a specific job I would want, but I know I want a job that pushes me, makes use of all my skills, and has a meaningful impact on the world.
Is there anything else you would like to add about yourself or your experience at Appalachian?
My time at Appalachian has truly changed my life, and I'm only half way through. I hope that by being part of the CAS Corps I can help others find the passion and inspiration I have found at Appalachian.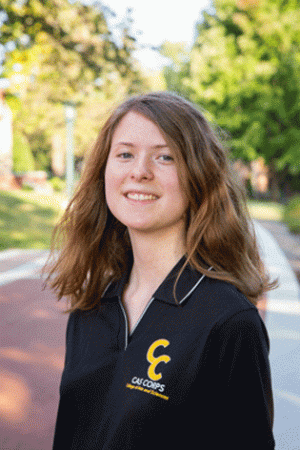 Tags: