The CAS Corps are chosen to serve as representatives to all constituents of the College of Arts and Sciences and to create, promote and execute opportunities for academic and professional growth. These students represent a variety of departments from across the College of Arts and Sciences and will represent the College at events through interaction among current students, future students, parents, donors and alumni.
Each month we will be introducing one of our ten students representing the college in the 2021-22 academic year through a question and answer format. This month, meet Tanner and learn about his experiences. For more about the CAS Corps, visit: cas.appstate.edu/students/cas-corps.
---
CAS Corps Feature: Gracie Justice
Junior
Majoring in Global Studies
From Waynesville, N.C.
What clubs or organizations are you a member of?
New Life Campus Ministry, German Club.
Sports or hobbies?
Kayaking, volleyball, traveling and drinking coffee!
Scholarship(s) you have received from Appalachian or while studying at Appalachian?
An OIED scholarship to study abroad.
Location(s) you hope to go for an internship, study abroad or research experience.
I am hoping to study abroad in Graz, Austria in the spring of 2022. I would also like to complete nutrition research with Dr. Farris in Madagascar during the summer of 2022 and an internship with F.A.R.M. Cafe.
Research or coursework you have been most passionate about?
Food as a major aspect in connecting our world, food equity and sovereignty and intercultural communications.
What was the biggest challenge for you as a college student during the pandemic?
During the pandemic, I have struggled with motivation and finding the drive to remain committed to my classes. Being online for almost three semesters has dampened my excitement for learning, but my hope has remained in studying abroad and having the chance to make the world my classroom.
What has given you peace, relaxation or been your outlet over the summer?
This summer I have seen a lot of friends who I haven't seen in years and the reunions have been so refreshing and rewarding. Knowing that despite distance and time, those friends are still true and reliable has brought me so much joy and peace.
What has been the book, podcast and/or tv show you found rewarding or enjoyed over the summer?
The Turn of the Key by Ruth Ware has been my favorite book of the summer. The ending brought my jaw to the floor!
What are you most excited about this coming semester?
I am excited to see campus bustling again, to hear more laughter and see more faces. I am eager to reunite with professors I had in person and online, and to get back into the classroom with other students.
What is one goal you have set for yourself this coming year?
This year I am aiming to live more sustainably and healthily by cutting red meat and most dairy products out of my diet.
What is one of your favorite memories at Appalachian thus far?
One of my favorite memories at Appalachian thus far has been working as a SOUL (Student Orientation Undergraduate Leader) during the summer of 2020. Although it was all online, I thoroughly enjoyed working with orientation and welcoming new students to Appalachian.
What do you like about Boone and the surrounding community?
I grew up in Boone, so it's home to me. I feel very comfortable and at peace here, and am always thankful for the amazing mountain weather and breathtaking views.
What do you feel has been valuable in your education at Appalachian versus another institution?
At Appalachian, I don't feel like a number or just another face in the crowd. Each professor and faculty member has shown how much they care for me and the other students. They all desire to see me succeed and to help me along the way.
Tell us about one faculty member that has made an impact on your life and how.
Dr. Joseph Gonzalez has made a big impact on my life and time at Appalachian. He was my global studies professor turned advisor, and in the two classes I have taken with him, he has pushed me to excel in all that I do. He cares deeply about the wellbeing of his students both inside the classroom and out. He has made sure to be intentional with us in the midst of online school, the pandemic and an election year. Dr. Gonzalez's best attribute, in my opinion, is that he listens well and shares in my excitement as I learn more about my passions and my future career.
Tell us about one other connection you have made while at Appalachian - a friendship, mentor, colleague, a new found hobby or interest?
Holly Ambler has been a great friend and mentor to me during my time at Appalachian. Not only was she my Watauga Residential College mentor, but she was the advisor I worked with during my time as a SOUL. She has shown me immense support in my endeavors and has helped me in the transitions faced through the past two years. She is reliable and someone I can always count on.
What is your favorite place on campus and why?
My favorite place on campus is a green picnic table behind DD Daugherty. Very few people stop here to sit and/or work, so I go there often to be outside and work in the shade of a big tree. It is more secluded here and allows me to focus on whatever I am doing.
What is your understanding of "sustainability" after being at Appalachian?
After being at Appalachian, I have learned that sustainability can take many different shapes. From sustainable diet, to travel, to everyday tasks and even relationships, sustainability takes intentionality and proactive effort. To me, sustainability is actions taken to prepare for and promote a better future. If we want to make the world a better place we must all make changes to encourage sustainability and a brighter future.
What do you hope to do after graduation?
After graduation I hope to work in a pay-what-you-can cafe. Not sure where that will be, but I want to understand the dynamics of this system and serve people well by providing delicious and nutritious food to everyone despite their background or status.
What is your dream job?
My dream job is to own my own pay-what-you-can restaurant in Europe one day. After spending time living in Germany, my heart wants to be back there.
Is there anything else you would like to add about yourself?
I grew up in Boone, N.C. spent two years living in Germany, and participated in the World Race Gap Year program, but despite all of that travel Boone, and Appalachian, have been the home I will never stop returning to. There is something about these mountains that keeps drawing me back.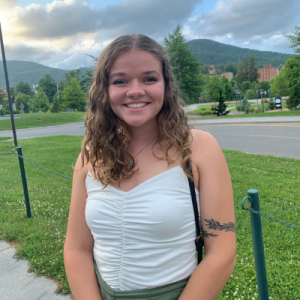 Tags: