The CAS Corps are chosen to serve as representatives to all constituents of the College of Arts and Sciences and to create, promote and execute opportunities for academic and professional growth. These students represent a variety of departments from across the College of Arts and Sciences and will represent the College at events through interaction among current students, future students, parents, donors and alumni.
Each month we will be introducing one of our ten students representing the college in the 2019-20 academic year through a question and answer format. This month, meet Janet and learn about her experiences. For more about the CAS Corps, visit: cas.appstate.edu/students/cas-corps.
---
Gabby Brown
Junior
English, professional writing major
From Raleigh, N.C.
What clubs or organizations are you a member of?
The Peel Literature and Arts Review and Alliance College Connection.
Sports or hobbies?
Reading, crocheting and embroidery.
Scholarship(s) you have received from Appalachian or while studying at Appalachian?
Academic Excellence Scholarship for the 2018-19 academic year and the Jeni Gray Memorial Scholarship from the English Department.
Location(s) you hope to go for an internship, study abroad or research experience.
Madrid and London.
Research or course work you have been most passionate about?
English Literature, specifically Romantic and Modern periods.
What has been the biggest challenge for you this summer?
Staying personally productive during isolation.
What has given you peace, relaxation or been your outlet over the summer?
I worked a part-time job which helped me get out of the house and be productive. Books too, I've read quite a few lately.
What has been the book, podcast and/or tv show you found rewarding or enjoyed over the summer?
Leo Tolstoy has been a new interesting author for me, I've read "Anna Karenina" and "War and Peace" this summer. I've also enjoyed "Criminal Minds."
What are you most excited about this coming semester?
I'm excited to be back in an educational environment and getting back into the community with my peers, even if it's virtual.
What are you most anxious about this coming semester?
Adapting to the new normal of hybrid classes and social distancing.
What is one of your favorite memories at Appalachian thus far?
The women's Bible study that I've been able to co-lead. Through it, I've made some amazing friends who support and challenge me.
What do you like about Boone and the surrounding community?
I love Boone because it's small, tight-knit and there is so much opportunity to support local artists and farmers. It's a beautiful place to live in, with lots of natural outlets where one can get away.
What do you feel has been valuable in your education at Appalachian versus another institution?
I have always valued the smaller class sizes and the willingness of professors to talk with their students, not only about coursework but other areas of interest including future plans. Professors at Appalachian always have open doors during their office hours and encourage visits from their students. This helps the student feel supported and valued in their area of study, which is an integral part of success in higher education.
Tell us about one faculty member that has made an impact on your life and how.
Almost every English professor I've had has made a positive impact on my education, which makes it really difficult to choose one. Recently, however, I took an American Literature class with Dr. Carl Eby which was an absolute blast. I grew in my appreciation for American contributions to literature, and as the pandemic caused our classes to be moved online, I always looked forward to his class as a place of solace and escape into different literary worlds. We read a wide variety of works over the course of the semester, a lot of which were unfamiliar to me. My to-read book list is so much longer thanks to Dr. Eby's class!
Tell us about one other connection you have made while at Appalachian - a friendship, mentor, colleague, a newfound hobby or interest?
I met my friend Molly through The Peel my freshman year. She is hardworking, talented, kind, passionate and hilarious. I have an all-around friend crush on her that only keeps growing. As we've been able to work together on the publication of The Peel, I've grown to appreciate her eye for detail and her work ethic. She's our editor-in-chief this year, and I couldn't be more proud of her for everything she's accomplished.
What is your favorite place on campus and why?
The stacks in the library, or the adjoining armchairs. There's a wonderfully diverse selection of books to explore, both for class and personal use. I love the armchairs because they're a great place to hunker down and crank out some work.
What is your understanding of "sustainability" after being at Appalachian?
We all have a personal responsibility to be as sustainable as possible, but it is also up to corporations and institutions to become accountable for their wasteful impact and develop new ways to become more sustainable.
What do you hope to do after graduation?
I would like to begin my career with editing and publishing.
What is your dream job?
Editor, publisher and/or writer.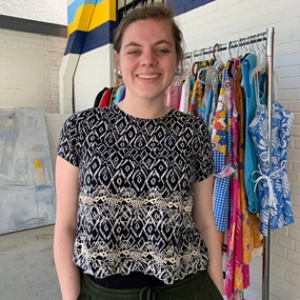 Tags: