The CAS Corps are chosen to serve as representatives to all constituents of the College of Arts and Sciences and to create, promote and execute opportunities for academic and professional growth. These students represent a variety of departments from across the College of Arts and Sciences and will represent the College at events through interaction among current students, future students, parents, donors and alumni.
Each month we will be introducing one of our ten students representing the college in the 2021-22 academic year through a question and answer format. This month, meet ? and learn about ? experiences. For more about the CAS Corps, visit: cas.appstate.edu/students/cas-corps.
---
CAS Corps Feature: Emma Allen
Junior
Majoring in Computer Science
From Weaverville, N.C.
What clubs or organizations are you a member of?
Women in Computer Science (WICS).
Sports or hobbies?
AHO Women's Rugby.
Scholarship(s) you have received from Appalachian or while studying at Appalachian?
S-STEM.
Location(s)/Organization(s) you completed an internship.
DePaul University.
Location(s) you hope to go for an internship, study abroad or research experience.
Greece or Portugal.
Research or coursework you have been most passionate about?
The intersection between medical research and machine learning.
What was the biggest challenge for you as a college student during the pandemic?
Spending too much time on my laptop.
What has given you peace, relaxation or been your outlet over the summer?
Going to the river.
What has been the book, podcast and/or tv show you found rewarding or enjoyed over the summer?
The Bachelorette.
What are you most excited about this coming semester?
Cascade's breakfast sandwiches.
What is one goal you have set for yourself this coming year?
To raise my GPA.
What is one of your favorite memories at Appalachian thus far?
Performing at Acappellageddon!
What do you like about Boone and the surrounding community?
The music scene.
Tell us about one faculty member that has made an impact on your life and how.
Dr. Tashakkori! He helped me get my scholarship and a Research Experience for Undergraduates REU -- I'm forever indebted and grateful for him. He is one of the funniest and most helpful faculty members in the Computer Science Department.
Tell us about one other connection you have made while at Appalachian - a friendship, mentor, colleague, a new found hobby or interest?
Dr. Klima, she's my Honors College advisor and one of the kindest faculty members I know. She always reached out to check on me during the pandemic.
What is your favorite place on campus and why?
The Belk Library basement around 11p.m. It might just be the caffeine in my system when I'm there, but it feels special.
What is your understanding of "sustainability" after being at Appalachian?
We aren't doing enough and there's not enough accountability.
What do you hope to do after graduation?
Start my own farm!
What is your dream job?
Something that gives me the financial freedom and flexibility to help my local community.
Is there anything else you would like to add about yourself?
I'm excited to be a part of the CAS Corps this year!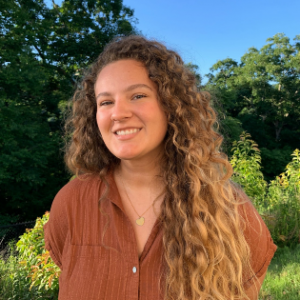 Tags: