The CAS Corps are chosen to serve as representatives to all constituents of the College of Arts and Sciences and to create, promote and execute opportunities for academic and professional growth. These students represent a variety of departments from across the College of Arts and Sciences and will represent the College at events through interaction among current students, future students, parents, donors and alumni.
Each month we will be introducing one of our ten students representing the college in the 2019-20 academic year through a question and answer format. This month, meet Emery and learn about her experiences. For more about the CAS Corps, visit: cas.appstate.edu/students/cas-corps.
---
Emery Turner
Senior
Double majoring in global studies with a concentration in Latin American Studies and languages, literatures and cultures with a concentration in Spanish
From Columbia, S.C.
What clubs or organizations are you a member of?
Watauga Residential College and Appol Corps.
Sports or hobbies?
I like to do arts and crafts like watercoloring or scrapbooking.
Location(s)/Organization(s) you completed an internship.
The Borgen Project remote internship.
Location(s) you completed a study abroad or study away.
Havana, Cuba; Valparaiso, Chile.
Location(s) you hope to go for an internship, study abroad or research experience.
I would love to go to Puerto Rico next summer whether it is for an internship or an Americorps VISTA. Or anywhere else in the Spanish Speaking world.
Research or course work you have been most passionate about?
I have loved all my course work in my major-specific classes. For example, some of my favorite classes at Appalachian have been my conversation class in Spanish and my Global Studies 3000 class. In Spanish class, I was allowed to fall more in love with the language and practice with others who were at the same level as me. The same semester I was able to learn more about my Global Studies major which I loved because it taught me that there are so many paths I can take with my major and I was able to learn about the fundamentals behind my major.
What has been the biggest challenge for you this summer?
One of the biggest challenges for me this summer was being away from Boone and all of my friends. Most of my friends are spread throughout North Carolina, and only a few of my friends from high school were home, so it was hard because I am such an extrovert that I just missed my people a lot.
What has given you peace, relaxation or been your outlet over the summer?
I have been journaling a lot this summer. That has given me peace because it allows me to stay organized, have a creative outlet and allow me to get to know myself better.
What has been the book, podcast and/or tv show you found rewarding or enjoyed over the summer?
So, I actually started a podcast this summer called "The Bean Pod!" My cohost Daniel and I are talking about the college experience in order to try to reach incoming or other college students to help them navigate college.
What are you most excited about this coming semester?
I am super excited to be an RA in Cannon Hall. This is going to be my first year being an RA and even though it is going to be an interesting semester I am excited to see what the job entails and meet my residents.
What are you most anxious about this coming semester?
I am anxious about coronavirus at school. I do not want it to have too much of an impact on my life at school. I just want everyone to stay safe and be able to enjoy college at the same time.
What is one of your favorite memories at Appalachian thus far?
One of my favorite memories at Appalachian so far is at the end of my freshman year I decided to go on a faculty study abroad to Cuba. This was one of the best decisions of my life. I met some amazing people that lived in Havana, Cuba and I got to explore a city and country that most people from the U.S. have never had the opportunity to go to.
What do you like about Boone and the surrounding community?
I love how small yet big Boone is. You can never run out of things to do in Boone. There is always a new restaurant to try or a new random mountain festival to explore in the next town over or a new hike to go on. I love everything Boone and the High Country has to offer
What do you feel has been valuable in your education at Appalachian versus another institution?
Appalachian has given me the opportunity to explore different perspectives and different places around the world. Through my Global Studies major I have been able to learn new ways of thinking and then applying that as I went into my two different study abroad experiences. It has truly allowed me to become a better global citizen.
Tell us about one faculty member that has made an impact on your life and how.
Joseph Gonzalez is one of the most amazing faculty members Appalachian has to offer. I have taken three classes with him and they all taught me such different things about our world. Joe really cares about his students and he has pushed me to be the best student I can be. He has also allowed me to think of myself in a new way and opened my eyes to all the different possibilities I have for my future.
Tell us about one other connection you have made while at Appalachian - a friendship, mentor, colleague, a new found hobby or interest?
I have met so many of my best friends at Appalachian. The people in Boone are some of the nicest people in the world. For example, I met one of my best friends, Paige my freshman year of college because she was my suite mate. She has always been there for me and I know that our relationship will go on beyond our time at Appalachian.
What is your favorite place on campus and why?
My favorite place on campus is the solarium. It is such a unique thing to Appalachian's campus. It is so peaceful and I always get so much work done there.
What is your understanding of "sustainability" after being at Appalachian?
Sustainability goes beyond environmental issues. Appalachian has taught me how to be sustainable in all aspects of my life. I know what it means to have balance in my life due to Appalachian. Also I have learned so much about living an environmentally sustainable life as well. I strive to live zero waste one day or continue to adopt zero waste tendencies.
What do you hope to do after graduation?
After graduation I want to do a year of service hopefully through AmeriCorps. After that I would love to travel some and eventually work for a nonprofit organization that focuses on helping youth. I love working with kids and I would love to help make a difference in their lives.
What is your dream job?
My dream job is working for a youth based nonprofit organization!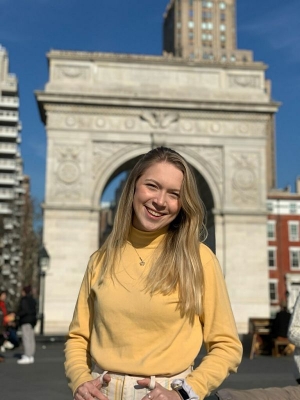 Tags: