The CAS Corps are chosen to serve as representatives to all constituents of the College of Arts and Sciences and to create, promote and execute opportunities for academic and professional growth. These students represent a variety of departments from across the College of Arts and Sciences and will represent the College at events through interaction among current students, future students, parents, donors and alumni.
Each month we will be introducing one of our ten students representing the college in the 2019-20 academic year through a question and answer format. This month, meet Caity and learn about her experiences. For more about the CAS Corps, visit cas.appstate.edu/students/cas-corps.
Caity Duncan
Senior
From Tryon, N.C.
Community & Regional Planning major, GIS Certification minor
What clubs or organizations are you a member of?
I am the Secretary of the Student Planners Association (SPA).
Sports or hobbies?
Hiking, vegan cooking and taking care of the animals on my parents' farm.
Scholarship(s) you have received from Appalachian or while studying at Appalachian?
ASU Local Government Alumni Association (ASULGAA) Planning Scholarship.
Location(s)/Organization(s) you completed an internship.
I am currently an intern research assistant for the Research Institute for Environment, Energy and Economics (RIEEE) here at App State.
Location(s)/lab(s) you conducted research.
Research Institute for Environment, Energy and Economics (RIEEE).
Location(s) you hope to go for an internship, study abroad or research experience.
Cuba, Western Europe and Singapore just to name a few.
Research or course work you have been most passionate about?
Currently, I am a research assistant for the Research Institute for Environment, Energy and Economics (RIEEE) here at App State and am assisting with conducting research surrounding climate resilience in rural inland areas, specifically Western N.C., in order to help inform local hazard mitigation planning.
What has been the biggest challenge for you this summer?
Feeling comfortable amidst uncertainty.
What has given you peace, relaxation or been your outlet over the summer?
Spending time with and taking care of my family's three baby Nigerian Dwarf goats.
What has been the book, podcast and/or tv show you found rewarding or enjoyed over the summer?
"Freedom Is a Constant Struggle" by Angela Y. Davis.
What are you most excited about this coming semester?
Beginning my senior year and having the opportunity to take dual-enrolled classes through the Accelerated Admissions program.
What are you most anxious about this coming semester?
Adjusting to the new realities amidst COVID-19.
What is one of your favorite memories at Appalachian thus far?
Living on campus my freshman year, there was never a dull moment. My entire dorm floor was incredibly close, and within just the first couple of days on campus, I met my life-long friends who I ended up living with both my sophomore and junior year.
What do you like about Boone and the surrounding community?
The biodiversity and the outdoor recreation opportunities that Western N.C. has to offer.
What do you feel has been valuable in your education at Appalachian versus another institution?
Having small class sizes at a relatively large university has allowed me to form personal relationships with my professors and peers while also having access to an abundance of resources and opportunities.
Tell us about one faculty member that has made an impact on your life and how.
One of many faculty members that has made an impact on my life is Dr. Elizabeth Shay, a professor in the Geography & Planning department, and my advisor. After changing my major, the first planning course I took was with Dr. Shay, and her sheer passion and dedication to the planning field and her students immediately allowed me to feel confident in my decision. Dr. Shay has continuously pushed me to challenge myself and has helped mold me into the ambitious, hard-working student I am today.
Tell us about one other connection you have made while at Appalachian - a friendship, mentor, colleague, a new found hobby or interest?
My junior year, I had the privilege of taking two courses with Dr. Kara Dempsey, a political and cultural geographer and professor in my department. Before taking one of Dr. Dempsey's courses, I had no idea how much I enjoyed learning about political geography, specifically when it came to the European landscape. Dr. Dempsey's lectures are riveting from beginning to end and she has enough stories about her travels and experiences to last lifetimes. Before traveling to Europe this past year, I made it a point to visit Dr. Dempsey in order to get some of her esteemed travel tips, which made my visit exponentially better. Her passion for geography and the work she does is a big part of the reason I have decided to pursue a Master's degree in Geography here at Appalachian. I highly recommend Dr. Dempsey's courses to anyone who has the opportunity to take them, regardless if you're a geography major or not.
What is your favorite place on campus and why?
My favorite place on campus is, without a doubt, Durham Park. I lived in Cannon Hall my freshman year, which is directly across from the park, and I found myself laying out in the sun, reading, working on assignments and having a picnic with friends there regularly.
What is your understanding of "sustainability" after being at Appalachian?
To me, sustainability is all about privilege. Because everyone is impacted by climate change, everyone should have equal opportunity to participate in climate-action and sustainable practices. However, because of harsh socioeconomic divides, this is not at all the case. In order to truly fight for a sustainable future, we must place the accountability on large corporations and institutions, rather than placing the blame and responsibility solely on working-class individuals, who oftentimes simply do not have access to sustainable living options.
What do you hope to do after graduation?
I hope to have the opportunity to travel to different cities around the world in order to observe different approaches to planning, allowing me to take that diversified knowledge with me wherever I choose to live and work.
What is your dream job?
To be a Hazard Mitigation Planner, specifically for natural disasters driven by climate change. Eventually, I would love to be a geography/planning professor and have the opportunity to conduct research.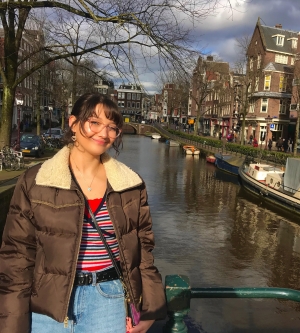 Tags: