The CAS Corps are chosen to serve as representatives to all constituents of the College of Arts and Sciences and to create, promote and execute opportunities for academic and professional growth. These students represent a variety of departments from across the College of Arts and Sciences and will represent the College at events through interaction among current students, future students, parents, donors and alumni.
Each month we will be introducing one of our ten students representing the college in the 2019-20 academic year through a question and answer format. This month, meet Charlotte and learn about her experiences. For more about the CAS Corps, visit cas.appstate.edu/students/cas-corps.
Bailey Gardin
Sophomore
Hometown: Matthews, N.C.
Major: Political Science - Pre-Professional Legal Studies
Department: Government and Justice Studies
What clubs or organizations are you a member of?
CSAB, Student Support Services, SGA Cabinet, ATLAS and BSA.
Sports or hobbies?
Reading and watching youtube videos.
Scholarship(s) you have received from Appalachian or while studying at Appalachian?
Dr. Willie C. Fleming Scholarship.
Location(s)/Organization(s) you completed an internship.
N.C. Innocence Inquiry Commission & Weaver and Budd Law.
Location(s) you hope to go for an internship, study abroad or research experience.
Washington D.C.
Research or course work you have been most passionate about?
Supreme Court, Immigration and Criminal Justice/Law.
What has been the biggest challenge for you this summer?
Being at home in isolation away from most of my peers.
What has given you peace, relaxation or been your outlet over the summer?
Knowing I have an off-campus apartment for the upcoming school year.
What has been the book, podcast and/or tv show you found rewarding or enjoyed over the summer?
Crime Junkies and Joe Budden Podcasts. The Last Dance. How to Get Away With Murder.
What are you most excited about this coming semester?
Creating opportunities.
What are you most anxious about this coming semester?
Covid-19 and its development with Watauga county.
What is one of your favorite memories at Appalachian thus far?
Listening to Nikki Giovanni when she came and spoke in 2019.
What do you like about Boone and the surrounding community?
The people.
What do you feel has been valuable in your education at Appalachian versus another institution?
Professors are very accessible and show a willingness in making sure their students succeed.
Tell us about one faculty member that has made an impact on your life and how.
Dr. Ellen Key, she challenged me to think outside the box, think critically, taught me how politics plays out in higher levels of government and provided valuable feedback as I wrote my most difficult paper ever.
Tell us about one other connection you have made while at Appalachian - a friendship, mentor, colleague, a new found hobby or interest?
Dr. Fleming has been a great mentor for me! As the man in charge of my scholarship and another successful Black man, I admire his work ethic and remain appreciative of any advice that he is kind enough to share with me.
What is your favorite place on campus and why?
The Greenwood Parking Lot because there is an overlook where you can see campus. It looks really cool at night because parts of the campus are lit up.
What is your understanding of "sustainability" after being at Appalachian?
Promoting a culture of consistency in the things we do well and encouraging others to grow in areas where we fall short or struggle. Additionally, making responsible decisions that help protect the future of others and realizing that the world is much bigger than you and your life. You serve a greater part of society!
What do you hope to do after graduation?
Attend law school.
What is your dream job?
A federal judge or working in immigration reform.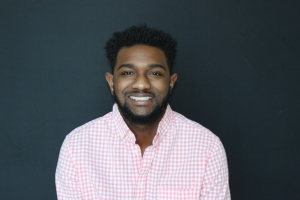 Tags: