Wednesday, Sept. 25, 2019
6:30 - 8:30 p.m.
I.G. Greer Auditorium
This event is free and open to the public.
North Carolina filmmaker Camden Watts explores the rise of craft beer in North Carolina and its positive impact on the agriculture, community and economy. Following the film, there will be a panel discussion including the filmmaker, local craft brewer Tim Herdklotz, Co-Founder of Booneshine Brewing Company and Dr. Cameron Lippard, Department Chair and Professor of Sociology, and Co-editor of "Untapped: Exploring the Cultural Dimensions of Craft Beer" (2017).
To watch a trailer of the film, visit: https://vimeo.com/123738178. This event is sponsored by the Department of Sociology and Documentary Film Services.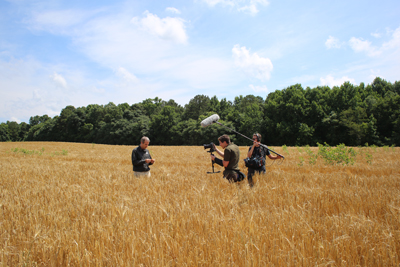 On site filming during the making of Brewconomy. Photo submitted.
###
About the Department of Sociology
The Department of Sociology offers a Bachelor of Arts and six Bachelor of Science concentrations (applied research methods; criminology; deviance and law; families and intimate relationships; gerontology; social inequalities; and individually designed, which requires departmental approval). The department also offers minors in sociology and gerontology, plus two online graduate certificates in gerontology and sociology. Learn more at https://soc.appstate.edu.
About Appalachian State University Documentary Film Services
University Documentary Film Services at Appalachian State University teaches, engages in and presents documentary work grounded in collaborative local and global partnerships. Photography, film/video, audio and narrative writing are used to capture and convey memory, life, research, theory and culture. Additionally, the program provides professional consultation to students, faculty and staff engaged in documentary projects; maintains an archive of campus documentary work; hosts workshops for the campus community; and coordinates screenings of both finished and ongoing documentaries produced by Appalachian faculty and staff, as well as visiting professional documentarians. It is a unit within Appalachian's University College. Learn more at https://doc.appstate.edu.
Ellen Gwin Burnette
Wednesday, Sept. 11, 2019
BOONE, N.C.