The story of Black Mountain College began in 1933 and comprised a fascinating chapter in the history of education and the arts. Black Mountain College was fundamentally different from other colleges and universities of the time. It was owned and operated by the faculty and was committed to democratic governance and to the idea that the arts are central to the experience of learning.
"At BMC they taught students in an interdisciplinary way to solve problems, to use the arts and other disciplines to explore and learn. A lot of their curriculum involved interactive learning, which is one of the things we do well here at Appalachian," said Dr. Neva Specht, Dean of the College of Arts and Sciences.
In the spirit of Black Mountain College, the BMC Semester at Appalachian has partnered with North Carolina's K-12 educators through collaborations among Appalachian State University's College of Arts and Sciences, Reich College of Education, the Center for Appalachian Studies and the Turchin Center for the Visual Arts (TCVA).
Educators have the opportunity to earn continuing education units through an educator workshop and lecture series held on the campus of Appalachian State University during the months of March and April 2018 to bring art to the forefront of education. Educators can participate in hands-on activities, attend lectures and receive a private tour of the TCVA exhibition on Black Mountain College. This series includes topics such as: painting, poetry, sustainability, photography and resourceful artmaking with many of the semesters visiting speakers.

The BMCS project team also invites educators to participate in a lesson plan development workshop to be held on campus in July. The workshop will offer continuing education unit credits for educators to develop online lesson plans for North Carolina students based on BMCS resources, including the project's digital timeline and a special double issue of "The Appalachian Journal" on Black Mountain College.
"The collaboration and partnerships in creating this semester-long tribute — among university departments, regional museums and the approximately 20 prominent scholars, writers and artists associated with Black Mountain College who are participating — also exemplify the curiosity inherent in a liberal arts education and the innovation that can result from people working and creating together and expanding on each other's ideas," said Specht.
The events for April and May are as follows:
"Arts at the Center: A History of Black Mountain College"
Blowing Rock Art & History Museum (BRAHM) Exhibition open until Saturday, April 7, 2017. Admission for members, active military and EBT cardholders is free; adults $7, seniors $6 and students or children $4. For more information about this exhibition, visit the BRAHM website.
Black Mountain College Semester Lecture with Mary Emma Harris
Wednesday, April 4, 2018 at the Belk Library and Information Commons, Room 421, Appalachian State University at 7 p.m. This event is free and open to the campus and community.
Mary Emma Harris is a pre-eminent Black Mountain College (BMC) scholar, having already completed an exhaustive research project, collecting materials and completing more than 400 interviews of BMC alumni and faculty. The result is a definitive book, "The Arts at Black Mountain College" (MIT Press, 1987), the Black Mountain College Project website and a priceless archive of BMC materials now housed and available to the public in the Western Region Archives of the State Archives of North Carolina.
"Theatre Piece #1 Revisited: A Happening" A Celebration of the Original 1952 Happening
Friday, April 6, 2018 at the Turchin Center for the Visual Arts in conjunction with the First Friday Downtown Boone Art Crawl. The galleries will be open until 9 p.m. and "The Happening" will be held from 6 to 8 p.m. The evening will include refreshments, a cash bar and is free and open to the public.
This event is coordinated by BMCS Fellows participant and Professor of Theatre & Dance, Dr. Ray Miller. The original "happening," which occurred at the Black Mountain Summer School in 1952 was coordinated over six decades ago by Merce Cunningham and John Cage, who wanted to encourage looking at art in a different manner than before.
Participating in this event will be Appalachian faculty and students alike, including faculty members Joseph Bathanti, Rob Falvo, Cara Hagan, Adrian Rieder and Jessica Wood. Student participants include Jordan Bolick, a senior theatre performance major from Lenoir, and Murilo Artese, a junior electronic media and broadcasting major from Sao Paulo, Brazil. Also involved will be poet Dan Jenkins and readers Katrina Plato, a visiting lecturer in the Department of Art, and Virginia poet Susan Robbins.
CANCELLED: Black Mountain College Semester Lecture with Lucy Massie Phenix
Wednesday, April 11, 2018 at Belk Library and Information Commons, Room 114, Appalachian State University at 7 p.m. This event is free and open to the campus and community.
Lucy Massie Phenix created the 2008 award-winning film, "Don't Know, We'll See: The Work of Karen Karnes," that explores the poetry and mystery of the life and work of master clay artist, Karen Karnes, who studied and taught at BMC.
ArtTALKS with Alice Sebrell
Wednesday, April 18, 2018 at the Turchin Center Lecture Hall at 6 p.m.
Alice Sebrell earned her MFA in Photography from The Savannah College of Art and Design and her BFA from the University of Delaware. She has worked for the Black Mountain College Museum + Arts Center since 1999 and is currently the Program Director for the organization. Sebrell will talk about the history of BMCM+AC and its work regionally in preserving the heritage and artifacts of BMC.
Performance of "The Ruse of Medusa", a surrealist play
Friday, April 27, 2018 in the Great Hall, Living Learning Center, Appalachian State University from 6 - 8 p.m. Cash bar and lite food will begin at 6 p.m. Performance begins at 7 p.m. The event is free and open to the campus and community, but requires a ticket for entry. Tickets will be available by sending an email request with "Ruse of Medusa tickets" in the subject line to the Appalachian State Ethnography Lab, ethnolab@appstate.edu and will be first come, first serve. Limit 3 tickets per email address. A limited number of tickets will be available at the door.
"The Ruse of Medusa," is a surrealist play by French composer and pianist, Erik Satie, and translated into English by M.C. Richards (poet, potter, essayist, translator and painter, who taught at Black Mountain College in the late 1940's). The play was first performed at Black Mountain College in August of 1948, and was a collaboration by some of Black Mountain College's most noted personalities, from Buckminster Fuller as the Baron Medusa, to John Cage arranging Satie's music, and Merce Cunningham choreographing the dance of a mechanical monkey. This is the play's premiere at Appalachian. Direction by Dr. Christina V. Sornito, assistant professor in the Department of Anthropology and a BMCS Fellow. Production and acting by the anthropology students of ANT 4275 - Experimental Ethnography. Musical accompaniment by Jonathan Snead and McKenna Blank.
TAC Talk - Jeffery Beam presents Jonathan Williams' Lord of Orchards
Thursday, May 17, 2018 at the Blowing Rock Art & History Museum (BRAHM) at 6 p.m. This talk will be $5 for the general public and FREE for members.
Jeffery Beam is the author of over 20 works of poetry, essay and musical collaborations. Beam will have the pleasure of introducing Jonathan Williams' work, "Lord of Orchards." Williams was one of the last students at Black Mountain College. He was an early and sometimes first-time publisher for many of the writers who became known as the Black Mountain Poets.
His book of essays, images, and shouts aims to bring new eyes and contexts to his influence and talent as poet and publisher, but also heighten appreciation for the other facets of his life and art. One might call Williams' life a poetics of gathering, and this book a first harvest.
For additional information about the entire semester's events, visit: cas.appstate.edu/black-mountain-college. For more information about the educational outreach opportunities with this semester, visit: https://cas.appstate.edu/black-mountain-college-semester/educational-outreach. For exhibition information visit: tcva.org/exhibitions or blowingrockmuseum.org. And for a detailed timeline about Black Mountain College, visit: appalachiaonline.appstate.edu/black-mountain-college-semester
Venue Locations for Black Mountain College events:
BRAHM: Blowing Rock Art & History Museum, 159 Chestnut St., Blowing Rock, N.C.
TCVA: Turchin Center for the Visual Arts, Lecture Hall, 423 West King Street, Boone, N.C.
Belk Library: Belk Library and Information Commons, Room 114, Appalachian State University, Boone, N.C.
###
About the Turchin Center exhibition: January 12 – June 2, 2018
"Creative Democracy: The Legacy of Black Mountain College" features the artwork of many of the artists who attended and taught at Black Mountain College during its colorful 24-year history. Some of those artists are still working. The exhibition looks at the legacy of the Black Mountain College artists, what the Black Mountain experience meant to them, their influences on one another and their continuing place in the art world. The exhibit showcases paintings, furniture, sculpture, clay, collages, glass, textiles, books and poetry.
About the Blowing Art and History Museum (BRAHM) exhibition: November 24, 2017 - April 7, 2018
"Arts at the Center: A History of Black Mountain College" explores several components of the rich history of BMC and its relationship to North Carolina. John Andrew Rice, Jr. founded the College with the idea that the arts should be at the center of a liberal arts education. Some of the worlds greatest modern artists, writers, performers, musicians and even scientists served as students and faculty at Black Mountain College, including Josef & Anni Albers, Charles Olsen, Merce Cunningham, Robert Rauschenberg, Willem & Elaine de Kooning, Buckminster Fuller, M.C. Richards and many others. "Arts at the Center" shares an overview of the history and concepts behind Black Mountain College alongside historic photographs and artwork created by some of its most recognized students and faculty.
About Appalachian State University
Appalachian State University, in North Carolina's Blue Ridge Mountains, prepares students to lead purposeful lives as global citizens who understand and engage their responsibilities in creating a sustainable future for all. The transformational Appalachian experience promotes a spirit of inclusion that brings people together in inspiring ways to acquire and create knowledge, to grow holistically, to act with passion and determination, and embrace diversity and difference. As one of 17 campuses in the University of North Carolina system, Appalachian enrolls about 19,000 students, has a low student-to-faculty ratio and offers more than 150 undergraduate and graduate majors.
By Ellen Gwin Burnette
March 26, 2018
BOONE, N.C.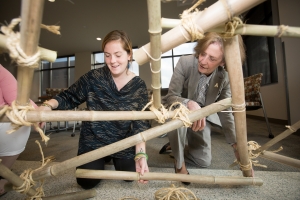 Tags: