During the week of April 29, 2019, Dr. Nick Caruso will be delivering two lectures while visiting Appalachian, one for a general audience and one for an academic audience.
The first talk is titled, "The (F)art of Scicomm Using Humor and Social Media" and will focus on Dr. Caruso's work to communicate science to a general audience using humor and social media outreach. This talk will be centered around his NY Times best-selling books: "Does it Fart?" and "True or Poo?" – both of which are aimed at younger readers. This should be an entertaining and useful talk both for budding biologists as well as for faculty who are seeking novel strategies to disseminate their work to the public. This talk will take place on Monday, April 29, in Rank Science West, Room 183 at 4 p.m.
The second talk is titled, "Linking Demography and Climate to Understand Variation in Population Growth in a Montane Salamander." This talk will feature Caruso's doctoral research into biotic and abiotic factors that control population growth, survival and fecundity. This talk will take place on Tuesday, April 30 in the Biology Conference Room in Rankin Science at 12:30 p.m.
Caruso received his Ph.D from the University of Alabama in the Department of Biological Sciences. He is currently a Postdoctoral Associate at Virginia Tech in the Department of Fish and Wildlife Conservation.
###
About the Department of Biology
The Department of Biology is a community of teacher-scholars, with faculty representing the full breadth of biological specializations — from molecular genetics to landscape/ecosystem ecology. The department seeks to produce graduates with sound scientific knowledge, the skills to create new knowledge, and the excitement and appreciation of scientific discovery. Learn more at https://biology.appstate.edu.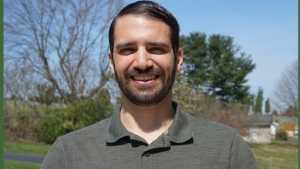 Tags: