BOONE, N.C. — Leigha Henson, biology graduate student from Griffin, Georgia, received a 2023 LI-COR Prize at the Botanical Society of America (BSA)'s Botany Conference in Boise, Idaho. Awarded by the BSA's Physiological Section, the prize acknowledges the best oral and poster presentations made by any student, regardless of subdiscipline, at the Conference.
Henson received the LI-COR Prize for her research poster, titled "Light and Moisture Content as Determinants of Photosynthetic Activity in Southern Appalachian Mosses from Open and Shaded Habitats." Henson's research aims to understand the ecophysiology of common moss species in Southern Appalachia under changing environmental conditions. To evaluate the influence of changing light and moisture content, Henson measures photosynthetic activity, chlorophyll content and chlorophyll fluorescence.
---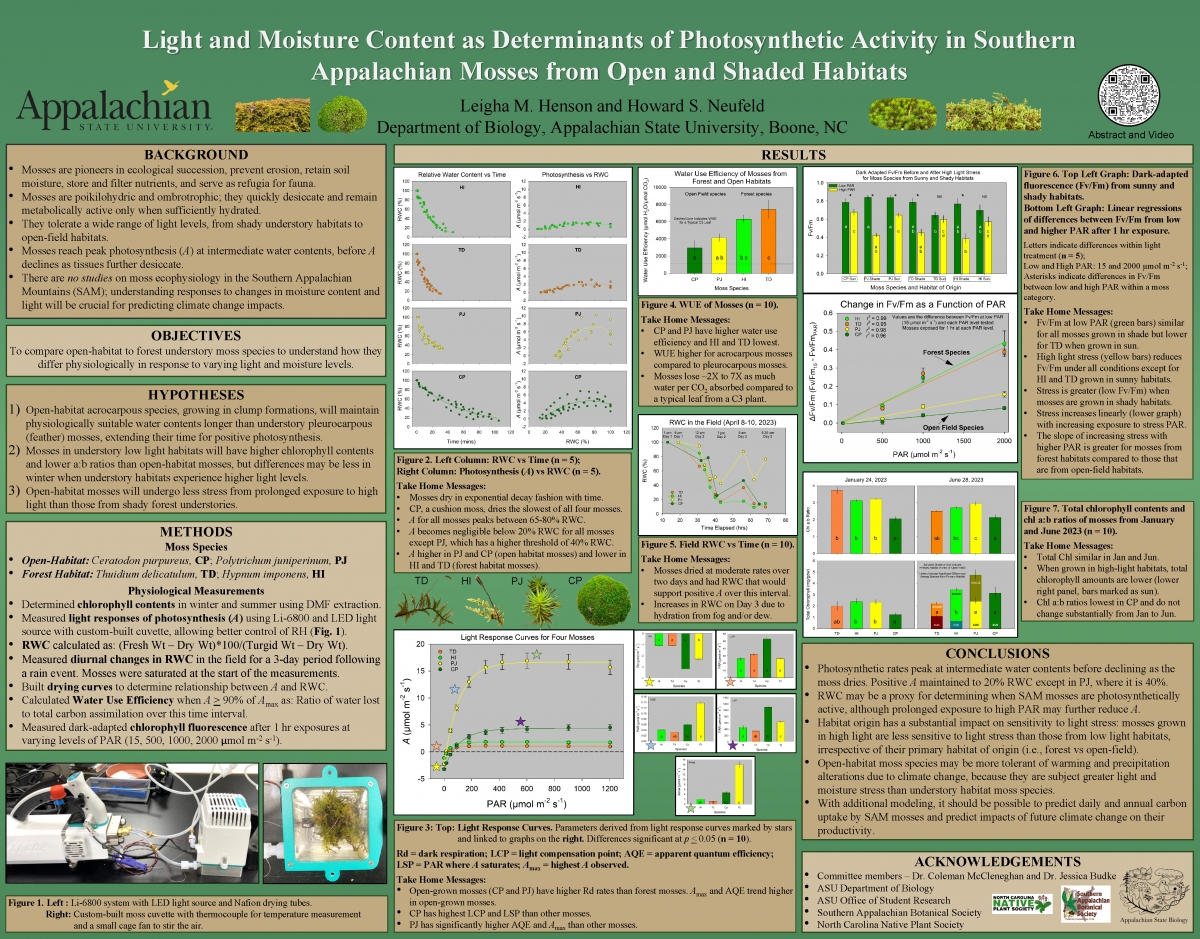 Leigha Henson's award-winning research poster, "Light and Moisture Content as Determinants of Photosynthetic Activity in Southern Appalachian Mosses from Open and Shaded Habitats."
---
"I'm also monitoring how these species respond to an active warming experiment that simulates future climate warming in the Southern Appalachians. I wanted to compare the treatment effects on mosses that grow in open, sunny habitats that may be more drought-tolerant to those that originate from understory habitats which may be more sensitive to drying out," explained Henson.
Henson earned her Bachelor of Science degree in Biology from Gordon State College in Barnesville, Georgia. She began her studies at App State in August 2021 under the guidance of Dr. Howard Neufeld, professor of plant ecophysiology in the Appalachian State University Department of Biology. In addition to teaching and conducting research, Henson serves as a graduate assistant at the Biology Greenhouse, where she helps care for several hundred species of plants.
Henson plans to graduate with her Master of Science degree in Ecology and Evolutionary Biology in December and continue working at Arborcrest Gardens, a botanical garden in Boone. "Eventually, I'd like to pursue a plant conservation job for the state or federal government. I'm enthusiastic about all things plants, and I enjoy getting others excited about them too," said Henson.
"My favorite part of the BSA Conference was getting to meet some really prestigious botanists that are also really passionate about plants and their conservation. I loved getting to discuss my research with people that are just as excited about it as I am." - Leigha Henson
###
About the Department of Biology
The Department of Biology is a community of teacher-scholars, with faculty representing the full breadth of biological specializations — from molecular genetics to landscape/ecosystem ecology. The department seeks to produce graduates with sound scientific knowledge, the skills to create new knowledge, and the excitement and appreciation of scientific discovery. Learn more at https://biology.appstate.edu.
About Graduate Education at App State
Appalachian State University's Williams School of Graduate Studies helps individuals reach the next level in their career advancement and preparedness. The school offers 80 graduate degree and certificate programs — both in person and online — in a range of disciplines, including doctoral programs in education (Ed.D.) and psychology (Psy.D.). The graduate school enrolls nearly 2,000 students. Learn more at https://graduate.appstate.edu.
By Lauren Andersen
August 30, 2023
BOONE, N.C.