"Hillbilly" is a timely and urgent exploration of how we see and think about poverty, southern and rural identity in contemporary America. Filmmaker Ashley York will present the film she co-directed with Sally Rubin as part of the opening night of the Boone Film Festival in I.G. Greer Theater at Appalachian State University at 6 p.m. on Tuesday, Oct. 30. This screening is a special opening night event for the festival and is free and open to the public.
The Boone Film Festival was created with the intention to create an opportunity to celebrate the stories of adventure, environment and culture found in the Appalachian regional community by three local outdoors enthusiasts Jason Berry, Russ Hiatt and Bill Ireland.
The documentary "Hillbilly," has strong connections to the Boone community. Early scenes were filmed in the area, and Appalachian State University professor emeritus J.W. Williamson, whose book "Hillbillyland" (UNC Press, 1995) provided inspiration for this film, is featured in one of the film's interviews.
"Hillbilly" takes the viewer on a personal and political journey into the heart of Appalachia and explores the role of media and culture in the creation of the iconic American hillbilly, while examining the social, cultural and political underpinnings of the infamous stereotype. Funded by the National Endowment for the Humanities and filmed in Tennessee, Georgia, Kentucky, North Carolina, Ohio, Virginia, West Virginia and California, "Hillbilly" uncovers an unexpected community of artists, activists, queer musicians, "Affrilachian" poets and intersectional feminists – all unexpected voices emerging from this historically misunderstood region.
Country Music Star Dolly Parton raved about "Hillbilly" saying: "I'm happy to see somebody trying to cover us as we really are and not what some people think we are. It's wonderful, the attention (the movie) paid to so many areas that are so important to all of us."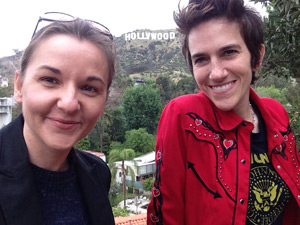 Director Ashley York, on the left, was featured in Variety as a "filmmaker to watch" following the release of her first film, "Tig," a Netflix Original documentary that premiered at the Sundance Film Festival about Comedian Tig Notaro's search for humor in her devastating cancer diagnosis and what became a legendary stand-up set in 2012.
York has also worked on Academy Award-winning teams and on projects that have premiered at the Berlin and SXSW film festivals, as well as on Netflix, A&E, National Geographic and HBO. She is a founding member of the Emmy-nominated design collective, Take Action Games, an innovative game design that traverses the intersections of art, activism, ethics and documentary. Ashley lives in Los Angeles where she teaches in the USC School of Cinematic Arts.
Hillbilly premiered at the Nashville Festival and recently sold out at the Los Angeles Film Festival. The documentary received the Special Jury Price at Michael Moore's Traverse City Film Festival and an audience award from Knoxville's Scruff City Film Festival.
This screening is co-sponsored by the Center for Appalachian Studies and the Department of Cultural, Gender and Global Studies in the College of Arts and Sciences and University Documentary Film Services at Appalachian State University. Boone film festival will screen award winning films in the community during its third annual festival from October 30 - November 3, 2018.
For more information about this screening contact Tom Hansell (hansellts@appstate.edu) or Beth Davison (davisonb@appstate.edu) at Appalachian. To see a full line-up or to learn more about the Boone Film Festival, visit: http://boonefilmfestival.com/2018-films-to-be-screened.
###
About the Center for Appalachian Studies
The Center for Appalachian Studies promotes public programs, community collaboration, civic engagement and scholarship on the Appalachian region. The center is committed to building healthy communities and deepening knowledge of Appalachia's past, present and future through community-based research and engagement. Learn more at https://appcenter.appstate.edu.
About the Department of Cultural, Gender and Global Studies
The Department of Cultural, Gender and Global Studies offers degrees in global studies, interdisciplinary studies, and gender, women's and sexuality studies. The department is also home to Watauga Residential College, an interdisciplinary, alternative general education program. The department promotes creative and imaginative engagement in cross-disciplinary investigation of complex systems and problems. Learn more at https://cgg.appstate.edu.
About Appalachian State University Documentary Film Services
University Documentary Film Services at Appalachian State University teaches, engages in and presents documentary work grounded in collaborative local and global partnerships. Photography, film/video, audio and narrative writing are used to capture and convey memory, life, research, theory and culture. Additionally, the program provides professional consultation to students, faculty and staff engaged in documentary projects; maintains an archive of campus documentary work; hosts workshops for the campus community; and coordinates screenings of both finished and ongoing documentaries produced by Appalachian faculty and staff, as well as visiting professional documentarians. It is a unit within Appalachian's University College. Learn more at https://doc.appstate.edu.
Oct. 8, 2018
By Tom Hansell and Ellen Gwin Burnette
BOONE, N.C.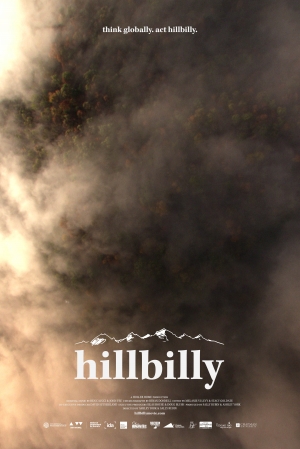 Tags: