BOONE, N.C. — The newest issue of Appalachian Journal (vol. 50, no. 1-2) is now available, marking the 50th anniversary of the journal, which began publishing in 1972. This issue features a memorial for Helen Matthews Lewis, research on a 20th-century artist who found a muse in the Southern Appalachians, an exploration of Rebecca Boone's life, the conclusion of a previously unpublished memoir by Harriette Simpson Arnow, and a showcase of poetry, news and book reviews.
In "Travels with Helen—Helen Matthews Lewis (1924-2022)," Patricia D. Beaver reflects on the life of her colleague and friend, with a special focus on the travels the two took together. Beaver describes their trips to Wales, Zimbabwe and France, among other places, as well as their creative collaborations and Lewis's passion for social justice and community building. The piece concludes with Lewis's poem "Loose Threads."
In their article "'Most Paintable Mountains': Rudolph F. Ingerle and the Call of the Smokies," museum curators Candice Roland Candeto and Matthew Joseph Gailani examine the life and work of Austrian-born painter Rudolph Ingerle, with a particular focus on his paintings of Southern Appalachia. Candeto and Gailani argue that Ingerle's work influenced, and was influenced by, the national park movement, especially with regards to the formation of the Great Smoky Mountains National Park. They write, "Ingerle's works stand as a testament to the enduring call of the Smokies and the spirit of the times that brought the country's most visited national park into reality."
In "Searching for Rebecca Boone," writer Patricia L. Hudson presents facts of frontierswoman Rebecca Boone's life, including provocative biographical details and examining the rumors of a child conceived with one of her husband's brothers while Daniel was on a hunting expedition. Hudson's research led to her first historical novel "Traces," also reviewed in this issue. In her article, Hudson notes that "a novelist who cares about historical plausibility, well-documented facts, and 'truth-telling' must continually question the historical record by asking, 'whose truth' does this document represent?"
The previous issue of Appalachian Journal featured the first sections of a memoir by Harriette Simpson Arnow, on her life with chronic illness and depression, caused by a pituitary tumor. This issue includes Part III and Part IV of "Biography of a Body." These installments detail Arnow's recovery from her first brain surgery and the later recurrence of such symptoms as vision loss, which prompted a second surgery in 1967.
Four poets contribute to this issue: Gilbert Allen, Kelsey Day, Ian Hall and Melissa Helton. Day and Hall appear in Appalachian Journal for the first time. This issue also features illustrations by artist Annie Greenwood, whose artwork accompanies articles in Signs of the Times.
This issue features two review essays. "Examining the Breadth of Horace Kephart's Work" is Erin M. Presley's review of "Horace Kephart: Writings," edited by George Frizzell and Mae Miller Claxton. Lana Whited's essay, "Coming of Age in the Opioid Era" reviews Barbara Kingsolver's powerful novel, "Demon Copperhead," which won a 2023 Pulitzer Prize for fiction.
Nine additional book reviewers offer their thoughts on recent Appalachian books. John M. Glen reviews Shaun Slifer's "So Much to Be Angry About: Appalachian Movement Press and Radical DIY Publishing, 1969-1979." Robyn Seamon examines Michele Morrone's "Ailing in Place: Environmental Inequities and Health Disparities in Appalachia." Sarah Beth Hopton considers "Enchanted Ground: The Spirit Room of Jonathan Koons" by Sharon Hatfield. Steve Trinkle reviews "Desperate: An Epic Battle for Clean Water and Justice in Appalachia" by Kris Mahr. Diane Gilliam considers Melva Sue Priddy's debut book "The Tillable Land: Poems." Jonathan Greene reviews "The Collected Breece D'J Pancake: Stories, Fragments, Letters," with an Introduction by Jayne Anne Phillips. Susan O'Dell Underwood reflects on Jesse van Eerden's novel, "Call It Horses." John Lang reviews "Robert Morgan: Essays on the Life and Work," edited by Robert M. West and Jesse Graves. Kevin Young considers "Traces: A Novel" by Patricia L. Hudson.
To order this issue of Appalachian Journal, visit appjournal.appstate.edu. Use the "ORDER ONLINE" tab to select "Current Issue," located under the heading "Store Categories."
###
About the Appalachian Journal: A Regional Studies Review
Appalachian Journal: A Regional Studies Review, founded in 1972, is an interdisciplinary, peer-reviewed quarterly journal housed at Appalachian State University. The journal features field research, interviews and other scholarly studies of history, politics, economics, culture, folklore, literature, music, ecology and a variety of other topics, as well as poetry and reviews of books, films and recordings dealing with the Appalachian Mountains region. Learn more at https://appjournal.appstate.edu.
About the Center for Appalachian Studies
The Center for Appalachian Studies promotes public programs, community collaboration, civic engagement and scholarship on the Appalachian region. The center is committed to building healthy communities and deepening knowledge of Appalachia's past, present and future through community-based research and engagement. Learn more at https://appcenter.appstate.edu.
By Sandra Ballard
Edited by Lauren Andersen
June 28, 2023
BOONE, N.C.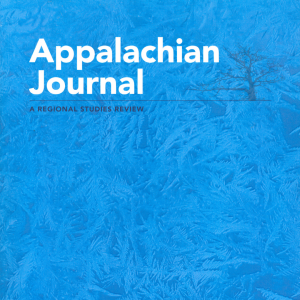 Tags: