BOONE, N.C. — The newest issue of Appalachian Journal (vol. 49, no. 3-4) features research on the development of the medical profession in 19th-century West Virginia, previously unpublished autobiographical writing by novelist Harriette Simpson Arnow, an intimate photo essay on the toll COVID-19 has taken on one Appalachian family, an impressive assortment of poems, and book reviews of some of the region's most noteworthy recent releases.
In her article "In 'Private Virtue and Public Trust': Physicians in Rural West Virginia Communities, 1820-1900," Arthurdale Heritage museum curator and education director Elizabeth Satterfield examines how the community involvement of physicians changed in rural West Virginia throughout the 19th century. She uses archival ledger books, census records, and other primary sources to illustrate that "as the field of medicine professionalized … the role of physicians in local communities likewise shifted."
Published for the first time, "Biography of a Body, Part I and II" reveals renowned writer Harriette Arnow's narrative reflections on living with chronic illness that pushed her into depression. In these essays, introduced by Sandra L. Ballard, Arnow details her struggles with symptoms such as vision loss, fatigue, her difficulties in finding a physician to take her concerns seriously, and events in her daily life, such as her son's heart surgery, and interruptions to her writing.
Documentary photographer Jesse Barber presents his award-winning photo essay "Do you want to see the Lord?" which focuses on his family in the days following his Uncle Mike's death from COVID-19. Barber's 12 black-and-white photos of his family members and objects relevant to Mike's life, accompanied by incisive captions, earned national recognition for framing his family's immediate and ongoing grief and loss, like that experienced by families around the region and the world.
Five poets contribute their work to this issue: Michael Chitwood, Doug Van Gundy, Zach Hambrick, Melissa Helton, and Susan Mitchell. Hambrick and Helton are appearing in AppalJ for the first time.
This issue features two review essays. "All I thought was mine" is Robert M. West's review of Jesse Graves' poetry collection Merciful Days. Sara Pisak's "Unbroken Bonds: Finding Kinship in Appalachian Complexities" considers Neema Avashia's memoir Another Appalachia: Coming Up Queer and Indian in a Mountain Place. Seven other reviewers offer their thoughts on recent Appalachian books. Megan E. Hall reviews Luke Manget's Ginseng Diggers: A History of Root and Herb Gathering in Appalachia. John M. Glen examines John Hennen's A Union for Appalachian Healthcare Workers: The Radical Roots and Hard Fights of Local 1199. Phillip J. Obermiller considers Appalachian Health: Culture, Challenges, and Capacity, edited by F. Douglas Scutchfield and Randy Wykoff. Erin Presley reviews Back of Beyond: A Horace Kephart Biography by George Ellison and Janet McCue. Scott MacKenzie considers Allison Dorothy Fredette's manuscript Marriage on the Border: Love, Mutuality, and Divorce in the Upper South during the Civil War. Theresa Burriss reviews Joseph Bathanti's poetry collection Light at the Seam. John Lang reflects on Keith Flynn and Charter Weeks's photo book Prosperity Gospel: Portraits of the Great Recession.
To order this issue of Appalachian Journal, visit appjournal.appstate.edu. Use the "ORDER ONLINE" tab to select "Current Issue," located under the heading "Store Categories."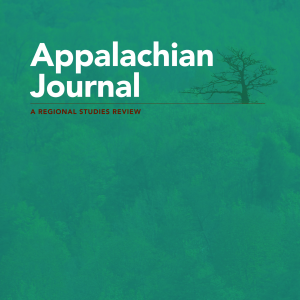 Tags: