Appalachian Journal, an interdisciplinary, peer-reviewed quarterly journal housed at Appalachian State University, announces its special edition on Black Mountain College coinciding with Black Mountain College Semester. With featured sections on Memoirs, Poetics and Practice, Writers and Poets, Art, Music, Democracy and Design, and Black Mountain College and Place, this special issue is the largest in the Journal's 45-year history, with more than 450 pages and 62 contributors.
Guest editor Joseph Bathanti, professor of creative writing at Appalachian and former Poet Laureate of North Carolina, has been teaching an undergraduate course on Black Mountain College (BMC) since 2011. His expertise and acquaintance with Black Mountain College alumni, scholars, museum directors, archivists and others knowledgeable about the College's fascinating history (1933-1957) have led to the range and diversity of this special issue of Appalachian Journal.
In this issue, poets Robert Duncan and Charles Olson share the spotlight with M.C. Richards, Jane Mayhall and Hilda Morley. Black Mountain College founder John Andrew Rice and faculty members Joseph Albers, John Cage, Buckminster Fuller and Merce Cunningham, receive attention alongside former students Fielding Dawson, Michael Rumaker, Basil King, Martha King, Patsy Lynch, Ray Johnson and Frank Hursh.
Of particular interest are articles on former student Alma Stone Williams, an African American student of music who attended BMC in 1944, and who wrote letters collected in this edition, participated in an interview with her son Percy Williams and inspired her son Russell Williams to write about her. Articles on "place" also explore connections between Black Mountain College and Penland School of Crafts, John C. Campbell Folk School, the BMC Museum + Arts Center, the BMC farm and reunion gatherings—in addition to an archival account of visiting BMC by the grandfather of Appalachian Studies, Cratis Williams.
Contributors from across the U.S. include:
Founding editor of North Carolina Literary Review, Alex Albright
Whitney Jones, Black Mountain College Festival organizer at St. Andrews College, and his students Tom Patterson and Charles R. McNeill
Poets Julia Connor, Anne Waldman, Vincent Katz, Paul Carroll, Burt Kimmelman, Thomas Meyer and Keith Flynn
Documentary filmmaker Cathryn Davis Zommer
Interviewers Kelsey Wagner and William Schumann talked with Jan Davidson
Archivists Cary Hedlund and Heather South reflect on BMC materials, along with artist Alice Sebrell and environmentalist David Silver
Scholars on published and unpublished BMC manuscripts, photographs, and stories include Joseph Bathanti, Brian Butler, Charmaine Cadeau, Katherine Chaddock, John Corkran, Mark Davenport, Jeff Davis, Eva Díaz, Craig Fischer, Joshua Gardner, Mary Emma Harris, Margret Kentgens-Craig, Irwin Kremen, Sebastian Matthews, Leon Lewis, Ray Miller, Savannah Paige Murray, Suzanne Penuel, Alessandro Porco, Terry Smith, Julie J. Thompson and Jessica Wood
Reviews of important and recent books round out the volume, which is dedicated to Mary Emma Harris
This special edition of Appalachian Journal is published in collaboration with Appalachian's Black Mountain College Semester, coordinated by the Center for Appalachian Studies and the College of Arts & Sciences, with the support of Belk Library & Information Commons. It is available at Appalachian's University Bookstore or from the Appalachian Journal office.
Visit appjournal.appstate.edu for more information. To order a copy, send your name, address and payment ($30 for this special edition, includes S&H) to Appalachian Journal, Belk Library, Box 32026, Appalachian State University, Boone, N.C. 28608.
###
About Appalachian Journal
Appalachian Journal, founded in 1972, is an interdisciplinary, peer-reviewed quarterly featuring field research, interviews and other scholarly studies of history, politics, economics, culture, folklore, literature, music, ecology and a variety of other topics, as well as poetry and reviews of books, films and recordings dealing with the region of the Appalachian mountains.
About the Center for Appalachian Studies
The Center for Appalachian Studies promotes public programs, community collaboration, civic engagement and scholarship on the Appalachian region. The center is committed to building healthy communities and deepening knowledge of Appalachia's past, present and future through community-based research and engagement.
About the College of Arts and Sciences
The College of Arts and Sciences is home to 16 academic departments, two stand-alone academic programs, two centers and one residential college. These units span the humanities and the social, mathematical and natural sciences. The College of Arts and Sciences aims to develop a distinctive identity built upon our university's strengths, traditions and unique location. Our values lie not only in service to the university and local community, but through inspiring, training, educating and sustaining the development of our students as global citizens. There are approximately 5,850 student majors in the college. As the college is also largely responsible for implementing Appalachian's general education curriculum, it is heavily involved in the education of all students at the university, including those pursuing majors in other colleges. Learn more at https://cas.appstate.edu.
By Ellen Gwin Burnette
May 7, 2018
BOONE, N.C.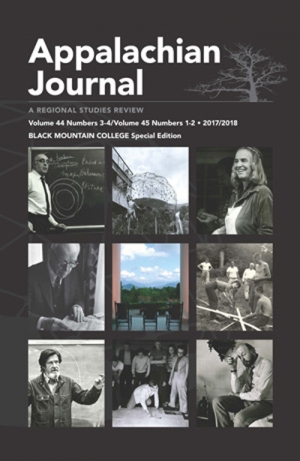 Tags: