BOONE, N.C. — Appalachian State University's College of Arts and Sciences (CAS) is pleased to announce the appointment of three new academic department chairs. Dr. Jay Fenwick will chair the Department of Computer Science, Dr. Tracie McLemore Salinas will chair the Department of Mathematical Sciences and Dr. Tonya Coffey will chair the Department of Physics and Astronomy.
"The cornerstone of our college's success lies in the cohesive and dynamic leadership of our departmental chairs. This year we are extremely fortunate to have three new chairs who have already demonstrated outstanding service and leadership, and have gained the trust and respect of their fellow faculty here at App. I'm excited to work with them, and look forward to seeing them lead each of their departments forward in the coming years." - Interim Dean Dr. Mike Madritch
Dr. Jay Fenwick joined the App State Department of Computer Science in 1998. He earned his bachelor's degree in mathematics from the University of Maryland, College Park, and completed his graduate work in computer science at the University of Delaware, earning his master's and doctoral degrees. Dr. Fenwick's dissertation research focused on compiler optimizations for a tuplespace parallel programming environment. Since that time, he has written more than two dozen refereed technical publications and has been awarded grant funding in excess of $1.7 million. His current scholarly activities center on mobile application development, software development processes and computer science educator preparation.
Dr. Fenwick has an exemplary record of service to the university, his discipline and the community. He served as the departmental graduate program director for 14 years and has chaired many departmental committees. He has taught over 20 courses in the department and has mentored dozens of student theses and capstone projects. He served 8 years on the Faculty Senate and chaired its technology committee several times. Additionally, Dr. Fenwick has served on various university strategic planning groups and currently sits on the Intellectual Property Council. In 2020, he was awarded the Cratis D. Williams School of Graduate Studies' Distinguished Graduate Faculty Award. Dr. Fenwick serves his discipline by reviewing manuscripts for publication and serving as an external program evaluator.
Dr. Fenwick has a long history of serving local public schools as a member and president of the school PTA and the Watauga Education Foundation. He has been elected three times to the Watauga County Board of Education.
---
Dr. Tracie McLemore Salinas is a mathematics educator who joined App State in 2004. She earned her bachelor's degrees in social sciences and mathematics from William Carey University in Hattiesburg, Mississippi, and earned her master's and doctoral degrees in education and mathematics education from the University of Tennessee – Knoxville (UTK). While at UTK, Dr. Salinas also served as a lecturer for the Department of Mathematics and directed the rural student teaching program for the College of Education, Health and Human Sciences. She has held several leadership roles while at App State, including Director of Secondary Teacher Education for the College of Arts and Sciences and Director of the Math and Science Education Center in the Reich College of Education.
Dr. Salinas has expertise in STEM education, particularly in rural contexts or where it interacts with cultural and organizational factors. Her outreach and scholarship have focused on STEM education for teachers, including developing teachers' capacity for interdisciplinary approaches to STEM and integrating students' practices as well as content understanding for engaging with STEM. Dr. Salinas recently completed a tenure on the Committee for Research and Dissemination of the American Association for Colleges and Teacher Education and serves on the Dean's Advisory Board for the UTK College of Education, Health and Human Sciences.
Diversity in STEM and leadership development are also focus areas for Dr. Salinas. She is involved in the NSF-funded ADVANCE Appalachian project and is a co-lead on the institution's participation in the Aspire Alliance IChange Network. Both projects seek to improve recruitment, retention and development for diverse faculty in STEM fields. She has served as principal investigator or co-principal investigator on several externally-funded projects and contributes regularly to review processes for the U.S. Department of Education, U.S. Department of Energy and NASA.
---
Dr. Tonya Coffey joined the App State Department of Physics and Astronomy in 2004. She is currently a full professor and served as interim assistant chair of the department during the 2022-2023 academic year. She earned her bachelor's, master's and doctoral degrees in physics from North Carolina State University and is a solid-state physicist with research focused on nanoscale analysis of materials using advanced microscopy and spectroscopy techniques. Dr. Coffey is an active member of the Appalachian Regional Microscopy Society (AReMS) and has served that society as a physical member-at-large, president-elect, president and past president by helping with the organization of their annual fall meeting. She won the AReMS "Young Investigator" award in 2007 and the College of Arts and Sciences' 2008-09 William Strickland Award Outstanding Junior Faculty Award.
Dr. Coffey previously served as the Director of the Physics Secondary Education Program, with a strong focus on physics pedagogy and physics educational outreach. She founded the App State STEAM Expo, the university's largest single-day educational outreach event, and served as co-director of the event, along with Tracey Tardiff and Dr. Tracie McLemore Salinas, for many years. In 2014, she was awarded the University College's Excellence in Community Engagement Award for this work. Dr. Coffey served as a Change Agent for "Get the Facts Out," an NSF-funded project whose mission is to recruit qualified teachers into high school teaching in physics, chemistry and mathematics. She is also co-PI on a grant funded by PhysTEC (Physics Teacher Education Coalition), to increase the number of physics education majors at App State.
---
Dr. Rahman Tashakkori (Computer Science), Dr. Eric Marland (Mathematical Sciences) and Dr. Michael Briley (Physics and Astronomy) will return to their faculty roles in their respective departments. We sincerely thank them for their service to the College.
To learn more about CAS and its many departments spanning the humanities and the social, mathematical and natural sciences, visit cas.appstate.edu.
###
About the Department of Computer Science
Appalachian's Department of Computer Science provides a rigorous, high-quality education that prepares students for the computing industry or graduate education. It offers a Bachelor of Science degree in computer science, which is accredited by the Computing Accreditation Commission of ABET, and a Master of Science degree in computer science. Learn more at compsci.appstate.edu.
About the Department of Mathematical Sciences
The Department of Mathematical Sciences offers undergraduate degrees in actuarial science and mathematics, with concentrations in business, computation, life sciences, physical sciences, secondary teaching and statistics, plus a general, self-designed concentration. The department also offers the Master of Arts in mathematics, with concentrations in college teaching and secondary teaching. Learn more at mathsci.appstate.edu.
About the Department of Physics and Astronomy
The Department of Physics and Astronomy's curriculum has an applied nature that includes a core of fundamental physics courses and laboratory experiences. The department prepares graduates for a variety of scientific, teaching or engineering professions, as well as future educational endeavors. Learn more at physics.appstate.edu.
Compiled by Lauren Andersen
July 7, 2023
BOONE, N.C.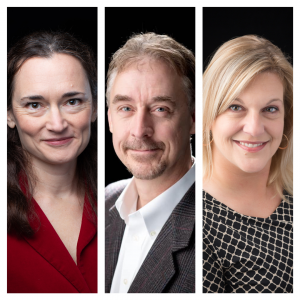 Tags: