BOONE, N.C. — Appalachian State University's College of Arts and Sciences (CAS) is pleased to announce the appointment of six new academic department chairs and an interim center director. Dr. Ava Udvadia will chair the Department of Biology; Dr. Catherine Marcum will chair the Department of Government and Justice Studies; Dr. Maria Pramaggiore will chair the Department of Interdisciplinary Studies; Dr. Paul Worley will chair the Department of Languages, Literatures and Cultures; and Dr. Mathew Foust will chair the Department of Philosophy and Religion. Additionally, Dr. Michael Briley will serve as interim chair of the Department of Physics and Astronomy and Amy Hudnall will serve as interim director of the Center for Judaic, Holocaust and Peace Studies.
"We have six new outstanding chairs and an excellent center director taking on new leadership positions across the College this Fall. These chairs are responsible for thousands of App State students and hundreds of faculty and staff across their respective departments. Thanks very much to the search committee chairs and members for the hours and hours of effort they put into recruiting our future leadership core. We were able to recruit outstanding internal and external applicants due in large part to the efforts of faculty and staff during the search processes. The service of these faculty members will have long-lasting effects on their home departments." - Interim Dean Madritch
Amy C. Hudnall is an alumna of CAS, earning a B.A. in German Studies and a B.A. and M.A. in History from Appalachian State. The recipient of the 2015 Wayne D. Duncan Faculty Enrichment and Teaching Fellowship for Outstanding Teaching in General Education, Hudnall holds a dual appointment as a senior lecturer in the Department of History and the Department of Interdisciplinary Studies (Global Studies). She is also a Fellow at the Center for Judaic, Holocaust and Peace Studies, and on the Advisory Board of Human Dignity and Humiliation Studies.
Hudnall's work focuses on key aspects of genocide, in particular trauma theory, perpetrators and cross-cultural conflict. She has written numerous articles and book chapters, as well as presented at multiple venues around the world. Hudnall has been affiliated with the Center for Judaic, Holocaust and Peace Studies since its inception 20 years ago. She has served on numerous nonprofit boards and was the Executive Director of the nonprofit horse rescue, Horse Helpers of the High Country, for 17 years. As such, she will contribute administrative and fundraising skills to her role as Interim Director. Hudnall is excited to help the Center move into a new and important phase of growth drawing on the support and investment of our university and community members.
---
Dr. Ava J. Udvadia has served as a faculty member in the Department of Biological Sciences at the University of Wisconsin Milwaukee (UWM) since 2004. She earned her B.S. in Cell and Molecular Biology from the University of Michigan in Ann Arbor and completed her Ph.D. in the Cellular and Molecular Biology Program at Duke University in Durham, NC. In 2020, Udvadia became the Associate Chair and Director of Undergraduate Studies for the Department of Biological Sciences at UWM where she provided leadership and vision for enhancing programs for undergraduate majors and managed administrative staff supporting undergraduate and graduate programs. She enjoys opportunities for collaboration and interdisciplinary work and recently co-led the effort to establish a new interdepartmental major in Neuroscience, serving as the co-Director of the new major in its inaugural year. Udvadia's leadership and service efforts at UWM were dedicated to fostering an atmosphere of creativity and community where faculty, staff and students can achieve their highest potential.
Udvadia's areas of research and teaching expertise are molecular biology and neuroscience. Her research program is focused on understanding the gene regulatory coding that enables cells to selectively express specific complements of genes to build a nervous system and to repair it over a lifetime. Specifically, she is investigating the molecular mechanisms that enable animals such as fish and amphibians to fully regenerate and regain visual function after damage to their optic nerve. The ultimate goal of this research is to apply the knowledge gained from fish and amphibians to developing therapeutics for human optic neuropathies such as glaucoma.
As a beneficiary of high school and undergraduate research opportunities, Udvadia has been committed to research training and development of a diverse population of students to prepare them for leadership in the STEM workforce. She is proud of the more than 60 high school, undergraduate and graduate students colleagues who have been a part of her research team over the past 18 years. In 2021, Udvadia's research training efforts were recognized by the University of Wisconsin System Regents with the Regents Scholar Award.
---
Dr. Catherine D. Marcum is a criminologist who joined Appalachian State University in 2012. She earned a B.S. in Criminal Justice in 2002 from West Virginia State College, an M.S. in Criminal Justice in 2005 from Marshall University and a Ph.D. in Criminology from Indiana University of Pennsylvania. She is a professor of Justice Studies in the Department of Government and Justice Studies, previously serving as Criminal Justice Curriculum Coordinator and Assistant Chair. She also served as the Inclusive Excellence Liaison for her department for three years. Marcum truly enjoys time spent in the classroom with her students, regularly teaching the undergraduate courses "Corrections" and "Writing in Criminal Justice," as well as a graduate course on explaining the criminal justice reaction to the opioid epidemic through the lens of criminological theory.
Marcum's areas of expertise include correctional issues and cyber victimization and offending. She has published over 60 peer-reviewed journal articles and 20 books in her areas of study, including a third edition of her book, "Cybercrime." Her most recent research has involved deviant adolescent and young adult behaviors online, including the relationship between sexting and victimization via nonconsensual pornography offenses. In addition, she published an exploratory examination of the reaction of the corrections system to the pandemic shortly after the 2020 government shutdown and is extending that work with two colleagues on the effect of the pandemic on treatment courts.
Marcum is also very involved in regional and national organizations. She is currently the President of the Southern Criminal Justice Association (SCJA), Chair of the American Society of Criminology's Division of Cybercrime and a Trustee at Large on the Executive Board of the Academy of Criminal Justice Sciences (ACJS). She was a past recipient of the SCJA Outstanding Educator of the Year Award and the ACJS Corrections Section Member of the Year Award. In addition, she was recently named one of seven 2022 Indiana University of Pennsylvania Distinguished Alumni of the Year.
---
Dr. Maria T. Pramaggiore (she/they) is new to Appalachian State, but not to the UNC System. A scholar of film and media and gender and sexuality studies, she taught at North Carolina State University (NCSU) for more than a decade and served as Director of the Film Studies program and Associate Head of the English Studies department. She won the Outstanding Junior Faculty Award and Outstanding Teacher Award in the College of Humanities and Social Sciences at NCSU and was inducted into the NCSU Academy of Outstanding Teachers. In 2013, she was appointed Head of Media Studies and served as Dean of Graduate Studies (2017-2020) at Maynooth University in County Kildare, Ireland.
Pramaggiore earned a B.A. in Political Economy from Williams College, an M.Sc. in Economics from Lancaster University (UK) and a Ph.D. in Film and Women's Studies from Emory University. She is a graduate of the UNC BRIDGES Academic Leadership for Women program and is an experienced yoga and meditation teacher.
Her books include three monographs, "Identifying Others and Performing Identities: Irish and African American Cinema" (SUNY Press), "Neil Jordan" (University of Illinois Press) and "Making Time in Stanley Kubrick's Barry Lyndon: Art, History and Empire" (Bloomsbury); a co-authored textbook, "Film: A Critical Introduction" (Laurence King, now in its 4th edition); and two co-edited essay collections, "RePresenting Bisexualities" (NYU Press) and "Vocal Projections: Voices in Documentary" (Bloomsbury). Her articles and book chapters range across topics in Irish and American film, documentary, stardom studies, queer cinema and animal studies. In 2018, she was selected for the Middlebury/NEH Fellowship in Sound and Image Studies Workshop and co-founded the International Video Essay Research Network (iVERN). She is currently completing a book under contract with Oxford University Press entitled "The Equine Imaginary: The Horse in/as Cinema" and a co-authored book under contract with Liverpool University Press entitled "Waking the Hirschfeld: An Oral and Archival Study of a Dublin LGBTQ Centre" with Dr. Páraic Kerrigan, University College Dublin.
---
Dr. Paul M. Worley comes from Western Carolina University, where he had been a faculty member in the Department of English since 2014, serving as both Assistant Department Head and Graduate Director. Prior to that, he spent five years in the Department of Modern and Classical Languages and Literatures at the University of North Dakota, where he directed the program in International Studies.
Worley earned a B.A. in Romance Languages from UNC-Chapel Hill, an M.A. in English from the Writing Seminars at Johns Hopkins University and a Ph.D. in Comparative Literature from UNC-Chapel Hill.
Worley specializes in contemporary Indigenous literatures in Abya Yala (the Americas), focusing on the Maya area. His work has particularly focused on different understandings of text, and how Indigenous authors adapt Euro-Western notions of literacy to meet their own aesthetic needs and ends. His first book, "Telling and Being Told: Storytelling and Cultural Control in Contemporary Yucatec Maya Literatures" (2013), examines the intersections of Maya oral storytelling and the written word. Stories recorded as part of that research are available at http://tsikbalichmaya.org. Co-written with Rita M. Palacios, his follow-up project, "Unwriting Maya Literature: Ts'íib as Recorded Knowledge" (2019), looks at the Maya notion of ts'íib, a term frequently translated as "writing," but which actually speaks to a broader, multimodal field of literacy that includes everything from ceramics and weaving to beadwork and the pattern a farmer makes in a field. In 2020, "Unwriting Maya Literature" received an Honorable Mention for Best Book in the Humanities from the Latin American Studies Association's Mexico Section. He has also translated works by numerous Indigenous authors from Spanish to English, such as (Me'phaa) Hubert Matiúwàa, (K'iche') Manuel Tzoc and (Tsotsil) Ruperta Bautista.
---
Dr. Mathew A. Foust comes to Appalachian State University from Central Connecticut State University, where he has worked since 2013, having served as Chair of the Department of Philosophy since 2020 and Co-Director of International Studies since 2017. Previous affiliations include the Department of History and Philosophy at Lander University and the General Education Office at BNU-HKBU United International College in Zhuhai, China.
Foust earned a B.A. in Philosophy from John Carroll University in 2002, an M.A. in Philosophy from Texas A&M University in 2004 and a Ph.D. in Philosophy from the University of Oregon in 2010.
Foust's interests include the history of philosophy, comparative philosophy, ethics and philosophy of religion. His research draws primarily on ancient Chinese philosophy and classical American philosophy, with an abiding interest in historical and comparative areas of intersection between these traditions. His work in ethics focuses largely on the virtue of loyalty, with several publications offering interpretations and applications of Josiah Royce's philosophy of loyalty. His work in the philosophy of religion includes examination of philosophical and religious perspectives on death and immortality. His publications include Josiah Royce's "1909 Pittsburgh Loyalty Lectures" (Cambridge Scholars Publishing, 2021); "The Philosophies of America Reader: From the Popul Vuh to the Present" (Bloomsbury, 2021); "Confucianism and American Philosophy" (SUNY Press, 2017); "Feminist Encounters with Confucius" (Brill, 2016); and "Loyalty to Loyalty: Josiah Royce and the Genuine Moral Life" (Fordham University Press, 2012).
Foust is currently the Vice President of the Josiah Royce Society and Secretary of the International Society for Chinese Philosophy. He is a past Secretary-Treasurer of the International Society for Comparative Studies of Chinese and Western Philosophy.
---
Dr. Michael M. Briley is an award-winning teacher and scholar with more than 50 authored/co-authored peer-reviewed publications and over 1.5 million dollars in federal/corporate grants as lead investigator. His primary research interests are focused on nuclear reactions in old stars and what they tell us about the history of our galaxy and how stars work. The courses Dr. Briley has taught range from introductory physics and astronomy to advanced astrophysics, stellar atmospheres and interiors, classical mechanics, optics, observational astronomy, galactic astronomy, digital electronics, analog electronics, digital signal processing and others. His honors include a university-level teaching award, an endowed professorship, a research professorship and the Director's Award for Collaborative Integration from the National Science Foundation (NSF).
Briley came to Appalachian State in 2011 to serve as the Department Chair, which he held until 2018 when he stepped down to return to teaching and research. In 2021, he assumed the role of Graduate Program Director in part due to his love of electronics/instrumentation, as well as his belief in the strength and tremendous value of the program.
He received a B.S. in Astronomy with Honors in the Liberal Arts from The Ohio State University in 1985, an M.S. in Astronomy from the University of Maryland in 1989 and a Ph.D. in Astronomy from Maryland one year later. He then won the W.J. McDonald Prize Fellowship at the University of Texas where he worked for four years before joining the faculty of the University of Wisconsin at Oshkosh. There he spent seventeen years including seven years as a department head. He also served for four years as the Director of the Stellar Astronomy and Astrophysics program at the National Science Foundation (NSF), where among other accomplishments, he doubled NSF funding for the search for planets around other stars.
Briley's hobbies include electronics, programming, mechanics (as in cars - when younger he was either going to be a mechanic or an astrophysicist), restoring/remodeling homes, and nature photography (he has had public shows and his work can be found in various National Parks).
---
Dr. Zack Murrell (Biology), Dr. Phillip Ardoin (Government and Justice Studies), Dr. Mark Nunes (Interdisciplinary Studies), Dr. Martial Frindethie and Dr. Kevin Kennedy (Languages, Literatures and Cultures), and Dr. Kevin Schilbrack (Philosophy and Religion) will return to their faculty roles in their respective departments. Dr. Jennifer Burris (Physics and Astronomy) has assumed the role of Provost and Vice President for Academic Affairs at Lenoir-Rhyne University. Dr. Thomas Pegelow-Kaplan (Center for Judaic, Holocaust and Peace Studies) has accepted the position of Louis P. Singer Endowed Chair in Jewish History at the University of Colorado Boulder.
"I deeply appreciate the dedication that each of our outgoing chairs has for their faculty, their students, and their profession. They each lead their departments through some of the toughest times possible in higher education - often bearing the scars to prove it. I will sincerely miss working with them." - Interim Dean Madritch
To learn more about CAS and its many departments spanning the humanities and the social, mathematical and natural sciences, visit https://cas.appstate.edu.
###
About the Center for Judaic, Holocaust and Peace Studies
Appalachian State University's Center for Judaic, Holocaust and Peace Studies was founded in 2002 to develop new educational opportunities for students, teachers and the community. Located administratively within the College of Arts and Sciences, the center seeks to strengthen tolerance, understanding and remembrance by increasing the knowledge of Jewish culture and history, teaching the history and meaning of the Holocaust, and utilizing these experiences to explore peaceful avenues for human improvement and the prevention of further genocides. The Center for Judaic, Holocaust and Peace Studies is an associate institutional member of the Association of Jewish Studies, a member of the Association of Holocaust Organizations and a member of the North Carolina Consortium of Jewish Studies.
About the Department of Biology
The Department of Biology is a community of teacher-scholars, with faculty representing the full breadth of biological specializations — from molecular genetics to landscape/ecosystem ecology. The department seeks to produce graduates with sound scientific knowledge, the skills to create new knowledge, and the excitement and appreciation of scientific discovery. Learn more at https://biology.appstate.edu.
About the Department of Government and Justice Studies
Appalachian State University's Department of Government and Justice Studies offers undergraduate programs in political science and criminal justice, and graduate programs in political science and public administration. Housed in the College of Arts and Sciences, the department has over 600 undergraduate majors and more than 70 graduate students. Learn more at https://gjs.appstate.edu.
About the Department of Interdisciplinary Studies
The Department of Interdisciplinary Studies offers graduate and undergraduate degrees in four program areas: Appalachian studies; gender, women's and sexuality studies; global studies; and interdisciplinary studies. The department is also home to Watauga Residential College, an interdisciplinary, alternative general education program. The department promotes creative and imaginative engagement through a cross-disciplinary investigation of complex systems and problems. Learn more at https://interdisciplinary.appstate.edu.
About the Department of Languages, Literatures and Cultures
The Department of Languages, Literatures and Cultures offers courses that enhance students' understanding of other cultures and languages as well as their own, making them prepared for lifelong learning in a multicultural world. Learn more at https://dllc.appstate.edu.
About the Department of Philosophy and Religion
The Department of Philosophy and Religion invites students to explore the world, examine beliefs, understand a diversity of worldviews, and challenge the ideas and values that instruct our lives. The department offers a Bachelor of Arts in philosophy and a Bachelor of Arts in religious studies, as well as a minor in both of these areas. Learn more at https://philrel.appstate.edu.
About the Department of Physics and Astronomy
The Department of Physics and Astronomy's curriculum has an applied nature that includes a core of fundamental physics courses and laboratory experiences. The department prepares graduates for a variety of scientific, teaching or engineering professions, as well as future educational endeavors. Learn more at https://physics.appstate.edu.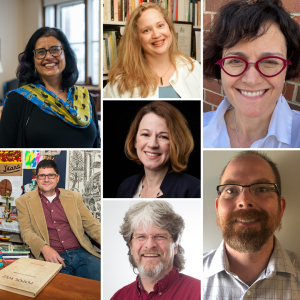 Tags: