BOONE, N.C. — On Tuesday, February 21, Appalachian State hosted the High Country Chapter Competition of MATHCOUNTS. MATHCOUNTS is a national mathematics competition that provides engaging math programs to middle school students of all ability levels to build confidence and improve attitudes about math and problem solving.
During the day, students complete problems individually and in small groups, and the excitement about doing mathematics can be felt in the air!
"Getting to discuss the problems with others allows the students to engage with the content in a deeper way than when they work in isolation," said Dr. Erica Slate Young, associate professor in the Department of Mathematical Sciences and High Country Chapter coordinator. "I believe MATHCOUNTS serves an important role here in the HIgh Country by giving middle grades students an opportunity to engage with math from a problem solving perspective."
To coordinate the event, Young worked with Dr. Tracie McLemore Salinas, professor in App State's Department of Mathematical Sciences and director of the Math and Science Education Center, and Dr. Stephen Martin '96 '11, assistant superintendent of the Watauga County Schools and an alumnus of the Reich College of Education.
Salinas shared that the High Country Chapter of MATHCOUNTS is unique for several reasons. First, it's one of the few chapters that partners with a University. Additionally, the chapter is open to all students, not just those in advanced mathematics courses.
"The university relationship to our chapter of MATHCOUNTS is unique and should be shared as a model," noted Salinas. "The university provides logistical resources and continuity, allowing the school partners to focus on the work of preparing students to compete."
The High Country Chapter has grown from a small regional chapter to a chapter that hosts a large competition each year.
David Phipps, a community volunteer, has been working with MATHCOUNTS for 38 years - 28 of those years as the state chairman. For him, every student in the program wins!
"These are our future leaders, and many of these kids have never been on a college campus, so it opens a new world to them," he noted. "MATHCOUNTS is fundamental in STEM education."
Salinas added, "It's important to me that students in rural areas have access to as many opportunities as possible."
Read more about how Watauga County Schools placed in the event in The Watauga Democrat.
---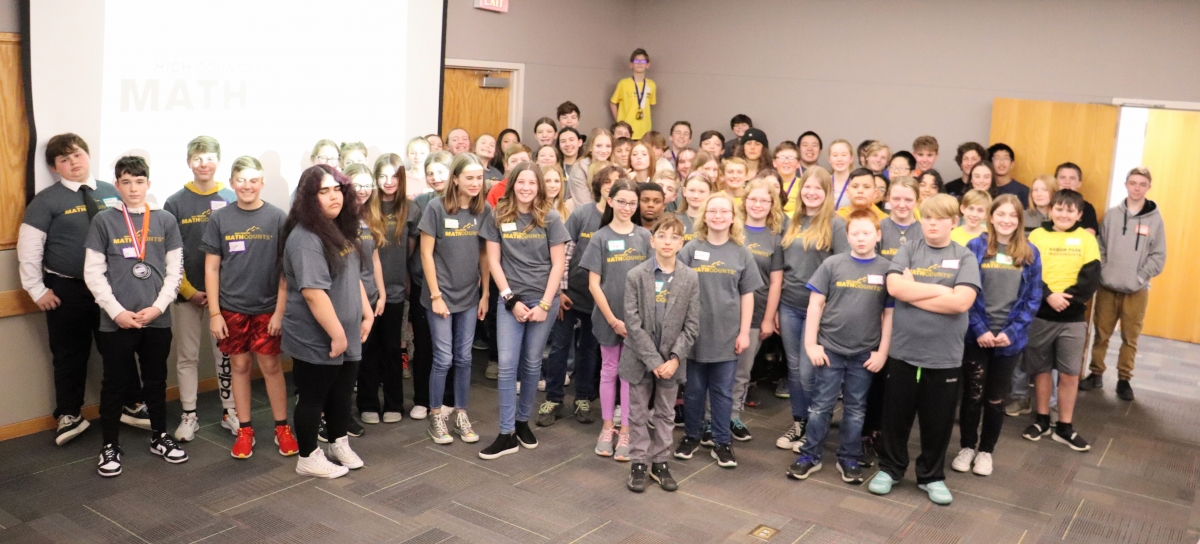 More than 80 students from 10 different schools met on the campus of Appalachian State University for the MATHCOUNTS Competition. Photo by Garrett Price, Watauga County Schools.
---
About the College of Arts and Sciences
The College of Arts and Sciences (CAS) at Appalachian State University is home to 17 academic departments, two centers and one residential college. These units span the humanities and the social, mathematical and natural sciences. CAS aims to develop a distinctive identity built upon our university's strengths, traditions and unique location. The college's values lie not only in service to the university and local community, but through inspiring, training, educating and sustaining the development of its students as global citizens. More than 6,400 student majors are enrolled in the college. As the college is also largely responsible for implementing App State's general education curriculum, it is heavily involved in the education of all students at the university, including those pursuing majors in other colleges. Learn more at https://cas.appstate.edu.
About the Department of Mathematical Sciences
The Department of Mathematical Sciences offers undergraduate degrees in actuarial science and mathematics, with concentrations in business, computation, life sciences, physical sciences, secondary teaching and statistics, plus a general, self-designed concentration. The department also offers the Master of Arts in mathematics, with concentrations in college teaching and secondary teaching. Learn more at https://mathsci.appstate.edu.
About the Reich College of Education
Appalachian State University offers one of the largest undergraduate teacher preparation programs in North Carolina, graduating about 500 teachers a year. The Reich College of Education enrolls more than 2,000 students in its bachelor's, master's, education specialist and doctoral degree programs. With so many teacher education graduates working in the state, there is at least one RCOE graduate teaching in every county in North Carolina. Learn more at https://rcoe.appstate.edu.
Written by Rebekah Saylors and Lauren Andersen
March 21, 2023
BOONE, N.C.