How a field experience created a lasting bond for App State alums

At Appalachian State University our faculty support students to be successful in their careers from the classroom to the field with real-world experience and training to become responsible citizens. Four alumni embody this life cycle of professional development to engage support from their experience at App State.
Aaron Pruitt, Ryan Farmer, Chesney Gilleland all B.S. in geology majors from 2009 and Anna A. Littlefield, B.S. in Geology 2010 connected over their first field experience dubbed the Triassic Trip in the Department of Geological and Environmental Sciences over ten years ago and still remark on the pivotal role this trip had on their education and their lives.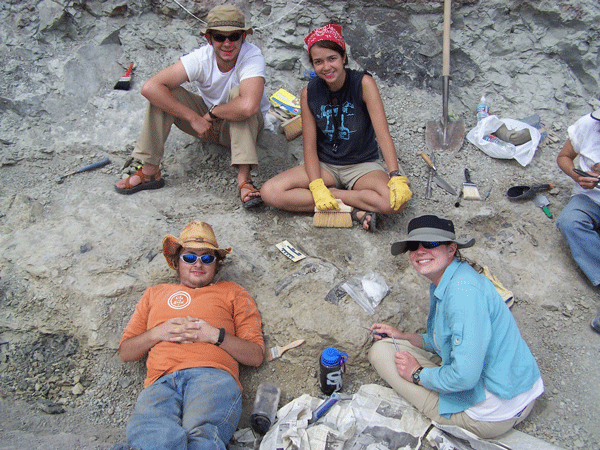 Caption: Clockwise top left to right–Ryan Farmer, Ashley Watts, Chesney Gilleland, and Aaron Pruitt in the field on the Department of Geological and Environmental Sciences Triassic Trip in 2007. Photo by Crystal Wilson.
"This trip was the first time I had a professor drop me in the field and introduce me to the methodology of observation and interpretation. Thoroughly describing your surroundings, putting yourself in a geologic context, drawing your location on a map, plotting strike and dip (orientation of a geologic feature), keeping a good field notebook and communicating your ideas to others are all critical skills for working as a geologist in the field or office," said Anna A. Littlefield, App State geology alumna.


Caption: Video of Dr. Andy Heckert, professor and trip leader, as well as Anthony Love, research operations and laboratories manager from App State's Department of Geological and Environmental Sciences talking about the Triassic Trip experience for students.

What is the Triassic Trip
Geological and Environmental course GES 2857–Paleontology Field and Museum Methods, also known as the Triassic Trip takes place annually in early summer and combines paleontological field and museum work in the southwest region of the U.S.
Typically taken by students in their sophomore and junior years, this course takes place in the field recovering fossils followed by time at a natural history museum preparing fossils and archiving data. In its 15th year, Dr. Andrew (Andy) B. Heckert, professor of vertebrate paleontology, dinosaurs, litho/biostratigraphy, leads the trip.
The Triassic is a geologic time period, before the Jurassic, that began 252 million years ago and followed the largest mass extinction in the history of the Earth. Most "Triassic trips" focus on rocks about 220-210 million years ago and similar to those of the "painted desert" of Arizona.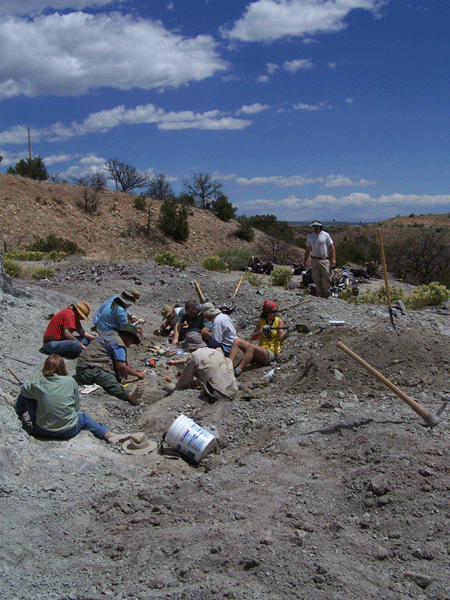 Caption: In the pit on Triassic Trip 2007 excavating Triassic vertebrates for the New Mexico Museum of Natural History and Science at the Snyder Quarry in northern New Mexico. The crew includes all of the class participants including Chesney, Ryan, and Aaron plus some volunteers and staff of the museum. Photo by Crystal Wilson.


At locations in the high desert areas of New Mexico, Arizona, Utah and Colorado students spend half of their time in the field, digging and identifying fossils, keeping field notebooks and collecting data.
After long hours in the field, the group camps in the desert with primitive means to cook and clean. The other half of the trip includes visiting and working in museums with collaborators.


"The trip allows students to really get a chance to see paleontology, in a variety of venues, not just in the field, but also in museum exhibitions and behind the scenes of museum prep labs and collection spaces," said Dr. Andy Heckert, professor and leader of the trip.

Anthony Love, research operations and laboratories manager in the department supports Heckert and students on this trip by preparing them with supplies for their work in the field.
"Andy liked dinosaurs since he was about 10 years old. Getting to grow up and be a professional vertebrate paleontologist, who studies dinosaurs was a lifelong dream and that's really a similar story to a lot of these students and so for them, this trip is their first experience to find their own dinosaur fossils," said Love.

The Student Experience
For some students, this trip is their first excursion driving across the country, seeing landscapes beyond the east coast or even camping and providing for themselves in nature.
The course is usually the first field experience for students as well, putting what they have learned in their classes and from textbooks to practice in the field.
"It is critically important to get students out in the field. You learn more in the field in a day than you'll learn in a week's worth of classes because you are experiencing constantly and you can't check out because you are immersed in learning," said Heckert.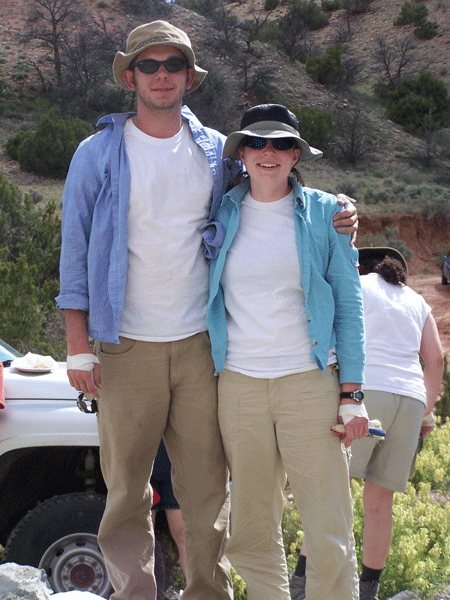 Caption: Ryan and Chesney, twinning in white t-shirts and blue button-ups, in the field with tape covering blisters from the excavation process on their hands. Ryan and Chesney started dating shortly after this trip and today, fourteen years later, are married and have two kids.

In 2007 the course was established and Ryan, Chesney and Aaron met minutes before loading in a van and driving across the country together. Anna followed the next year, but all were classmates together in the department.


"If you are going to be a scientist of any caliber, you have to know how to collect your data, organize your thoughts and present them clearly. Your ideas are not useful if you can't communicate them to the rest of the scientific community, so teaching us organization methods in the field were fundamentally important skills for our futures," said Chesney Gilleland, App State geology alumna.
Anthony Love expressed how the desire for the student experience on these trips is to gain experience and there's no better way to do that than working out in the field.
"When we're working in the classroom or the lab we're fairly regimented about how we structure an exercise, but this trip is their opportunity to learn in the moment. It really gives them that other part of the experience that's necessary to learn how to be a working scientist," said Love.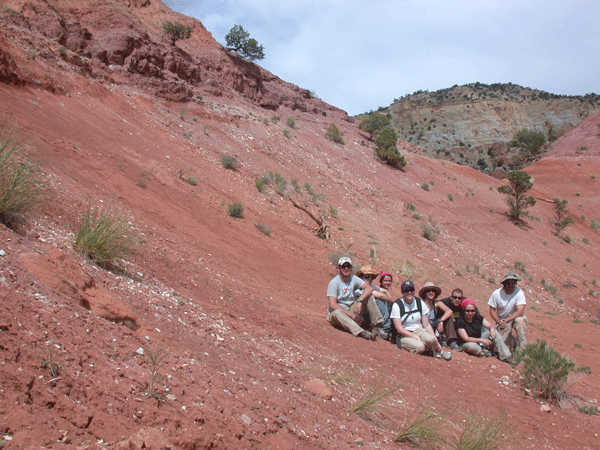 Caption: Group from 2007 Triassic Trip, including Ryan, Chesney and Aaron at Coelophysis Quarry. Photo submitted by Andy Heckert.

Geology at App State
"In this department, the faculty were excited and active with the students and we, in turn, got to interact with people that were passionate about their work. They (the faculty) were involved and had a commitment to our success," said Ryan Farmer, App State geology alumnus.
The Department of Geological and Environmental Sciences at App State is an undergraduate-only program and this structure allows for more undergraduates incorporated into direct research with faculty members. With 19 full-time faculty and a student-to-faculty ratio of around eight to one, it allows for a personal student experience.
"We all left and went on to graduate programs around the country and found that our time at App had given us a really solid foundation. At least for me, it wasn't until I left that I realized how great a program we were in," said Anna A. Littlefield.

Paying it forward
After their transformative educational experience on the Triassic trip and the preparedness that the opportunities at App State provided for their development in their academic and professional careers, Ryan, Chesney, Anna and Aaron decided to come together and support future students.
Each of them had been recipients of financial support during their time in the department and had the impactful opportunity to meet alumni and donors that were supportive of their educational journey. Collectively, they felt the desire to return the kindness for future students.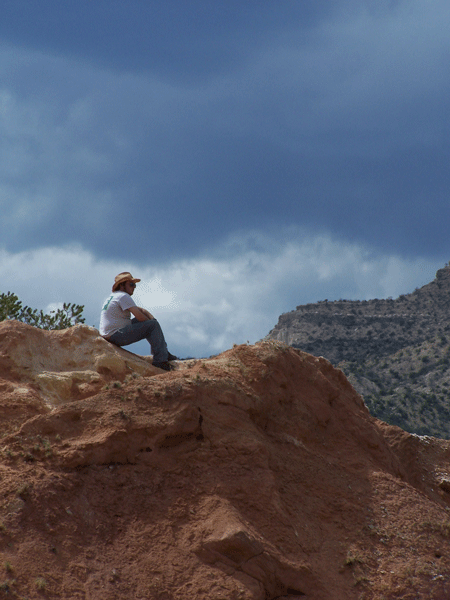 Caption: Aaron Pruitt taking a break at the Snyder quarry and taking in the view. Photo submitted by Andy Heckert.

"Getting a stipend for research, working in the department Answersphere or receiving a scholarship for a trip made the difference of whether to keep working a job or to get paid as an undergrad in my field and contribute to science. Being able to pay that back means hopefully others can get the same opportunities," said Aaron Pruitt, App State geology alumnus.
Working with the Development Officer for the College, Carey Fissel, the group sought out opportunities of how to give back and make the most of their contribution. According to Ryan Farmer, the hardest part was figuring out what they wanted to do with all the options available to them.
Several of the group worked at companies that had matching gift programs, so figuring out paperwork pathways to gain this additional support was integral in setting up their funding.
Also pooling their funds as a group versus individuals gave them more opportunities in what type of support they could set up and at a relatively early time in their careers.
"We had a very active voice in setting this up. It wasn't just signing a document, we were able to navigate to where we felt like the money would go, somewhere it was needed and we felt good about being able to specify support for an event that meant so much to us," said Ryan Farmer.
The group decided on an endowment versus an annual scholarship. An endowed gift is invested and the return on investment is used as support each year, while the principal will continue to grow and generate greater levels of income and impact over time.


"We need more things like this scholarship to help students get the kinds of experiences that make a difference in their life, in their careers. All things considered, when a student is applying to grad school, a job or an internship–even if they have a GPA the same as another student, it is that field experience that makes a difference," said Heckert.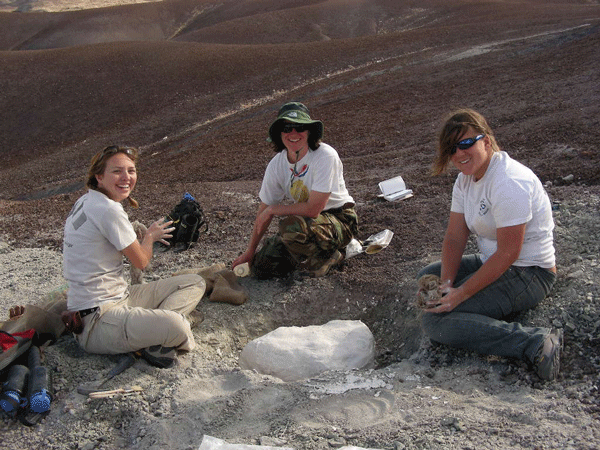 Caption: Anna A. Littlefield (far right) with classmate Jessica Wilson (far left) created a plaster jacket in the field during the 2008 Triassic trip.


Where are they now
Ryan and Chesney are married and have two children. Ryan is a geospatial project manager at GIS Inc., a continental mapping company after completing a Master's at the University of Nebraska-Lincoln in Geological and Earth Sciences.
Chesney was a senior geologist at Concho Resources before the acquisition with Conoco Phillips in early 2021. After the acquisition, Chesney decided to stay home with their children, and they have recently moved back to western North Carolina.
Aaron Pruitt is a hydrogeologist at the Wisconsin Department of Natural Resources (DNR) in Madison, Wisconsin, after completing a Master's in geosciences at the University of Wisconsin-Madison.
Anna A. Littlefield received a Master's in geology at Texas A&M where she studied soil infiltration and runoff from watersheds impacted by forest fires. After graduation she worked in the petroleum industry for Anadarko/Occidental until 2020 when she left the industry to pursue a Ph.D. at the Colorado School of Mines, focusing on carbon sequestration.


"We make connections and it's not unique to geology at Appalachian, but we work with our students and give them opportunities. In turn, we create great people like these four. I say we have been successful not only in creating positive students but also responsible and caring human beings," said Love.

How to support current and future students
While the Triassic Trip scholarship is fully funded thanks to these alumni, there are other opportunities to support students studying geological and environmental sciences at Appalachian State University, such as the McKinney Paleontology Scholarship fund, the Fred Webb Jr. and Barbara Haynes Webb Endowed Scholarship for Geology Summer Field Course and the Loren A. Raymond Student Research Scholarship Endowment. To learn more about establishing scholarships visit give.appstate.edu.

###
About the Department of Geological and Environmental Sciences
Located in Western North Carolina, Appalachian State University provides the perfect setting to study geological and environmental sciences. The Department of Geological and Environmental Sciences provides students with a solid foundation on which to prepare for graduate school or build successful careers as scientists, consultants and secondary education teachers. The department offers six degree options in geology and two degree options in environmental science. Learn more at https://earth.appstate.edu.
About student research at Appalachian
Appalachian State University encourages faculty-mentored student research, which provides students with the opportunity to work side by side with faculty on meaningful research or creative endeavors. These projects often result in presentations, performances or exhibitions at regional, national and international conferences and events. Students who engage in research are able to apply knowledge from the classroom into real-world experiences and learn how to problem-solve, effectively communicate and analyze complex issues. Appalachian's Office of Student Research (OSR) was established in 2005 to expand the opportunities necessary for undergraduate and graduate students to engage in research and creative activities at Appalachian. Learn more at https://osr.appstate.edu.
By Ellen Gwin Burnette
Friday, Jan. 4, 2022
BOONE, N.C