The 2023-24 Appalachian Scholarship Application Portal (ASAP) opens today and closes February 7, 2023! Through ASAP, submit one application to be automatically matched with the university and department scholarships you're eligible to receive. Access the portal at asap.appstate.edu.
Students who have declared a major have an increased chance of matching with scholarships that are designated for students in that major. Information about department scholarships is provided on each academic department's website.
Additionally, the College of Arts and Sciences (CAS) offers 6 scholarships to eligible students majoring in degree programs in CAS:
Sally A. Callegari Memorial Scholarship for Gender Diversity in Animal Studies
Drs. Joanne Smith and Don R. Brannon Scholarship for Natural Sciences
Richard A. Thomas Memorial Scholarship for Arts and Sciences
Jonathan K. Perryman Endowed Memorial Scholarship for the Sciences
GlaxoSmithKline Women in Science Scholars Endowment
The Peggy Harmon Shore Pre-Health Care Professional Endowed Scholarship
For more information about CAS scholarships, visit cas.appstate.edu/students/scholarships.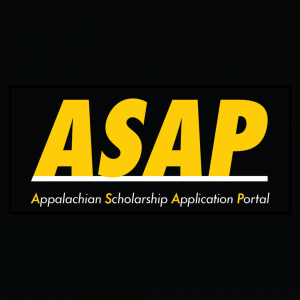 Tags: