Date: Saturday, July 21 - Thursday, July 26
Location: All sessions will be held in the Grandfather Ballroom, Plemmons Student Union (PSU) unless otherwise noted at Appalachian State University, Boone, N.C.
Event Details: This event is free and open to the public.
This year's symposium puts a particular emphasis on the role of music and its uses and abuses during this genocide. The event is organized by Appalachian's Center for Judaic, Holocaust and Peace Studies and named for symposium benefactors, the late Doris and Martin Rosen.
The symposium provides public and private school teachers, university faculty, students and community members information and insights about the victims, perpetrators and consequences of the Nazi genocide of European Jewry. In addition, the program widens the focus to explore Jewish religious and cultural life before the Holocaust. Symposium participants will learn about how the Nazi regime abused music as a form of propaganda and manipulation during the Holocaust, and they will gain an understanding of how European Jews, even in German-established ghettos and concentration camps, sought to use music as a form of spiritual resistance.
The week-long symposium consists of lectures, workshops, discussions and demonstrations with internationally and nationally acclaimed scholars, authors and educators. Presentations will be given by Holocaust experts including:

Dr. Anna Shternshis, Al and Malka Green Associate Professor of Yiddish Studies & Director, Anne Tanenbaum Centre for Jewish Studies, University of Toronto
Dr. Racelle Weiman, independent Holocaust educator
Tamar Grinshpon, daughter of Ela Weissberger of blessed memory, child performer in Brundibar opera, Terezin
Steffie Kaye, Yad Vashem's International School for Holocaust Studies.
Multiple musical performances of Holocaust-era and post-Holocaust music will be performed, by the Hayes School of Music faculty and students, as well as faculty from Milligan College and Wake Forest University.
Contributing to the international reach and composition of the event, secondary-school teachers from Poland, Slovakia, Hungary and Romania will be among the many participants to discuss the teaching of the Holocaust in their countries.
Sponsors:

For a schedule of events and a complete list of speakers, please visit https://holocaust.appstate.edu/symposium/2018-schedule. As in years past, teachers from N.C. and other U.S. states can receive continuing education units for attending the lectures, workshops, discussions, and demonstrations. To register for CEUs, visit https://holocaust.appstate.edu/symposium/2018-registration-form.
###
About the Center for Judaic, Holocaust and Peace Studies
Appalachian State University's Center for Judaic, Holocaust and Peace Studies was founded in 2002 to develop new educational opportunities for students, teachers and the community. Located administratively within the College of Arts and Sciences, the Center seeks to strengthen tolerance, understanding and remembrance by increasing the knowledge of Jewish culture and history, teaching the history and meaning of the Holocaust and utilizing these experiences to explore peaceful avenues for human improvement and the prevention of further genocides.
The Center for Judaic, Holocaust and Peace Studies is an associate institutional member of the Association of Jewish Studies, a member of the Association of Holocaust Organizations and of the North Carolina Consortium of Jewish Studies. Learn more at https://holocaust.appstate.edu/.
About the College of Arts and Sciences
The College of Arts and Sciences is home to 16 academic departments, two stand-alone academic programs, two centers and one residential college. These units span the humanities and the social, mathematical and natural sciences. The College of Arts and Sciences aims to develop a distinctive identity built upon our university's strengths, traditions and unique location. Our values lie not only in service to the university and local community, but through inspiring, training, educating and sustaining the development of our students as global citizens. There are approximately 5,850 student majors in the college. As the college is also largely responsible for implementing Appalachian's general education curriculum, it is heavily involved in the education of all students at the university, including those pursuing majors in other colleges. Learn more at https://cas.appstate.edu.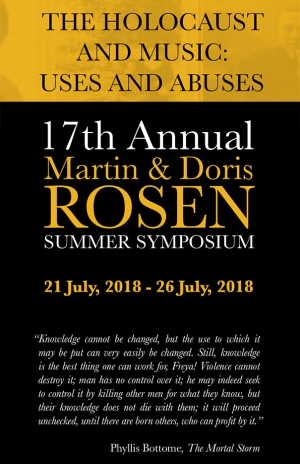 Tags: