About Black Mountain College
About Black Mountain College
Black Mountain College (BMC) was founded in 1933 in North Carolina's rural Swannanoa Valley, near Asheville by a band of academic dissidents, led by John Andrew Rice (whose papers are housed in Appalachian's W.L. Eury Collection) and closed its doors in 1957. BMC was an early leader of progressive, experimental education in the 20th century and to this day remains one of the greatest academic adventures ever launched on American soil.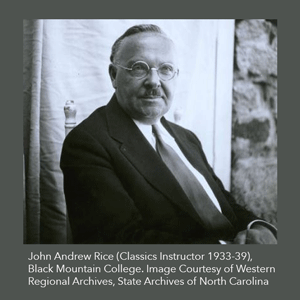 The school was dedicated to an interdisciplinary approach, attracting faculty and lecturers that included America's leading visual artists, poets and influential writers, musical composers, dancers and designers. John Andrew Rice insisted that art should be at the center of a broad academic curriculum.
BMC was operated by the faculty and committed to democratic governance and the idea that arts are central to learning. The faculty instilled in their students and colleagues many of the same values upheld by Appalachian State University today, learning by doing, collaborative learning and education for social justice and democracy.
During its existence, many of the nation's greatest thinkers and artists were in residence or paid visits to Black Mountain College including Anni Albers, Josef Albers, John Cage, Merce Cunningham, John Dewey, Albert Einstein, Aldous Huxley, Willem de Kooning, Buckminster Fuller, Paul Goodman, Langston Hughes, Zora Neale Hurston, Franz Kline, Jacob Lawrence, Henry Miller, Robert Motherwell, Charles Olson, Arthur Penn, Francine du Plessix-Gray, Robert Rauschenburg, Aaron Siskind and many others.
Legendary even in its own time, Black Mountain College attracted and created maverick spirits, some of whom went on to become well-known and extremely influential individuals in the latter half of the 20th century. Despite the closing of Black Mountian College, the Black Mountain College Museum + Arts Center continues the legacy of Black Mountain College through talks, exhibitions, performances and an annual fall conference that examines the college's legacy.
It is not by coincidence that Appalachian proposes dynamic exploration of this legacy through the Black Mountain College Semester. Appalachian and Black Mountain College share the same geographic backdrop of the Blue Ridge Mountains and each locale has witnessed similar changes in rural livelihoods, demographics and ecologies that have reshaped the cultural meanings of and attachments to place in southern Appalachia. Appalachian continues Black Mountain College's tradition of progressive, experiential education with deep commitments to collaboration and respect between students and faculty.