BMCS at Appalachian
Black Mountain College Semester 2018 at Appalachian
For Appalachian State University's Black Mountain College (BMC) Semester in spring 2018, multiple departments across the university are collaborating with area museums and other venues to host exhibits, lectures and workshops that will highlight the importance of BMC's influence within the Appalachian region's creative, educational and political movements.
Black Mountain College operated from 1933 to 1957 near Asheville, in North Carolina's rural Swannanoa Valley, and was an early leader of progressive, experimental education in the 20th century.
Sponsored by the Office of Academic Affairs and the College of Arts and Sciences and in partnership with the Turchin Center for the Visual Arts, Blowing Rock Art & History Museum, Swannanoa Valley Museum & History Center, the Center for Appalachian Studies and the Department of English at Appalachian the spring 2018 semester will address the legacy of BMC through three interrelated projects:
a multi-sited exhibition series;
a special Black Mountain College issue of Appalachian Journal guest edited by Joseph Bathanti, in collaboration with Appalachian Journal Editor-in-Chief Sandra Ballard and Savannah Paige Murray, featuring prominent voices associated with BMC;
and a multipurpose digital timeline containing a museum guide, original scholarly resources and curricular materials designed for North Carolina schools. The digital timeline will explore the theme of "Place and Change" across six time periods relevant to the college.
Approximately 20 prominent scholars, writers and artists associated with Black Mountain College will visit campus and/or partnering museums during the spring 2018 term to give public lectures, screen films and present their work to faculty, students and the public. These guests will present a diversity of topics on issues important to both Black Mountain College and to Appalachian's current educational emphasis in the arts and sciences with an emphasis on sustainability.
Each of these activities with Black Mountain College promises to have wider impact on student learning at Appalachian, public education programming and external partnerships. On campus, special topics courses on Black Mountain College will be taught at the graduate and undergraduate levels in the spring of 2018 semester. Appalachian encourages faculty, staff and students to continually develop new ways to engage and partner with the communities they serve, both in the immediate community and around the world; this project will expand the University's presence in the arts and humanities communities of North Carolina and the Appalachian region.
Appalachian State University project team
William Schumann, Center for Appalachian Studies, Principal Investigator
Kelsey Wagner, Center for Appalachian Studies, Co-Principal Investigator
Tom Hansell, Center for Appalachian Studies, Investigator
Fred Hay, W. L. Eury Appalachian Collection at Belk Library, Investigator
Dustin Witsman, W. L. Eury Appalachian Collection at Belk Library, Investigator
Pamela Mitchem, Office of Digital Scholarship and Initiatives at Belk Library, Investigator
Joseph Bathanti, Professor of Creative Writing and NC Poet Laureate Emeritus, Consultant
Mary Anne Redding, Turchin Center for the Visual Arts, Consultant
Faculty Fellows
Theresa Redmond, Curriculum and Instruction
Jeff Goodman, Curriculum and Instruction
Ray Miller, Dance
Jason Miller, Technology
Jody Servon, Art
Christina Sornito, Anthropology
Jim Toub, Art
Damiana Pyles, Curriculum and Instruction
Planning Committee
William Schumann, Center for Appalachian Studies
Kelsey Wagner, Center for Appalachian Studies
Tom Hansell, Center for Appalachian Studies
Joseph Bathanti, Professor of Creative Writing
Mary Anne Redding, Turchin Center for the Visual Arts
Clark Maddux, Watauga Residential College
Neva J. Specht, Dean of the College of Arts and Sciences
Ellen Gwin Burnette, Public Relations and Communications, College of Arts and Sciences
Dianna Loughlin, BRAHM, Blowing Rock Art & History Museum


Event Flyer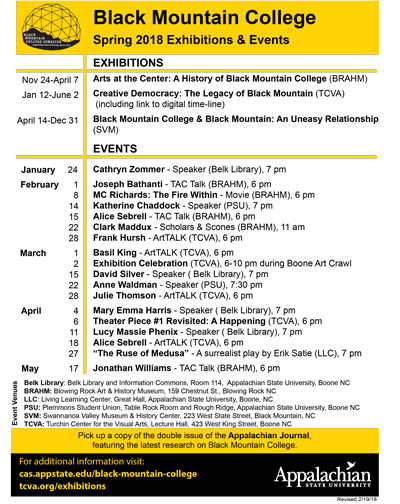 To view or share a comprehensive flyer with all the BMCS speaker events, download this event flyer. (129 KB, PDF)