Judaic, Holocaust and Peace Studies
This minor, consisting of 18 semester hours, introduces students to the interdisciplinary study of the Holocaust and other modern genocides. In order to comprehend practices of systematic mass murder and genocidal societies, it is pivotal to draw on a variety of fields in order to scrutinize a multilayered source base, ranging from film and photography to literary, diplomatic and government sources, such as:
sociology,
anthropology,
history,
political science and
philosophy and religious studies.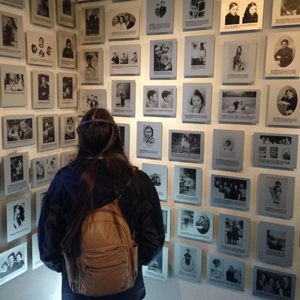 Caption: A student minor in the program reflecting on the images of murdered Jews at the Auschwitz-Birkenau State Museum. Photo by the Center.
Judaic, Holocaust and Peace Studies
Faculty members from various Appalachian departments and colleges are working with students to this end. The study of the Holocaust and modern genocides provides insights into the preconditions and unfolding of systematic mass murder, how ordinary men and women come to participate in these crimes and the responses, "choiceless choices" (Lawrence L. Langer) and acts of contestation by victimized populations. These explorations also center on possible forms of intervention and problematize silence in the face of genocide, always combining analysis with reflections on social and civic responsibilities.
This minor combines the study of the Holocaust with a multi-layered examination of Judaism and histories of Jewish populations worldwide that cannot be reduced to ongoing episodes of violence. Over the centuries, Jewish communities developed a complex theology, laws and cultural traditions. Many of these traditions also inform practices of waging peace, which is at the core of the minor's third focus. Combined with a knowledge of Jewish cultures and histories, as well as meanings of the Holocaust, the exploration of theories and languages of peace studies underpin the search for human improvement and a world increasingly free of violence and genocide.
The Center for Judaic, Holocaust and Peace Studies supports this minor by
organizing research colloquia
bringing leading scholars in the field to campus for talks and meetings
offering financial support for research trips
For course information, visit the Undergraduate Bulletin.
Faculty Contacts
Amy Hudnall
Department of History, Department of Interdisciplinary Studies
Office: Anne Belk Hall 214F
Email: hudnallac@appstate.edu
Phone: (828) 262-6025