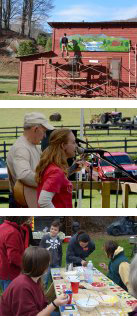 Website: http://appstudies.appstate.edu/
Connection to Sustainability: Examining the Appalachian region's connection to the world, place identity and cultural heritage; The democratization of decision-making; Understanding cultural and environmental institutions and resource use.
Teaching: Community Based Research; "Global Appalachia" focus in the MA program.
Research: "After Coal" comparative film looking at positive community responses to decline of extracted industries; Developing a GPS app to promote community heritage tourism.
Student Engagement and Outreach Activities: Student founded Blue Ridge Women in Agriculture; Internships and activity with organizations such as the Edible School Yard, NC Cooperative Extention, Grandfather Mountain State Park, Moutain Alliance, Blue Ridge Parkway, Blue Ridge Conservancy; Brings guest speakers to campus to highlight issues of social and environmental justice in Appalachia; International NGOs outreach in Wales to work on a month-long project; Project with Elk Knob State Park regarding community-based art and sustainability (folk and ballad singing).