News
Educational Video Shoot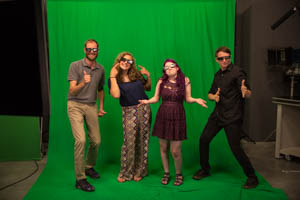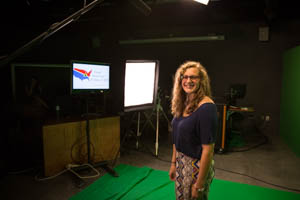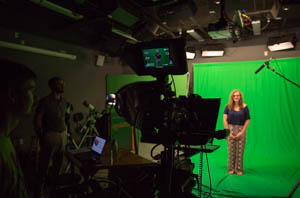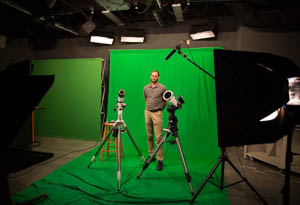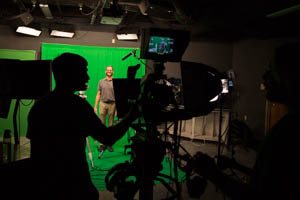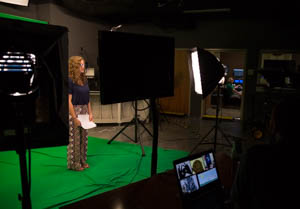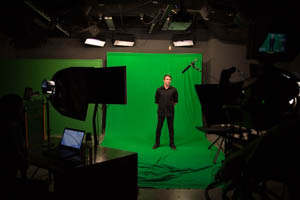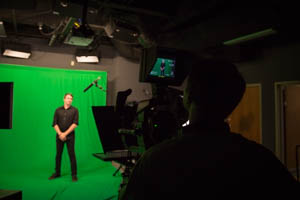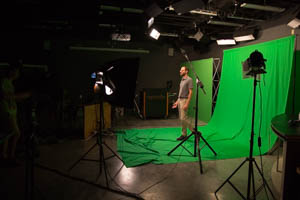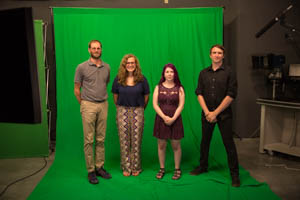 Preparation
Busy at work, setting up telescopes to test the livestream and the camera to take images of the sun for August 21st.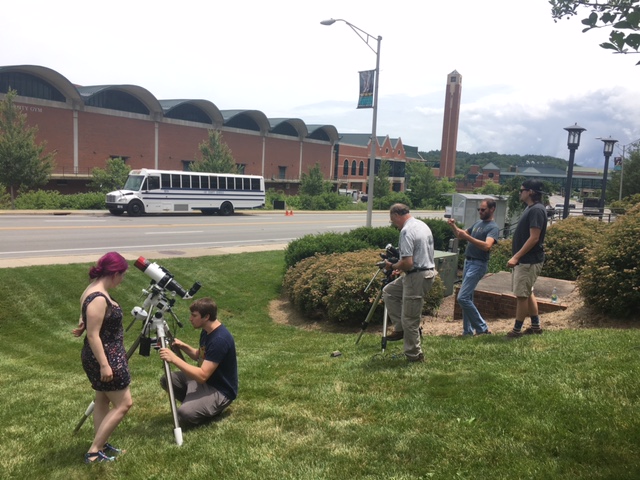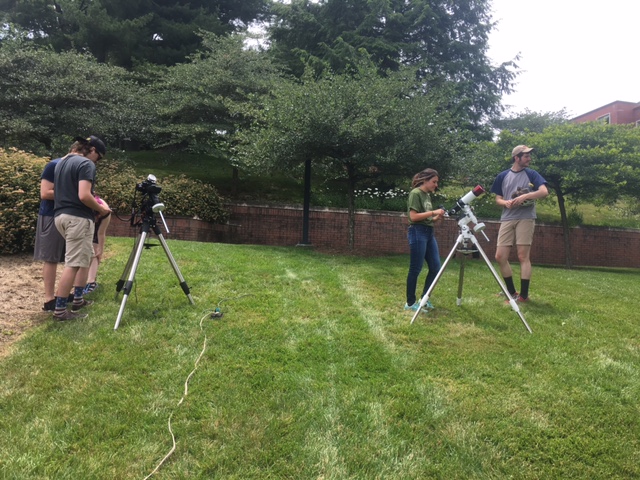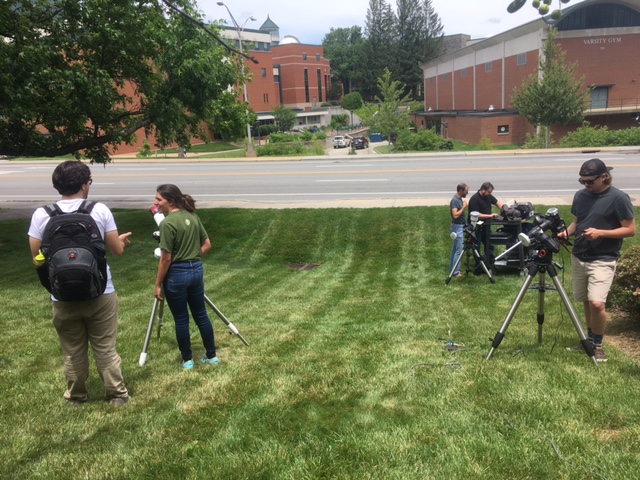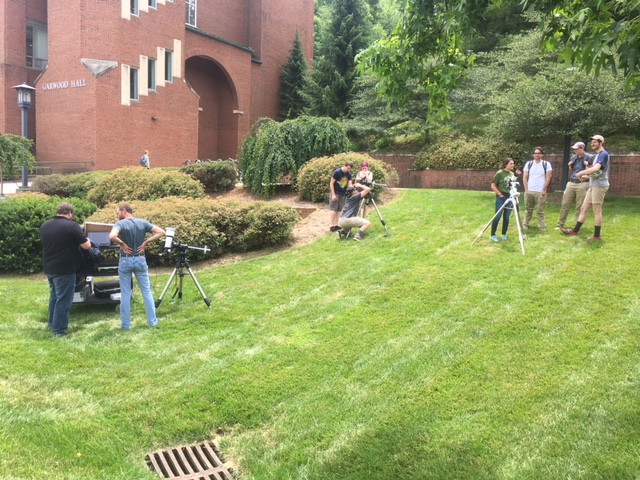 Solar Testing Part 2
David Sitar with students Ellie Prim and Jared Day working on their second Solar Test run - it was a success!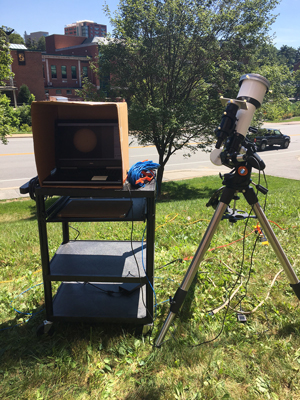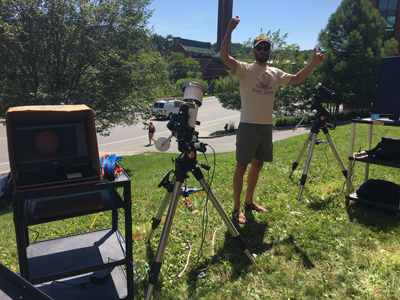 Panel Discussion
Thanks to our participants for a rousing discussion!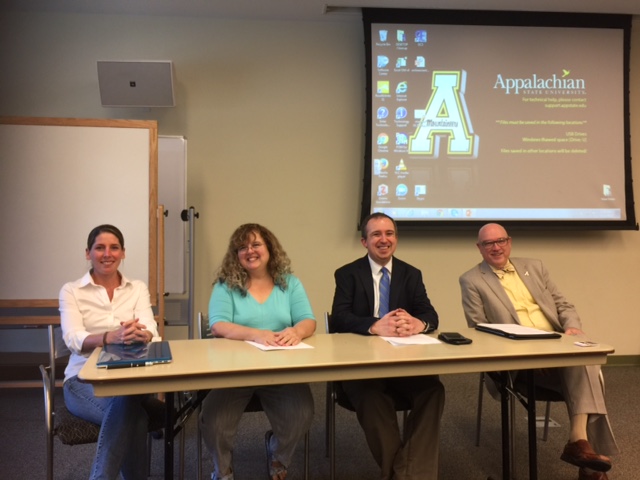 Solar Photos Test
Solar photos through a camera (Rebel T6) using a 300mm lens on a cloudy day. From the test run with scopes yesterday outside Garwood Hall.
This station is part of the Cain Foundation STEM public outreach program with Dr. Anthony Calamai and Professor David Sitar in Physics and Astronomy. More to come on Solar Eclipse day, Wednesday, Aug. 21st!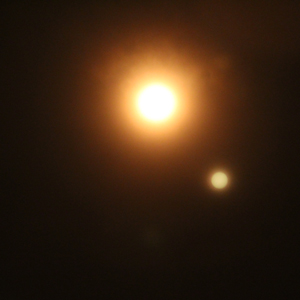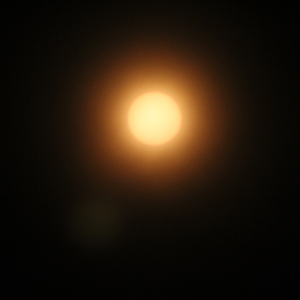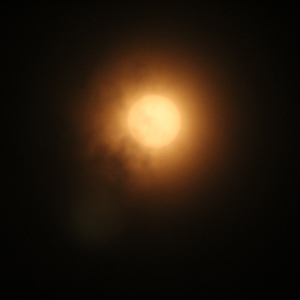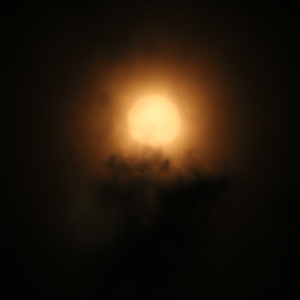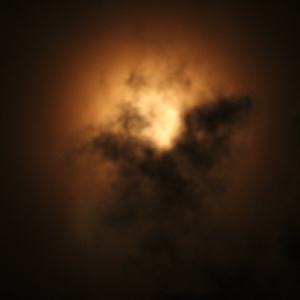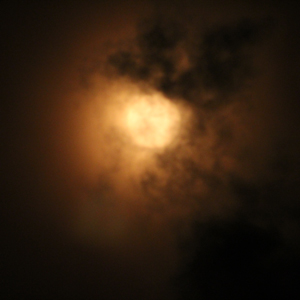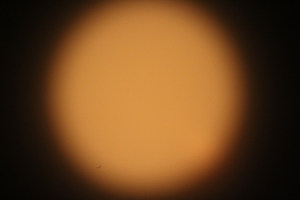 WBTV 3 Charlotte Morning News
David Sitar and student Ellie Prim, Physics and Astronomy on WBTV 3 in Charlotte, N.C. with Alumni John Carter.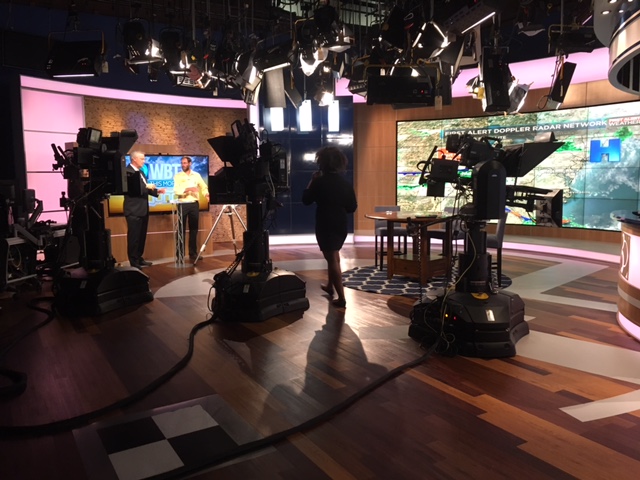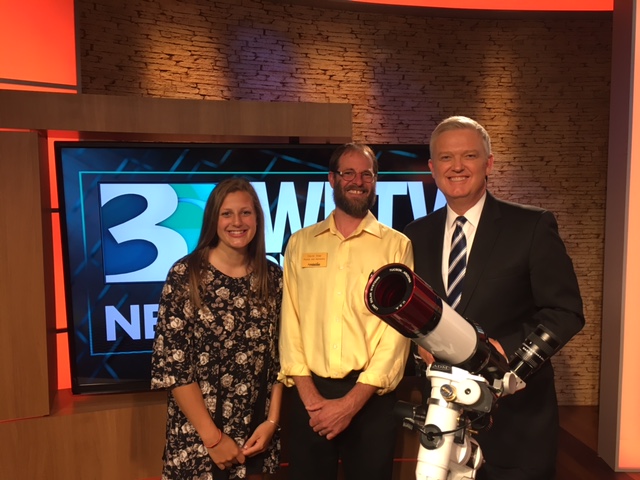 Portable Planetarium
This handbuilt creation is ready and will be in Grandfather Ballroom on Monday, August 21.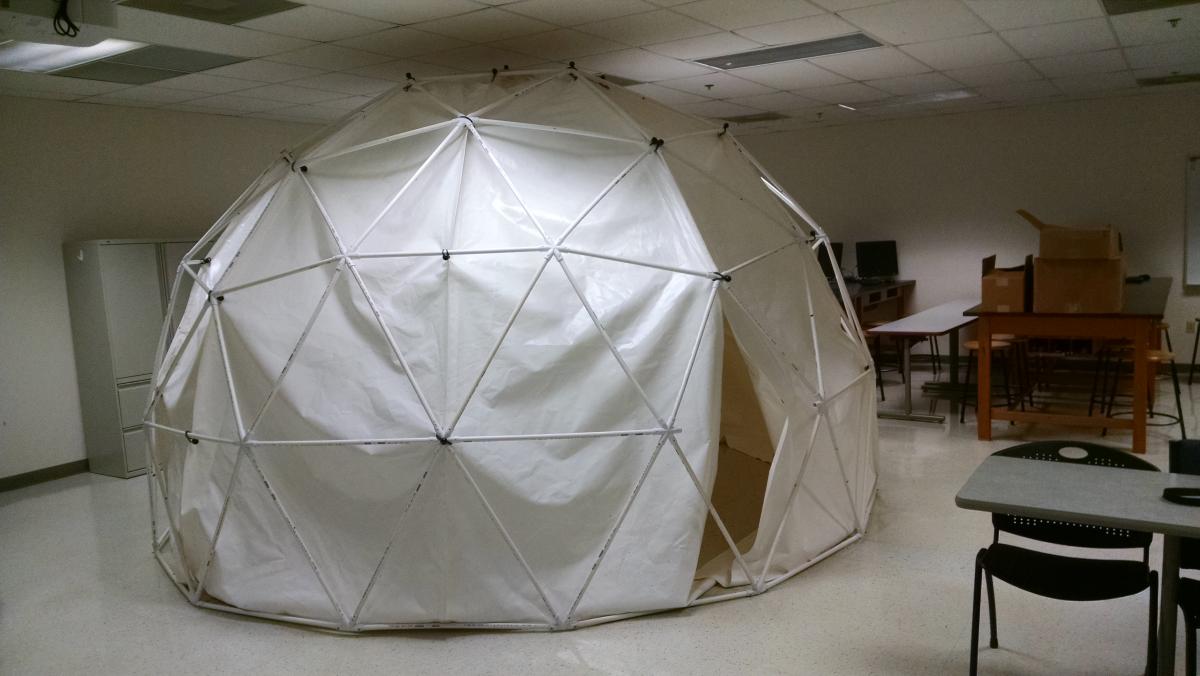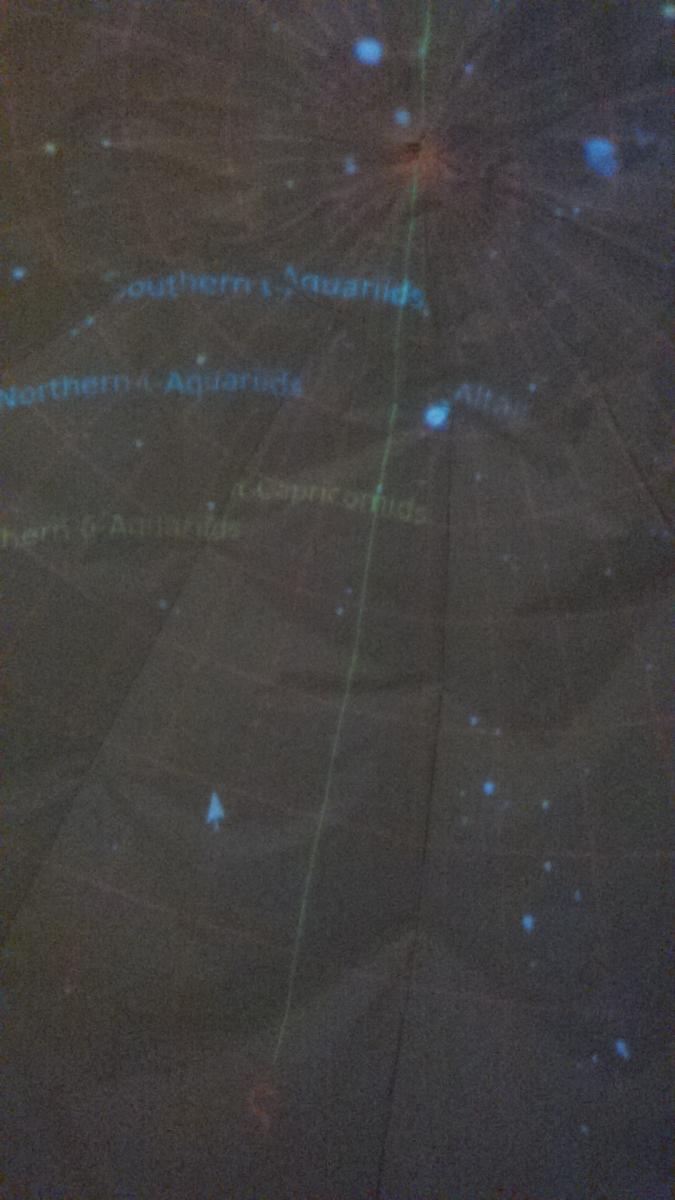 SCC Live Stream Test
Test of the live stream feed from Southwestern Community College in Sylva, N.C. We will be live streaming the Solar Eclipse in totality from Sylva, N.C. on this website and to Grandfather Mountain Ballroom, in the Plemmons Student Union on the Campus of Appalachian State University on the Aug. 21. David Sitar and students Jared Day and Ellie Prim went to Sylva for the test run.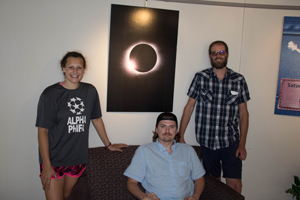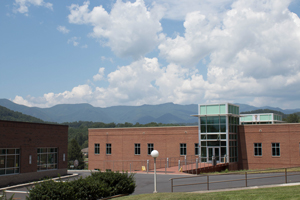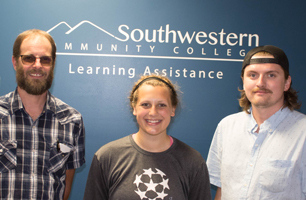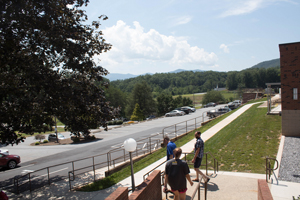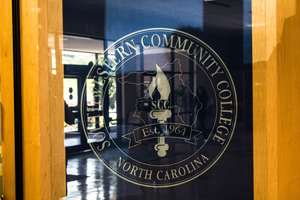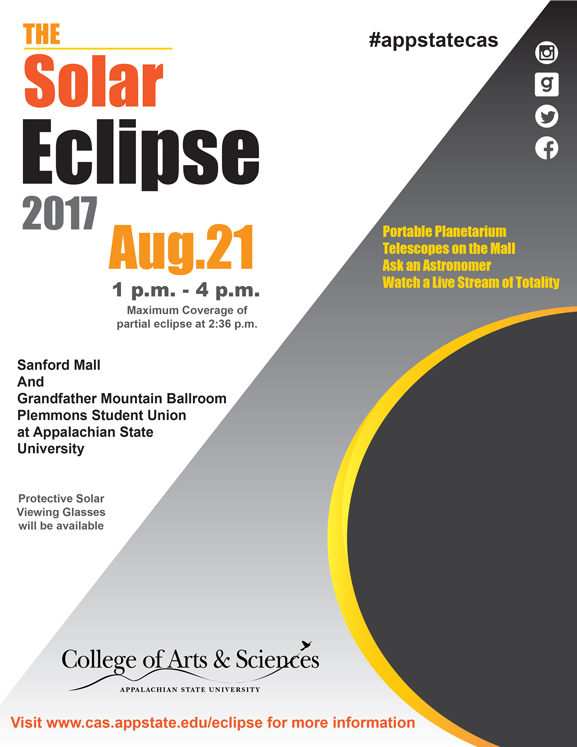 The Great Solar Eclipse of 2017
On Aug. 21, a solar eclipse will occur over the United States. Appalachian State University's College of Arts and Sciences and Department of Physics and Astronomy have been working for months to share the experience with the campus and community.
In Boone, a partial eclipse will be seen. The ingress, the first sight of the Moon on the solar disk, will appear at 1:10 p.m. The greatest coverage, which will occur at around 96 percent coverage, will happen at 2:36 p.m. and the egress, when the Moon completely leaves the solar disk, will happen at 4:01 p.m.
If you are in Boone, there are opportunities on the Appalachian campus to experience the partial eclipse safely and close to home
- keep reading at University News.
History of total solar eclipses in North Carolina
Since 1869 there have been three total solar eclipses in North Carolina: Aug. 7, 1869, May 28, 1900, and March 7, 1970. There will be three more before the end of the century: Aug. 21, 2017, May 11, 2078 and Sept. 14, 2099.
To review this history and learn more, visit www.news.appstate.edu/2017/08/15/history-of-eclipses.
Community and campus events lead up to the Great American Eclipse; two occur July 28 and 29, with more in mid-August
As the Great Solar Eclipse approaches this August, there is much to learn about and participate in during the lead up to this rare event. Members of the Department of Physics and Astronomy in the College of Arts and Sciences at Appalachian State University have partnerships and community outreach events happening for the next month across the area.
The Dark Sky Observatory (DSO), established in 1981, is the research facility used by faculty and their students to conduct observational research in astrophysics. It is equipped with five telescopes, each used regularly for CCD imaging, photometry and spectroscopy. The observatory is located about 20 miles northeast of Boone at an elevation of 3,300 feet. Far from major cities and light pollution, the dark skies in the area provide a great setting for digital imaging and astronomical research projects.
The observatory will offer a public nighttime event as part of the Evening at DSO series July 29, in addition to the free daytime tours with solar viewing it has offered throughout July. The July 29 evening event will require the purchase of tickets online in advance; visit https://dso.appstate.edu/for more information. Daytime tours and viewing depend on the weather. The daily event status will be posted on the DSO website at https://dso.appstate.edu/ and on the DSO Facebook and Twitter feeds. The daytime events do not require tickets and solar viewing glasses will be available to all participants. There will be no event on the day of the solar eclipse at the observatory.
Local News Articles
WNC Magazine
Going Dark: WNC Magazine's Ultimate Guide to Great American Eclipse in WNC
Watauga County Roads
2017 Solar Eclipse: How It Could Impact Travel In Western North Carolina
High Country Press
NationalEclipse.Com Reveals 10 Unique Places To View 2017 Total Solar Eclipse in US, Including NC
Watauga Democrat
ASU to hold seminar on approaching solar eclipse
Eclipse viewing with the Physics & Astronomy Department
The Department of Physics and Astronomy is delighted to be participating in this exciting and rare event with the College of Arts and Sciences. The day of the eclipse, members of the department will be providing telescopes on Sanford Mall for viewing and setting up a planetarium in the Grandfather Mountain Ballroom of the Plemmons Student Union. Faculty and students will be on hand to answer any questions. The Department is also partnering with Southwestern Community College to provide a live-stream of the eclipse through totality using our wide-field telescope with a Mylar (white light) filter. Solar viewing glasses will be available on Sanford Mall the day of the eclipse, or you can pick up a pair at the Dark Sky Observatory's upcoming public night (July 29, 9-10pm - you can get tickets at https://dso.webconnex.com/EatDSO071517).
Shadows of Diverse Disciplines: Reflections on Solar Eclipses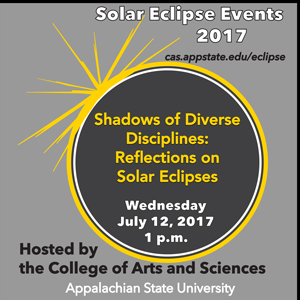 As anticipation builds with the solar eclipse approaching this August, the College of Arts and Sciences at Appalachian State University will hold a panel discussion to examine the many interpretations of these events in history, from scientific to religious, and discuss the significance of an eclipse through the variety of disciplines that comprise our College.
"Shadows of Diverse Disciplines: Reflections on Solar Eclipses" an interdisciplinary panel discussion will take place on Wednesday, July 12, 2017 at 1 p.m. in the Belk Library and Information Commons in room 114.
The panel will include Dr. Craig Caldwell, History, Dr. Laura Ammon, Philosophy and Religion, Dr. Courtney McGahee, Physics and Astronomy and will be moderated by Dr. Clark Maddux, Director of Watauga Residential College.
Read more at: https://cas.appstate.edu/news/shadows-diverse-disciplines-reflections-solar-eclipses-college-arts-and-sciences
Eclipsing Fossil Cooking Fuels
Carla Ramsdell, Senior Lecturer, Dept. of Physics and Astronomy, received a grant from the Appalachian State University Office of Sustainability Outreach Grant Department for her work titled: "Eclipsing Fossil Cooking Fuels: Promoting Enthusiasm for Sustainable Cooking During the Year of the Total Solar Eclipse."
She participated in Earth Tones, a solar-powered concert at Appalachian to celebrate Earth Day, that occured in April of 2017.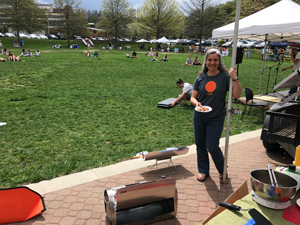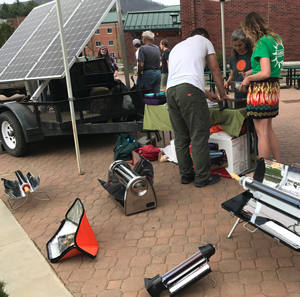 As well as, the N.C. Gravity Games, where she set up solar ovens at the "Science Street" STEM education tent to demonstrate solar and sustainable cooking.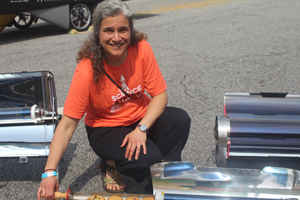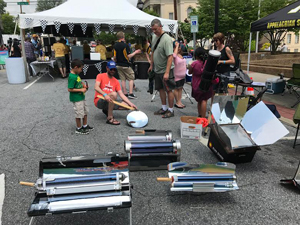 She has two more events planned this summer, details to come!
Summer 2017 (date TBD) - Solar cooking educational event at Valle Crucis Park
A public outreach event at the N.C. Museum of Natural Sciences on Solar Cooking
Solar Photo Test 2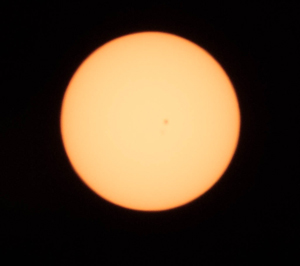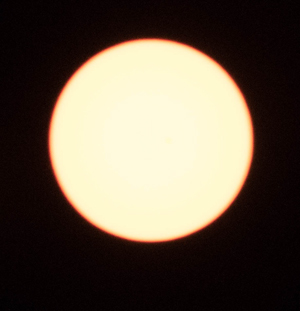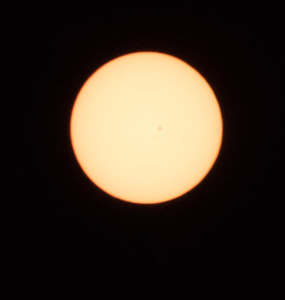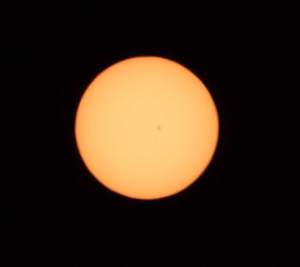 Solar Cooking Workshop at VC Park
We had a great SUPER SUNNY day for our solar cooking outreach event yesterday at Valle Crucis Community Park. It was a wonderful crowd with a mixture of adults and kids. There were 12 solar ovens on display and we made chocolate chip cookies, sweet potato fries and s'mores after an introduction on the physics of solar cooking (and the solar eclipse). A H=huge thank you to The Appalachian Energy Center, Office of Sustainability, Department of Physics and Astronomy, Valle Crucis Park and Appalachian Cookie Company for their support!